Congratulations on having a North facing plot; it is the most preferred property for making a house.
Since the North direction is considered to be ruled by the God of wealth, Lord Kubera, dwellers living in a North facing house are most likely to live a wealthy and prosperous life.
Additionally, a north-facing plot easily fits all the requirements of Vastu Shashtra. If you wish to build your dream home as per Vastu rules, then follow the below-listed instructions and tips while consulting with your architect.
Be it pooja room, parking, living room, bedroom, toilets, bathroom, or any location of the home, everything follow vastu rules in a north facing home or homes constructed in a north facing plot.
The north-facing house is said to bring good luck and prosperity to the occupants. It is also believed to help improve one's health and wealth.
As per main door house entrance vastu, the main entrance of the house should be in the north, and all the other doors and windows should be aligned accordingly. The kitchen, bathroom, and bedroom should also be located in the north.
Let's take a look at the guidelines for north-facing houses, as well as some fantastic house designs.
North Facing House Vastu Guidelines
Master Bedroom as per Vastu:
North-facing plots are good for houses and business establishments. But make sure to select the Southwest corner of the plot for the master bedroom or have a look at complete bedroom vastu guide here.
Living Room Vastu Plan in North Facing House: 
Heavy items should be positioned in the west or south-west sectors. The northern face of the main door is toward the north.
The pada, or step, on the other hand, is an important aspect to consider for big doors facing north.
The nine padas that make up the north zone begin at the northeast and work their way to the northwest. As per vastu tips for living room, Lord Kudur's mansion is located on Pada number 5 and bestows wealth to those who pass through it.
If you can't settle on a specific fifth pada, the third, fourth, and eighth padas that assist in increasing wealth are also worth considering.
It should be in the northeast or northwest of the living room, depending on your living space's Vastu design.
Have a look at vastu for bedroom colour to make the bedroom colors vastu compliant.
Plan for Staircase:
Placing the staircase in the center of the house is highly inauspicious. As per vastu shastra for staircase, additionally, you should leave minimum areas to the South & West directions of your plot,
and the North direction is suggested to have an open terrace, thus plan for the staircase accordingly.
A staircase should not be installed in the north since it may lead to money difficulties. If you want a stairway within your north-facing house, keep this in mind.
Layout for Bathroom: 
North-east corner is defined as the Eshan Kone, which is good for making pooja room. Thus the area must not be used for making toilets.
As per Vastu shastra for bathroom and toiletry , you can design toilets on the West side of the plot.
The location of the bathroom is important since it is a Waste-removal and cleaning site. As a result, north-facing home toilet placement recommendations include south, west, south-west, and northwest.
Space Planning for your Kitchen:
The East side of your plot is good to have maximum windows. Thus it is advisable to build the kitchen in the north–east corner as per vastu kitchen direction and get the windows, cooking platform and chimney installed in the mentioned directions only.
A black marble countertop in the kitchen is not acceptable. It's because Agni or fire energy rules this direction.
If it's impossible to put your kitchen in the southeast, a north-west facing kitchen is also preferable, as determined by Vastu for north-facing homes. Consider following vastu for kitchen slab color as well.
Vastu tips for Kids Bedroom:
The most suitable direction for kids' bedrooms is in the West; however, North-East and North-West directions are also acceptable as per Vastu for kids room.
But make sure that the kids are keeping their heads towards the East or South directions while sleeping.
According to bedroom furniture vastu, with the door in the north, west, or east walls of a master bedroom facing south, the southwest direction is ideal. Avoid using the Agni-governed southeast path; it may lead to fights and misinterpretations.
When it comes to the placement of the bed, Vastu Purusha recommends that it be placed south or east and never against the entrance.
Tips for the vacant area and septic tanks:
North and East directions are most suitable for leaving an open space, so it is a beneficial idea to construct the house on the left side and leave porch area followed by a gallery on the right side of the plot.
Have a look at complete guide on septic tank vaastu tips here as well.
Moreover, tanks and undergrounds in the plots are strictly prohibited in the North-East, South-East or South-West directions. Make sure that the septic tank is constructed is the Northwest direction.
Also read: Vastu Shastra for Daily Routine by Experts
Ideal location for the Water Source:
The ideal location to dig a water source or borewell is the North-East direction. The same direction is ideal for having an entrance, so if you wish to dig a borewell in your plot, then you may leave 3 feet on the North-East compound wall for the borewell and then install the main gate. Consider reading about vastu for underground water tank here in details.
Regardless of the plot size, the above plan should be followed strictly to attain the prosperity of a North facing plot.
The construction plan can be altered for a multi-storied house, but make sure to place the pooja room on the ground floor and the master bedroom can be on any floor but always in the Southwest direction.
It is advisable to consult with Vastu experts before buying or constructing a house because the basic design should always be as per Vastu guidelines. Make the water source and storange vastu friendly by following vastu for overhead tank as well here.
Pooja Room in North Facing House: 
Vastu shastra strongly endorses a northeast direction in a north-facing house plan with a pooja room because it absorbs the most solar energy.
Best Colour For North-Facing House Vastu Plan
Blue and green are excellent choices for bright colors if you're going with white and neutral hues. White and neutrals like cream, khaki, and warm grey are advised as the finest colors in a north-facing house Vastu plan. Consider reading about kitchen colour as per vastu here while getting kitchen painted.
If you want to use bright hues, Warm blue and green are also wonderful alternatives. In a north-facing home, Vastu shastra does not recommend using darker tones such as crimson or maroon. You can also consider two colour combination for bedroom walls here as well.
North Facing House Plans
30×40 North Facing House Plan 3BHK
The master bedroom has a cupboard, as well as enough space for king-size beds. Because the three sides of the house plan include dead walls, it's critical to allow for ventilation and natural light.
As a result, a small window is included to allow for the entry of fresh air and sufficient sunshine into the bedroom space. Have a look at 30 40 house plan with car parking for north facing plot.
An exhaust is provided adjacent to the kitchen to ventilate the fumes and smoke emanating from it. There are two toilets, which serve all three bedrooms.
The Indian and Western washrooms can be combined in these restrooms. The entrance hall is fitted with a drawing-room.
30×40 North Facing House Plan 2BHK
This design is suitable for the site and open to all sides when it comes to 2 bedroom house plan which is north facing. A Master Bedroom contains a combined bath and toilet that is connected to it The West Facing House.
This plan allows you to utilize your property by Vastu principles.
The living space and kitchen have a window in the layout plan. The adjacent dining area can be found at the top of the stairs. The drawing room has two windows.
North Facing 2BHK Vastu Plan with Internal Stairs
A bedroom on the north-eastern side is directly accessible, which is connected to the bathroom on the south-eastern side.
A dining area is included. A lower level for storage is also included, along with an L-size staircase.
The store is next to the Kitchen. Near the entryway, the main living area is located. Have a look at 1000 square feet house plan for your north facing plot.
North Facing Vastu Plan with External House Stairs
The design is a two-story home plan with external stairwells on the northern side. A shared bathroom, shop, and balcony are all included in the plan.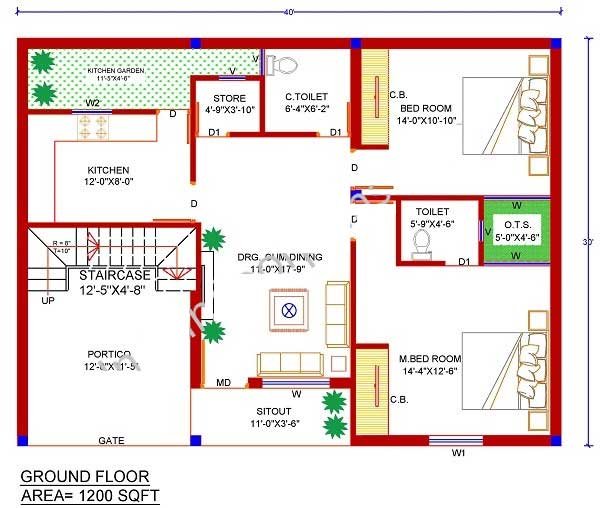 The kitchen and portico are built around a central footprint that may be used to provide parking spaces. Apart from this, there is a kitchen garden and a strong.
Popular North Facing Vastu House Plan
The space of the house's parking area is big enough and the automobile can be parked there. There is also a pathway to enter the home from this room. The hall leads into the first chamber.
The living room has a TV unit available for installation. There is also enough area to sit, as well as a couch or bean bag chair, where you can keep your collection.
The second bedroom does not have an attached bathroom; instead, this space may be used for storage or additional items. 
Have a look at 20×50 house plan here as well.
A double bed may be kept in here, while clothes are stored in the wardrobe and a TV stand is built; you could also utilize this area for display purposes.
After the bedroom, there is a very big kitchen.
Conclusion
The house design plans mentioned above are just a few of the many north-facing house plans that you may find.
Also, consult with a Vastu expert before making any final decisions, as they will be able to advise you on the best way to utilize your property according to Vastu principles.