Vastu for Kitchen – Many people don't give due importance to Vastu in the modern world but scholars believe that every arrangement in a household has solid reasoning behind it. You just can't place things here and there and expect to lead an abundant life.
The kitchen is the place where all the energies are generated. It is the place of fire and food; the two most vital aspects of nature and life.
So, when it comes to Vastu for your kitchen, careful arrangement and direction are necessary with proper placement.
The Vastu Shastra, which emphasizes the implementation and development of buildings using natural cosmic laws, has several recommendations for open and closed kitchens in order to guarantee that the house has enough energy and optimism. For the occupant's health as well as other advantages, the ambiance in the kitchen is crucial.
When it comes to Vastu, the kitchen's size is crucial. It should not be so tiny. Here are some Vastu rules for kitchens.
If you have pooja room with your kitchen then follow pooja room vastu as well to make your home vastu compliant.
Kitchen Vastu Significance
According to Vastu Shastra, the way a home is built may affect the energy flow around us. Everything from people to inanimate objects has an impact on energy flow, which is why Vastu rules must be obeyed to ensure goodness and remove negative energies.
It is where the meal is prepared that provides us with energy. If you design the kitchen in the incorrect direction, you could create disharmony in the energy, which will have a direct influence on your family.
As a result, choosing Vastu-friendly designs for your kitchen becomes critical.
Also consider reading about bedroom vastu tips to make your bedroom vastu compliant as well.
Kitchen Vastu Map: Your Blueprint For Culinary Spaces
According to Vastu, one's house should have an appropriate balance of the earth, sky, air, fire, and water elements.
According to kitchen vastu map, kitchen should be located in the southeast corner of the house, and while preparing food, one should face east. Place your water pots and purifier on the north-east side
A clean, well-organized kitchen is essential for good health and prosperity. Windows in the kitchen should be large and let in plenty of light.
Minimalist design with clean, uncomplicated lines should be used to minimize clutter while cooking and have adequate space.
Also read about seven horse vastu direction here.
Vastu Map for kitchen ventilation and windows
In the kitchen, windows' placement, according to Vastu, has an important impact on creating positive energy.
The quality of food improves when light and air are adequate. Know vastu tips for doors and windows for the complete home here.
The east is considered the best direction for windows in a kitchen according to Vastu. A ventilation fan may also be installed in the east. 
Vastu Map for Open Kitchen
Open kitchens and modular kitchen designs are becoming increasingly popular among Indian families, particularly those who have lived outside of the country for a long time.
Avoid open-concept kitchens in the north zone since it restricts new career, revenue, and wealth opportunities.
An open kitchen in the west direction is considered beneficial to both one's health and one's money, according to Vastu. 
Vastu Map for the Kitchen Slab
When it comes to vastu for kitchen slab color, it is preferable to utilize stone or marble rather than granite for a Vastu-based kitchen slab, particularly in black.
Choose a yellow slab if you want to build a kitchen in the northeast.
For a kitchen in the west, a grey or yellow slab is suggested. In the north, green is the shade for the kitchen slab; nevertheless, ideally, one should avoid having a kitchen there.
Kitchen Cabinets Vastu
The placement of cabinets in a kitchen has an impact on the energy flow throughout the house.
Maximum cabinets should be placed in the south and west walls of the kitchen. Negative energy may be attracted if there is open space above kitchen cabinets.
If you want to adopt some unique kitchen cupboard design or kitchen almirah design consider this.
If you do not want to keep plants or other adornments on your kitchen cabinets, you can place a small metal statue of a lion or an elephant on top of the cabinets to ward off negative energy.
The ideal colors for kitchen cabinets in the west are silver and white.

In the north, pick blue, green, and brown for a kitchen.
Vastu for Kitchen Design
Do not build too many dark-colored cabinets in your kitchen, since it might make the room appear claustrophobic and overbearing. Have a look at trendy modern crockery cabinet designs for dining room here.

As per Vastu principles, place the kitchen platform in a manner that is consistent with them. Vastu dictates that platforms should not be placed against the north wall of the kitchen, however, platforms may be extended along the southern wall.

If you want a timeless appearance, avoid ornamental decals since they may soon become out of style.

Because one will reduce the view of the other, high cabinets and low ceilings are an ineffective combination.

The kitchen's flooring should be yellow, orange, rose, chocolate, or crimson. To know the complete color plan check kitchen colour as per vastu here.

Keep a broom in the kitchen only if you're sure that it won't interfere with food preparation or cleanliness.
What is the best position to face while cooking as per Vastu?
When preparing food, one should face east. As a result, while cooking, kitchen things like gas stoves and appliances should be placed so that one can look east. The alternative direction for cooking is the west.
Also read about septic tank vaastu here.
Vastu Dosh Remedies for Kitchen
Here are a few basic Vastu remedies for kitchen Vastu dosha, but it's always preferable to get help from a specialist.
To reduce the Vastu dosha caused by an incorrect location of the underground water storage tank, hang a 50 mm crystal in each of the kitchen's four corners.

A paste of a Mars crystal pyramid should be placed beside electrical devices when they are positioned in directions other than the southeast in the Kitchen, according to Vastu.

It is necessary to paint the kitchen yellow if it is in the north-east Vastu, which is unfavorable.

If the kitchen and the toilet have a shared wall, the negative effects of Vastu faults can be reduced by pasting a zinc metal "nine pyramids" on both sides of the wall that connects them.

If you have Vastu doshas and are unable to fix them yourself, try placing little quantities of uncrushed sea salt in strategic locations. It absorbs all of the bad energy from your home.

The cook should not be in the way of the kitchen door. If this is not an option, three Zinc Jupiter crystal pyramids can be placed on the wall to the stove's right in a Vastu fashion.
Important Vastu Tips for Kitchen
Here are some tips you can use to arrange your kitchen and avoid unnecessary hassle in your life:
The ideal location for the kitchen is the South-east corner of the house. If the South-east corner is not available, North-west should be the second choice. Northeast, mid-north, mid-west, southwest, mid-south, and the center of the house are strictly prohibited for the location of the kitchen.
The direction for cooking should face east as the person directly faces the sun in the morning.
Stove in the kitchen should never be visible from outside. It is believed that cooking on a stove visible from outside can lead to digestion problems.
Since fire and water are considered to be enemies of each-other, sink should be placed at a considerable distance from the stove.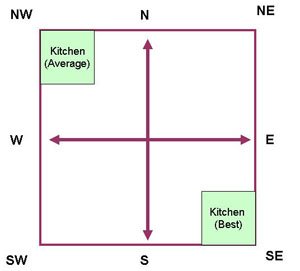 Cooking gas and cooking stove should be placed in South-east corner of the kitchen. South-east direction is considered to be the direction of peace. Therefore, placing cooking appliances in South-east direction avoids accidental hazards.
Kitchen window should be in the East direction to let the morning sunlight in.
Refrigerator can be placed in the North-east or South-west.
It is considered best to place water filter or any other water storing facility in the North-east corner.
The entry of the kitchen should be in the North or the East or the North-east corner. Also, the door should open in clock-wise direction.
Light utensils should be kept in the East or the North direction.
Color scheme plays a major role in the Vastu Shastra for Kitchen. Floor and walls of the kitchen may be yellow, orange, rose, chocolate or red. Black color is strictly prohibited for a kitchen.
Bathrooms and toilets are considered to be the places of ill-hygiene (Check vastu for bathroom and toiletry here) Therefore, it is mandatory not to have a kitchen placed above or below a bathroom or toilet. Also, kitchen should not have any adjoining wall with a bathroom or toilet.
If you follow these Vastu for home rules along with proper and regular cleaning of your kitchen, you will definitely lead a healthy and happy life.
Conclusion
The kitchen is an important part of the house, and its design should be done according to Vastu Shastra to ensure that the inhabitants are healthy and free from problems.