Everyone wants to have a perfect home, this includes the perfect location for their bedroom, living room, pooja room, and even the balcony.
A wrong direction of the balcony would mean inviting all the negative energies. You might know the importance of Vastu Shastra by now, but what is important to note is how far do you think about Vastu guide lines while designing the balcony.
People often follow Vastu Shastra guidelines while designing their home, but when it comes to balconies, we often don't pay a lot of attention to Vastu.
It is always the north, northeast, and the east direction which is considered to be auspicious for the balcony because these directions bring in positive energy.
However, south, southwest, or even west direction are said to be wrong because it brings in negative energy. However, if you have your balcony facing west, then vastu remedies for west balcony are to raise the level of the floor and remove the entrance door from south west to north west.
Now, if your balcony is in the south west corner, then vastu remedies for south west corner is same as vastu remedy for west balcony. Follow these guidelines and things should be better.
Lets discuss the things in details to make your balcony vastu compliant:
Vastu for Balcony or Chajja
A balcony or chajja is a great way to enjoy the outdoors without leaving the comfort of your home. But did you know that there are ways to make your balcony even more enjoyable and comfortable?
By following the principles of Vastu shastra, you can create a space that is not only pleasant to look at but also has a positive effect on your well-being.
Here are some tips on how to apply vastu to your balcony:
You may also read about staircase vastu here as well to make your staircase vastu friendly.
Vastu Direction For Balcony 
A balcony on the east side of the house is perfect for enjoying morning coffee in the sun. The best balcony directions are East, North, or Northeast. These parts of your home tend to get morning and afternoon sunlight, which is beneficial for us and brings in positive energy.
Having a balcony in the Southern or Western hemisphere can be tough if you don't have another opposing balcony to balance it out.
Balcony Roof 
The balcony roof should slope down to the North or East, as shown in the graphic above. All of this allows natural light to enter your home throughout the day without interruption.
Avoid using materials like asbestos or tin for your balcony roof since they absorb and store heat and energy.
Consider reading about overhead water tank vastu as well here.
Colors in Balcony 
According to vastu for colors, light shades like muted pink or blue and earthy tones of subtle beige work perfectly for balconies. Vastu for homes also permits lighter shades of green for balconies.
You could use colourful pots and plants to add a pop of colour to your balcony, without having to go through the hassle of repainting the entire space. Adding a few scatter cushions in vibrant hues is also a great way to achieve this look.
Also read about vastu bedroom colour to make it vastu compliant as well by experts.
Paint your balcony floor in light colors like white or beige for a sense of spaciousness. Alternatively, you could also opt for tiles in these shades. If you have wooden flooring, make sure it is well-maintained and varnished regularly.
A word of caution: avoid using dark colors like black or maroon for your balcony floor as it will make the space look smaller.
While there are no strict rules when it comes to choosing the right colors for your balcony, remember that light and bright hues are always a good idea. They make the space look larger, airier, and more inviting. So go ahead and experiment with different shades until you find the perfect one for your home!
Also read: Kitchen colour as per vastu
Green Colour for Balcony
Ensure that you keep most of the plants in the south and west quadrants where they will thrive due to maximum sunlight exposure. You may also construct a vertical garden on the west wall of your balcony. Your house can be free of bad energy if you follow Vastu guidelines.
Bright Colors Balcony
The light shades of off-white and grey on the balcony with a wooden floor look soothing.
Furniture Placement on the Balcony
Whether it's taking in the sunrise, enjoying a cup of tea, or reading a book on the weekend, it's important to have small seating furniture available so you can make the most of your balcony space.
You should avoid using large furniture on your balcony, as it blocks sunlight from coming in.
You may also like to read about east facing house vastu plan to make your east facing house vastu compliant.
Swing Placement
A swing can really change the ambiance of your balcony and it's easy to do! Just place a stylish cane swing in your balcony facing north or south.
Fountain Placement
Place a small water feature, such as a fountain, facing north-east on your balcony, according to vastu for your home, to invite wealth and plenty. This placement not only brings prosperity but also promotes a meditative and peaceful state of mind.
Plants Placement
Plants are excellent for vastu shastra because they help increase the vibrations of a place.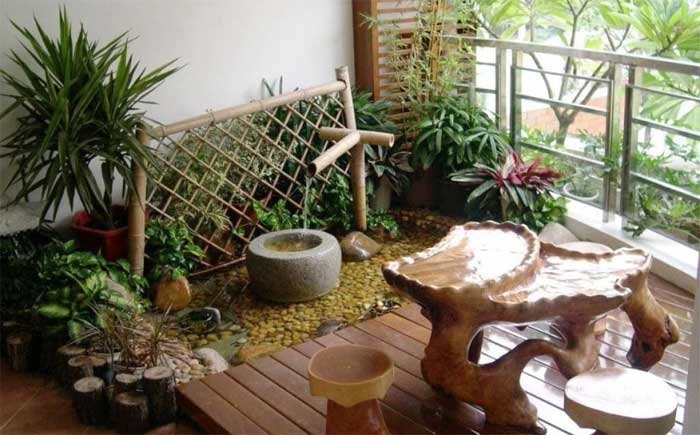 The balcony's west wall is ideal for a vertical garden, while the south wall is also appropriate. However, you should avoid putting very tall plants or creepers on the balcony. All types of balconies may be enhanced with flower pots filled with a variety of bright blooms.
Consider reading about money plant vastu while bringing money plant at home. To read about money plant benefits and money plant decoration ideas visit here.
Soothing Lights
It is considered inauspicious and is said to bring bad luck to sit on a dark or unilluminated balcony, according to vastu for the home.
Choose soothing lights like those seen in the photo below for your balcony. You may utilize these at night to generate a relaxing yet positive atmosphere.
When designing your balcony according to vastu principles, it is always best to consult an expert. These are general tips and should not be taken as definitive guidance on choosing a design, color, or object for your home.
Here are some useful tips for balcony or chajja
First things first, if the balcony of your house or apartment is facing north or east, then always lower the balcony floor and bring it to the level of your building compound.
The roof of the balcony should bend towards east or north direction and not towards south or west direction.
Must Read – 6 Summer Time Balcony Tips For Your Perfect Home
People often use their balconies to keep washing machine. Now, washing machine will leave water after washing, make sure that the draining traps in not in the southwest zone. Draining water in the southwest zone can make you lose wealth and money.
You can put lily pools and even fountains in the balcony, but they should be the northeast direction. This is good for the good health of the entire family. Plus, you can come out to balcony in the morning and meditate here. Keeping water bodies in the northeast zone attracts good luck and prosperity.
If you have kept long plants and trees in the balcony, then they should be kept in southwest zone. This will bring in stability in the house.
Keep furniture in the south or west corners of the balcony if your balcony is facing southwest. Choose furniture which are square in shape and colours which are yellow, cream, beige, and rust.
Consider reading about sleeping direction as per vastu 
Most people construct balconies as per their choice and end up building balconies in the west side. However, west side is not a good position for the balconies. West side balcony vastu remedies are placing one vastu pyramids each in the left and the right-hand side of the entrance of your balcony. Place swastika or Om in both the sides of the balcony. You can also install moon yantra for west balcony vastu dosh too.
If the balcony is in the north and east zone, then try to keep it a bit wider than the balconies which are in south and west zone.
All the balconies should be running along from the north to the northeast direction. Else, from northeast to east direction only.
Balconies that are in the south direction generally attract a lot of fire hazards as well as litigation.
Read about lucky seven horses while bringing a seven horses painting at home to get positive energies.
If you have a chajja to reach the balcony, then our suggestion is to keep it in a direction which can influence negative energy. Since chajja or staircases are heavy, they will block all the negative energy from coming in. Don't let the staircases block positive energy and hence be very careful about it.
People who have balconies in the north zone will invite a lot of wealth and prosperity and those who have their balconies in the east direction will be blessed with good health, fortune, and invite new opportunities.
The furniture in the north or east direction of the body should be light in prints. For example, you can buy floral print or wavy prints chairs. These prints will let positive energy to easily flow in your house.
Must read for more information – Top 20 trending balcony decorating idea
Don't keep heavy plants and don't let it completely block the balcony. If you keep your balcony completely trapped, then it will not let positive energy to travel from the balcony to your house. If you want to keep a few heavy pebbles, rocks, and tress, then choose a southwest direction.
Follow these simple guidelines and we are sure your balcony will bring in more luck and prosperity to your house. Ensure to keep your balcony in the north or the northeast direction and ensure to skip south or southwest direction. We have shared every tip that will help you construct a balcony in the right way. Follow them and live a prosperous life.
You may also like to read about toilet seat direction as per vastu as it also affects the health and wealth in our life.
Conclusion
It's important to note that, in both cases, the home was created before the property sold. The Vastu for a house is an ancient Hindu concept that promotes good energy into your space.
You may create a peaceful and relaxing balcony oasis that is in tune with the five elements by following these simple guidelines. Using vivid hues, putting furniture in the west area, adding a swing facing north or south, placing a fountain in the northeast corner, and filling your balcony with plants in the south and west quadrants are all examples of this.
Consider Reading:
You may also utilize relaxing lighting to create a soothing ambiance. These are broad guidelines that should not be used as a guide for selecting a design, color, or object for your home.