When it comes to 7 lucky white running horses painting, Vastu Shastra has determined the best positions for paintings and pictures; there are some that, when placed in the right direction, invite positive energy.
Among those paintings said to bring good vibes are horses especially galloping ones.
To fill a space with positive energy then, consider hanging a 7-galloping lucky horse painting.
Let's have a look at 7 running horses painting – from its significance to the ideal placement, as well as styling ideas in the following article.
Significance of 7 Horses Painting
They are regarded as genuine symbols of power, bravery, strength, stability, and loyalty and are thought to promote optimism in every area of one's life.
The number 7 holds a special place in many cultures. In nature, we can see the perfection of seven through the colors of the rainbow, seven oceans, and seven constellations.
Additionally, during a Hindu wedding ceremony, seven oaths are taken by both the bride and groom. Clearly, the number plays an important role in our lives and carries great significance.
To start with, a seven-horse painting is an important part of the lives of those who live in a home. It aids individuals in resolving financial difficulties according to Vastu Shastra for home and Feng Shui.
The direction in which you place your 7-horse painting is important, regardless of whether it is in your living room, bedroom, office or commercial building. Because it may have a detrimental influence on your life, do not face the door of the room or business with it. Have a look at main door house entrance vastu here to make it vastu complaint.
The horses' painting is designed to remove any obstructions that might be holding you back from achieving your goals. One of the most significant aspects of the painting you should remember is that there should be no chain, leash, or rope on the horses.
Have a look at bed position as per vastu along with 7 galloping white running horse images to make your home vastu compliant.
Significance of 7 Horses Painting as Per Vaastu?
The horse painting, especially the seven galloping horses play a significant role in Vaastu Sashtra. If you go by Vaastu, the horses depict power as well as success.
Vastu encourages people to put the seven horses painting on the office premises and also in-house to get a constant flow of success throughout the day.
For businesses horse painting in particular can be extremely beneficial. One can also place money plant in office as well after reading money plant vastu here to get positive energies and wealth in business.
Why only Seven Horse Painting?
Well, there is no specific reason as to why Vaastu Shastra for running horse painting tells everyone to hang the painting of seven horses' only. But, still there are many stories behind that.
We have seven colors in a rainbow, we have seven oceans, and seven-star constellations. Along with all these, 7 number is also considered to be extremely pious and pure. We have found the significance of the 7 number in Indian rituals and beliefs too, for example- seven life circle, and also saptpadi which is saatphere.
Thus, seven number become an essential part of our life and hence considered to be pure and auspicious.
Consider reading about kitchen vastu tips here and make your kitchen vastu complaint as well.
Why else would you want to place a painting of running horses in your house, according to Vastu Shastra?
It should be hung in the east of your home, workplace, or lodge where you want to promote development in the activity.

Feng Shui also believes that horses are a symbol of courage, speed, and endurance. The Eight Yearnings of life include having a successful career, getting married, staying healthy, having children (or developing personal relationships), gaining recognition or success in your field, receiving an education, and finally achieving happiness.
The Significance of Seven Horse Painting:
The horse is constantly connected with speed so a seven-steed painting can be put in your office, lodge or house in the event that you are searching for advancement in the activity or accomplishment in your business.
The horse was a mode of transport, it was a vehicle in ancient Indian times and planet Venus represents horses so its importance is calculated in placement too. Degree of Venus in birth chart before placing seven horses painting can be harmful to place the horse painting without calculating Venus position in birth graph.
It is trusted that seven pony painting in your home guarantees monetary dependability in your life.
In Feng Shui likewise, horse speaks to valour, speed, and perseverance. An artistic creation of eight running ponies in the parlour close to the passage of the house gets riches and good fortunes your home.
Eight speaks to the eight yearnings of life, Career, Children, Recognition, Health, Personal Development, Marriage, Education, and Happiness.
Also read about pooja room vastu here as well.
Which is the Perfect Course for a Seven Horse Painting in Vaastu?
The heading of the jogging ponies is essential. The seven pony paintings ought to be set in the lounge room/office/business premises.
While hanging the composition, one should ensure that it faces one's home for example the ponies coming into your home and not out from your home.
South zone of your home is associated with progress and notoriety. South mass of the home/office is viewed as perfect for seven steed painting.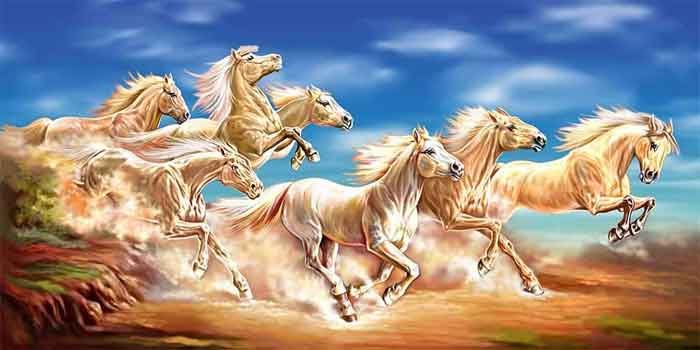 In the event that the south divider isn't accessible, at that point East divider can be considered.
Where to Buy:
To buy any of these lucky seven horse painting online visit Amazon.in here and buy them at discounted price today.
7 Running Horses Painting Tips
When you're thinking about how to put seven galloping horses painting in your house, be sure to consider the following:
Pick a painting with serene-looking horse faces, rather than aggressive ones.

7 running horses painting is a great way to express yourself. White is intended to promote peace, success, development, and prosperity. White is the finest hue for both your house and workplace.

The last thing you want is a scene with dust, storms, or any other type of negativity.

When choosing a painting to invest in, always consider your initial reaction to it. If you don't feel happy or positive when looking at the paintings, it's probably not worth investing in. Also, keep it away from the bathrooms and toilets while hanging it elsewhere.

They should not be shown swimming on the water. Also, make sure the number of horses is odd.

Make sure the painting does not suggest an incomplete picture of the horses. It will aid in the improvement of your self-esteem since planet Mars is influenced by the artwork with a red background.

To promote harmony and serenity, choose a painting in the hue of Saturn.

Make sure the painting's size is appropriate to the dimensions of your space.

Paintings should be hung on a wall in such a way that they attract positive vibes and Vastu-friendly materials, such as canvas and wood, are preferable.

Furthermore, having a seven running horses painting in your home assists to safeguard your money by Vastu Shastra. It is claimed that this artwork provides you with the blessings of Goddess Lakshmi.

Consider reading about toilet seat direction as per vastu and how to rectify the negative effects.
Things to Remember:
It ought to be remembered that the steeds ought to act out bliss in their demeanours and not outrage.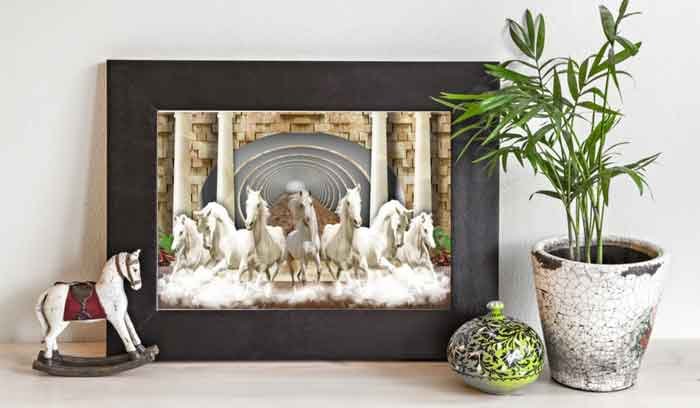 Abstain from hanging painting that comprise of unique broken pictures of steeds as this makes a mutilated picture in the brain and may befuddle chi vitality (characteristic vitality) to go into your home.
Never Hang Horse Paintings in home and office in these regions at the fundamental entryway looking outside, close to the passageway confronting the street, in the territory confronting the washroom or can, in the home or office looking out towards the windows.
Steeds ought not to be running in various ways, as this not just symbolizes aimlessness and absence of focus and determination however this likewise affects your condition with your associates or group or business partner(s).
Also read about vastu for balcony here.
How to Buy Running Horse Painting:
Visit Amazon.in here to buy lucky running horse painting online today.
FAQs
What are the best locations for 7 horse pieces at home?
Place it in accordance with the Vastu-recommended direction, avoiding hanging it close to either the window or the main entrance.
In which direction should you keep the painting?
They also stand for vitality that pushes you to advance in life. Hang it on the East wall if you want your job to develop.
What is the best 7-horse painting for a house?
We think that the white-coloured horses painting, which has seven different horses, represents positive energy and advancement. The color white is supposed to appeal to inner peace and purity in the aura, so we propose considering the one with white colored horses.
Is it OK to have a 7-horse painting in the store?
Yes, as Vastu believes, the number 7 is auspicious and prosperous. Therefore, placing a picture of seven horses in your workplace will bring positive outcomes to your business, including growth and wealth.
Why is it important?
The image of a seven-horse painting in motion is an emblem of peace, success, and progress according to Vastu Shastra. Additionally, it is said that having this type of painting hung up can help alleviate financial problems.
Conclusion
Now that you know the figure on the horse is supposed to represent success, drive, speed, opportunity, power, and luck, get one for your house or workplace and place it in accordance with Vastu ritual to bring its magic.
Get yourself a seven-horse painting and hang it according on Vastu guidelines to bring positivity into your life as well as wealth to your company.
The horse symbolizes determination, accomplishment, reliability, triumph, control, opportunity, speed, and furthermore a triumph every single incredible credit to hurry your objective to ascend the professional bureaucracy or get your business thundering.
At work, you are continually looked with the execution issue, show steeds close to your working work area. This outcomes in the quick development and quick collecting of inventive thoughts.
Steeds running forward implies that you can work together with no trouble. At the point when shown in the home or office, it brings a triumph, triumph, quality, and achievement. Hues, number of ponies and a heading is vital when horse painting is utilized for home stylistic layout or Vastu Shastra (even fengshui) rectifications.
An extensive divider canvas painting of darker and dull hued ponies are increasingly amazing, alluring and, likewise vigorous as indicated by the Vastu Shastra. Also, keep visiting Décor Champ for more Vaastu knowledge and wisdom.
Precautionary Measure About the Horse Painting:
Abstain from having a picture or logo of the sun in the steed painting, whenever set on the south or north mass of the premises.
Spot steeds in odd numbers.
Maintain a strategic distance from ponies in that are in pitiful stance.
Shun showing deficient steeds in the home or office
Maintain a strategic distance from water body in the pony painting.
It isn't prescribed to have pictures of horses in the room.