Money plants are popular in people's homes. These plants are linked with bringing good fortune, wealth, and prosperity.
However, not many people know how to integrate the plant into their interior design. We've compiled a list of interesting and simple money plant decoration ideas for you to choose from.
Decorate your house with the trendy money plant decoration ideas if you like them and want to bring good fortune and prosperity home with you.
Listed below are some of the trendiest and most attractive money plant decoration ideas with pictures you can adopt while decorating your home with a money plant.
We have shown both, money plant decoration with artificial money plants and real money plants with some innovative money plant climbing ideas with real and artificial money plants.
You should also consider vastu tips for money plant while bringing it home.
Money Plant Decoration Ideas
Hanging Stand
One way to decorate with money plants is to hang them from the ceiling. Use a wire or hanger to hang the plant from the ceiling if you have a limited amount of space.
This will give your area a unique appearance and make the plant more visible. Consider employing multiple money plants to create a more complete effect if you have a big room.
Colorful Pots
Another way to use money plants as decoration is by planting them in pots and placing them around your house.
Choose different sizes and colors of pots to create an interesting look. You can also mix different types of plants in one pot to create a unique display
Fancy Bottle Stand
It's like applying the fundamentals of art to practice. You undoubtedly have a few empty bottles at home, and who doesn't like playing around with color combinations.
This is without a doubt the simplest and most personal money plant decorating approach available. You may paint the bottles any color you like as well as arrange them in a design that matches your décor.
Note: Here are some tips on how to propagate swiss cheese plant
Glass Bottle Stand
The bottles on your balcony may be utilized to decorate a money plant. You'll need hangers and wires, in addition to some empty bottles.
Hanging just one bottle is possible, or you might go with a pair of two or three as per your money plant decoration need and the space available.
Do you want to know the benefits of spider plant while bringing them home? Here you are.
Glass Bulb Stand
It's time to get little nuts and creative with house decorating. Growing a plant in a glass bulb is one such money plant decoration idea. You may use any bulbs that you have in your home, whether they are expired or not functioning properly.
You can either hang the bulb from the ceiling using wire or place it on the table using a solid and sturdy foundation. If you look for money plants online in India, you'll be able to discover such pre-potted plants easily.
Flask in a Wooden Stand
Here, it appears like the plants are emerging directly from the science lab. Ideas for decorating with money plants at their finest creative!
Artificial Money Plant Decoration Ideas
If you're not able to care for a live money plant, or simply don't have the time, there are some great artificial options available. We do have a list of decoration ideas for artificial money plant as well given below:
Also read: All you need to know about areca palm plant in details.
Hanging Basket
An artificial hanging basket is a great option if you want to add some greenery to your space. You can hang the basket from the ceiling or on a shelf.
The basket can be filled with moss, plastic plants, or artificial flowers.
Artificial Potted Plant
The plant can be placed on a table or countertop. The pot can be made of ceramic, plastic, or metal.
The plant may be manufactured of plastic, silk, or metal.
Artificial Money Plant Tree in a Pot
A fake tree is an excellent method to raise the room's height. The tree can be made of plastic, silk, or metal.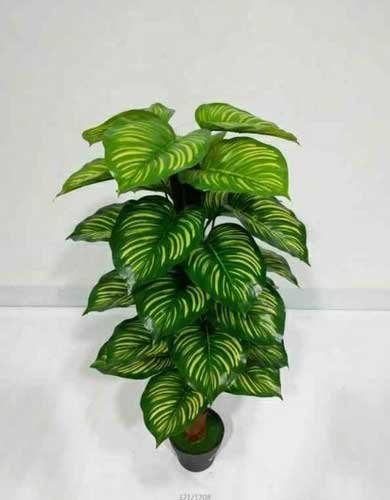 Money Plant Around a Photo Frame
Frame your favorite photos with living money plants or artificial money plants. Choose a photo frame that has an opening on the top of the side so you can easily place and remove the photo.
You need to take extra care when you go for a live money plant to decorate your photo frame as the money plant start climbing and expanding around the photo frame.
Special Note: Read about croton plants here.
Money Plant Climbing Ideas
Decorative Net on the Wall
Money plants, as you are aware, can grow on anything, and their stems will take the form you desire. As a result of this versatility, rather than growing them in the most basic way, utilize your power to give your wall a beautiful green appearance.
The designer net shown in the image is simply an example; you may look at many more designs on the market if you want. Place it inside your corridor or on your balcony as a money plant adornment. 
This decoration can be done for both live and artificial money plants.
Grow Money Plant on Wall
A money plant on a plain wall will transform it into a green wall. Because this plant is a climber, it may completely cover any surface with its foliage.
In addition, the vegetation provides comfort and acts as a mini-ecosystem in itself. Green walls perform best when they receive a lot of indirect natural light.
Allow the Creeper to Fall Without Intervening
Allow the long stems to hang from a pot on a high stand or shelf. Because you don't need to trim the plant or tie the stems to supports very frequently, this is more maintenance-free.
The high stand may be used in almost any room of your house, including the living or dining area, on top of your study desk or kitchen cupboard, and even on an island. The dangle- ing stems will brighten any environment.
Conclusion
Money plants are an important part of Feng Shui, and with the many options for displaying them, you're sure to find one that suits your home décor. You can use live or artificial plants, hang them or place them on a stand, and let them grow on anything.
With a little creativity and effort, your money plant will become a beautiful and auspicious addition to your home. No matter which method you choose, your home will be improved by the addition of the Money Plant.