The growing acceptance of environmentally responsible and sustainable practises has motivated people to be creative with their home furniture in recent years. The DIY pallet bed is one such brilliant concept that is gaining popularity.
Using abandoned wooden pallets to make beautiful and useful beds not only reduces trash but also adds a rustic touch to your bedroom.
In this article, we will look at different innovative methods to create a pallet bed and present you with inspiring examples to get you started on your own projects.
Choosing the Right Pallets
When making a DIY pallet bed, selecting the correct pallets is crucial. Make sure the pallets are clean, strong, and devoid of any dangerous items like chemicals or mold.
Look for the "HT" mark, which indicates that the pallet has been heat-treated rather than chemically treated, making it safer for interior usage. 
Inspect the wood for signs of deterioration or weakness, since these might jeopardize the structural integrity of the bed. To prevent splinters, sand away rough edges and finish the wood for a glossy appearance.
You not only ensure the safety of your bed by carefully picking the pallets, but you also support sustainability by reusing unwanted materials into a useful and visually beautiful bedroom centrepiece.
You should also know: Sleeping direction as per vastu
Simple Pallet Platform Bed
A pallet platform bed's simplicity exemplifies the elegance of minimalist design. You may easily create a sleek and industrial-inspired sleeping place by placing clean and sanded pallets in a smart design. 
By upcycling waste wood, these refurbished pallets not only provide rustic appeal but also support sustainability. As a consequence, you get a solid base that supports your mattress while still radiating raw elegance. 
Add a dab of wood varnish for a glossy appearance, or leave it untreated to show off the natural textures. This simple yet beautiful method to bed making demonstrates that sometimes fewer certainly is enough.
Pallet Bed with Built-in Storage
With a Pallet Bed with Built-in Storage, you can create a useful and environmentally responsible bedroom retreat.
Re-purpose wooden pallets by stacking them to make a platform and attaching drawers or cubbies on the sides or below the bed to store additional bedding and supplies close at reach. 
For a stunning display, combine a headboard with pallet shelves. This clever design not only maximises space but also gives a rustic appeal to your area. Utilise heat-treated pallets to ensure safety and environmental concern.
Enjoy the convenience of neatly disguised storage compartments, which allow you to clean your area and create a cozy retreat for quiet evenings and organised mornings.
You may also like to read: Low budget modern 3 bedroom house design
Pallet Daybed
A fascinating pallet daybed may completely transform your area. Arrange pallets lengthwise to create a big platform that transforms from a pleasant lounging area during the day to a cosy sleeping hideaway at night. 
Layer luxurious cushions and inviting toss pillows to increase comfort. This adaptable DIY project combines design and usefulness, providing an excellent area for reading, resting, or entertaining visitors.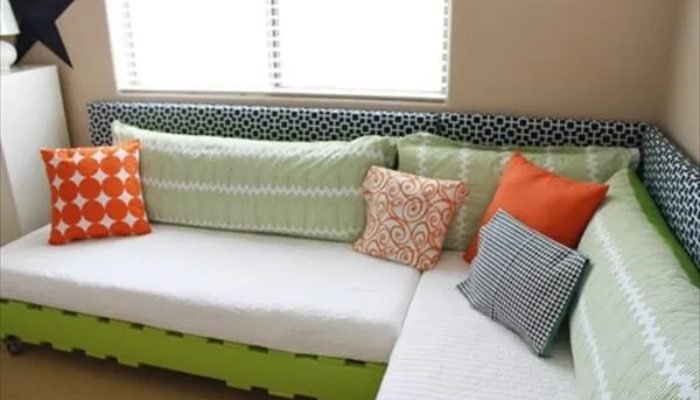 The rustic beauty of reused pallets adds individuality to your design while also being environmentally beneficial.
Enhance the look by adding soft draperies to the pallet daybed, giving your space with a sense of calm and refinement. Take advantage of the versatility and creativity that this pallet daybed gives to your living room.
Also read: 2 bedroom house plans indian style
Pallet Canopy Bed
A Pallet Canopy Bed blends rustic charm and elegance to create a compelling focal point in any bedroom. Secure four tall pallets to each corner of the bed to construct the canopy structure for this stunning DIY project. 
Create a dreamlike environment by adding a robust crossbar to support the canopy cloth or curtains. Drape translucent drapes or flowing fabric from the canopy frame for a romantic and private touch.
Every night, the outcome is a cosy hideaway that takes you to a beautiful getaway. This Eco-friendly and cost-effective design not only shows your creativity but also transforms your bedroom into a relaxing and beautiful retreat.
Pallet Toddler Bed
Making a pallet toddler bed brings up new possibilities for creativity and sustainability. You can provide a cozy and safe rest environment for your child by recycling pallets into a pint-sized sleep sanctuary.
The pallet bed is trimmed and made with care, has safety rails for peace of mind, and may be painted in vibrant colours to encourage your child's imagination. 
This do-it-yourself project not only provides a low-cost sleeping option, but it also teaches children about up-cycling and being mindful of the environment.
The pallet toddler bed transforms into a treasured hideaway where your child's growth and comfort are nourished in an Eco-friendly embrace, from fairy-tale dreams to times of play.
Also know about: Bunk bed for kids
Pallet Bed with LED Lighting
Incorporate mesmerising LED lighting into your pallet bed to increase its attraction. This creative touch not only improves the overall ambience of your bedroom sanctuary, but it also serves a functional purpose. 
Installing inconspicuous LED strips beneath the pallet platform creates a delicate, ethereal illumination that emanates warmth and tranquillity. It encourages relaxation and offers a calm tone for your nights as a modern lighting option. 
The harmonic combination of rustic wood and modern lighting provides a stunning juxtaposition, transforming your pallet bed from a piece of furniture into a brilliant work of art.
Accept the allure of a DIY pallet bed with LED lighting and let your own hideaway glow brightly at night.
As you can see, the only limitation to making a pallet bed is your imagination. DIY pallet beds not only provide an environmentally sustainable alternative to standard bed frames, additionally they enables anyone to demonstrate your creativity and personality.
Pallet beds supply both usefulness and beauty, ranging from simple platform beds to fascinating canopy designs.
Always prioritise safety, sustainability, and originality before commencing on your DIY pallet bed quest. Accept the faults of recycled wood since they bring character and originality to your work.
Roll up your sleeves, grab some pallets, and let your imagination go wild as you construct a lovely and long-lasting focal piece for your bedroom!
Consider reading: