Pooja Mandir is a sacred space where we offer our daily prayers and perform puja rituals. A well-designed pooja mandir can elevate the mood of the entire house and create a positive ambiance.
As per the Vastu Shastra, the ideal location for the puja room is the northeast corner of the house. It should be just enough to accommodate all the puja items comfortably.
There are many beautiful and creative designs available these days. Some of the popular pooja mandir designs for the home include:
Wooden Pooja Room in Living Room
The body of the doors is made out of wood, and there are two drawers to the side. Cotton and Kapur may be stored in adjacent little drawers.
Wall-Mounted Mandir Design for Home
For the next wall-mounted mandir design for home, just use the bedroom wall to create a basic wall-mounted mandir and also utilize your little spaces.
Compact Mandir on Balcony
Make a compact mandir on the balcony with the help of a flower boundary. The wall panel, as well as the balcony, is separated from the wooden temple design area by a textured wall.
Indian Style Pooja Room Design with Glass Door
When placing a mandir near a kitchen, the smallest amount of space should be taken. As a result, you can see an Indian-style pooja room design that still creates a pleasant environment. The kitchen has only a tiny glass temple due to room restrictions.
Wooden Pooja Mandir Designs for Home with Drawers
Wooden pooja mandir designs for home is now available with different colors and multiple designer drawers. Another option to use this wooden temple room design is to mount drawers and shelves below a wooden frame on the wall as a backdrop for your wooden mandir design, and then store idols and other pooja-related objects in them.
The panel's edges may be emphasized even more with the appropriate combination of backlights that gives your sanctum a lovely glow.
Mandir Design with Bells
Traditional designs may be found in a wooden mandir room. The mandir door is adorned with a bell, which many people think adds to the beauty of your wooden pooja mandir ideas for home.
If you're one of them, go for this solid wood piece that has an Indian wooden mandir design atmosphere. With a large storage capacity, the bottom half of the unit is impressive.
Corner Mandir Room Design
The dining area and Mandir are the focal parts of your home, but placing the mandir unit in the dining area is difficult. The mandir should be placed in the nook of the dining room since there are Diyas inside it, which might cause harm to children.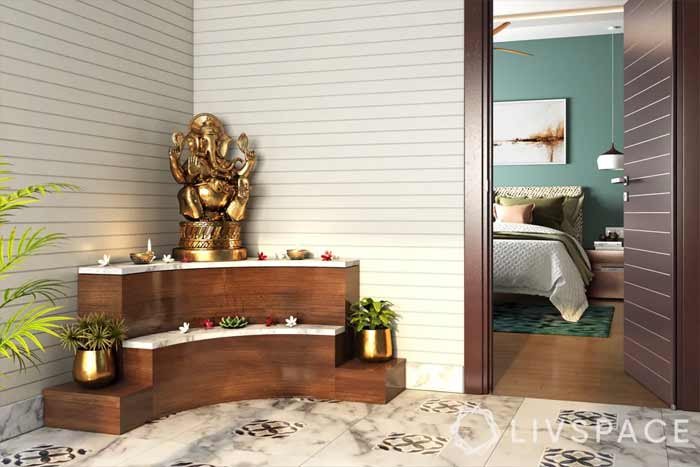 The temple should also be a tranquil place. The magnificent play of light and shade on the Jaali of mandir doors, as well as the well-defined Dining table, bench seating, and crockery stand, adds to the majesty.
Marble Mandir with Jaali Work
For its beautiful design! If you're a huge marble fan or if you just like the look of marble, we'd advise you to check out this concept.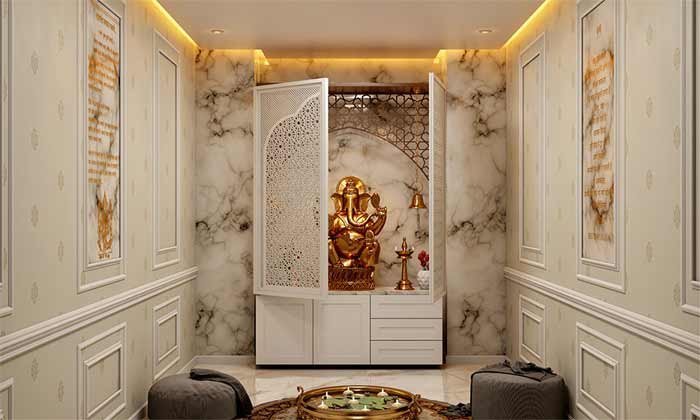 The laser-etched glass back panels include a leaf pattern, as well as an intricate floral motif in the middle that adds to the appeal.
Simple Wall Shelf Mandir Design
This shelf takes up very little space on your bookcase and serves as a great organizer! The top of the shelf has a few decorative items and a small shrine.
Wall-Mounted Pooja Units for Small Corner
This beautiful pooja unit is ideal for tiny apartments! We adore how this unit doesn't disappoint or penalize style, usefulness, or beauty. We believe it's a win-win situation!
Small Pooja Cabinet Design
This contemporary mandir cabinet design might be used in a modern Indian home. It complements the other straight and basic furnishings – which is neither fussy nor ornamental – and blends in with the rest of the place.
You may separate the cabinet into two parts: one for your mandir, and one for storage for things like cotton, oil, agarbattis, and so on.
Om Printed Mandir Design
It's because of the 'om' design on the back panel of this mandir design that it looks so great. It's a beauty, and it adds a lot of aesthetic appeal.
Small Room Mandir Design
Because it demonstrates that even tiny areas do not have to sacrifice beauty or space when hosting a mandir. And this bespoke temple is an excellent illustration of that. What adds to its attractiveness is the orange textured wallpaper, which draws attention to the area.
Indian Mandir in Nooks
It's in a nook, and it could have gone unused. The dark, glossy glass paneling and pendant lights give the area a premium look while also identifying it as something unique.
Wooden Partition Mandir
It's a beautiful example of how to make space for your pooja mandir in your living room. Separate the mandir from the rest of the area, such as with these wooden beams in this instance, and take advantage of a partition, such as these durable wood timbers.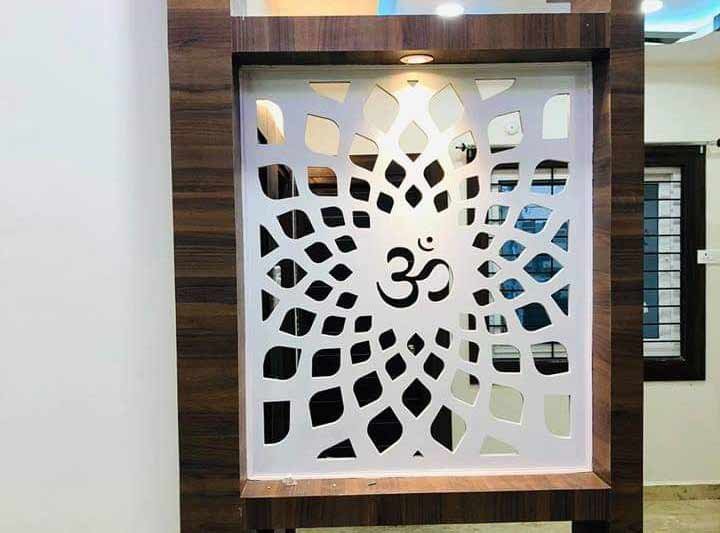 Also, provide it with something lovely that distinguishes it from the other rooms.
Conclusion
Pooja mandirs are not only a sacred place for Hindus but also a great way to decorate your home. 
There are several distinct types and designs to select from, so you'll need to pick the one that suits your needs and preferences the most. We hope that this article has helped you narrow down your options and find the perfect Pooja mandir for your home.