The wealthy have adored marble flooring since ancient times, and the preference has remained unaltered.
Marble was once considered to be a costly rock that the Romans and Greeks utilized for carving and constructing architectural masterpieces. It became a sign of aristocracy, tradition, and culture over time.
Marble flooring is a popular choice across the world. Marble floors will last a long time, look stunning, and require minimal upkeep.
Marble has a distinct allure in both simple and grand Roman and Indian edifices. Marble flooring is also appreciated because it is naturally cool and may assist keep temperatures low in a home.
Choosing the ideal marble flooring design may be difficult, but knowing your choices makes it a lot easier.
Here is a comprehensive guide to the many types of marble flooring patterns that will assist you in choosing the proper one for your décor style.
Consider reading about: Marble VS Granite VS Tiles which one to choose.
Let's have a look at some trendy, modern, stylish marble flooring designs for your home, office, or any building below:
Italian Marble Floor Design
It's difficult to beat Italian Marble Flooring Design for adding a relaxing and opulent touch to your house.
This majestic material may completely transform the appearance of any area.
The italian marble flooring is one of the best flooring options in india as they give your home a fantastic and opulent appearance. It's primarily utilized as an ornamental element in people's homes' nooks and crannies.
They avoid utilizing it on kitchen worktops because it stains more readily. In slabs, they come from Italy and are sent to India.
Design of a Broken Marble Floor
This flooring style is charming enough to capture your visitors' attention while also making your outside space seem quite distinctive.
Marble Dana Floor Design
The design's name, in Latin, means "broken down" (danas) and "put together" (da-) to make a one-of-a-kind pattern.
These tiles have a slick look that makes them highly appealing.
Kota stone flooring is also a good option for indian homes. Have a look at the latest and trendy kota stone flooring options here.
White Marble Flooring
Make a grand impression in your house with the ever-classical, all-time favorite white marble floor.
The most effective way to brighten up an interior space is to cover it with white tiles. Furthermore, the light color will make any little room seem larger and more aesthetically pleasing.
For latest pooja room marble design visit there.
Black Marble Flooring Design
Black marble tile may be appealing to anybody looking for a sleek, contemporary makeover that adds a distinct aspect to their home.
Dungri Style Marble Flooring
The wonderful white texture of these marble tiles makes them an excellent option for anybody looking to add a striking touch to their home.
The distinctive characteristics of this marble, such as heat tolerance and a beautiful appearance, have made it valuable.
Dungri Marble comes from Rajasthan, India's Makrana. It is utilized in the construction of buildings and historical monuments.
Makrana is the primary source of dolomitic marble in Rajasthan. It's commonly used in the construction of architectural structures and historical monuments.
Searching for a modern marble mandir design for home? Here you go.
Green Marble Flooring Design
Green marble is a stunning addition to your house, and it adds value as well. They are also recognized for their long-lasting appeal and gleaming finish that resists scraping and deterioration.
Because of their adaptability and durability, they're an excellent choice for bathroom surfaces, kitchen supports, and restaurant tables. This design complements both classic and progressive styles well.
Marble Floor Flowers Design
Whether you're looking for a traditional or vintage style, these marble tiles with flower patterns will surely pique your interest.
In hotel lobbies and reception areas, big floral marble flooring designs are popular, but they're becoming increasingly popular in private home design.
Also check the latest marble name plate designs for main gate here.
They provide a beautiful and distinct touch to a wide range of interior design concepts.
3D Marble Floor Designs
If you enjoy optical illusions, 3D flooring is an excellent way to add some interest to your house décor.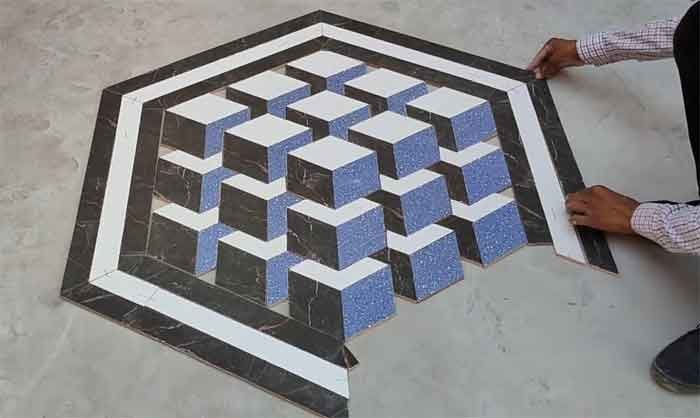 Marble Tukdi Floor Design
The home's outside areas, such as terraces, porches, and verandas, are just as essential as the inside.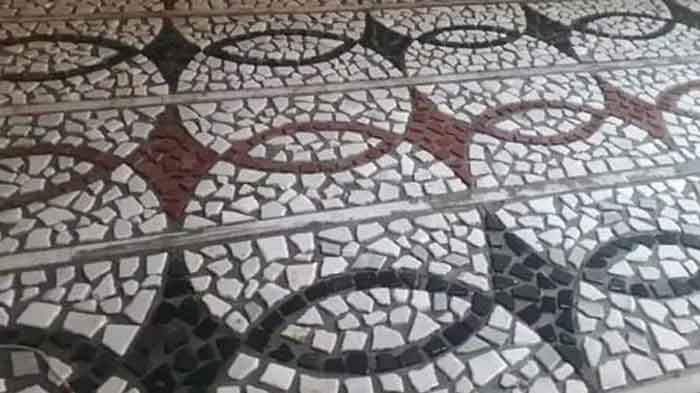 They provide a lovely location to unwind or entertain guests.
Zebra Marble Flooring
The zebra motif is symmetrical and black-and-white, making it ideal for raising the aesthetics of your hallway while also fitting in with the rest of the interior designs.
Botticino Marble Flooring
The design of this bathroom is clean and modern, with a glossy black steel sink that complements the white tiles perfectly.
Botticino fiorito (flowery) and Botticino classico (classic) marble tiles are mined in the Brescia region of Italy and come in two varieties.
Consider reading about bathroom floor tiles design with photos here.
Terrazzo Chips Marble Flooring
Onsite installation is required for a terrazzo floor; depending on the procedure, it may either be tiled or poured.
This eliminates the need for joints and the shattering of tiles, ensuring clean floors without seams or cracks.
Border Marble Floor Design
The white marble tiles in this bathroom are an excellent match for the rest of the space's color scheme and design.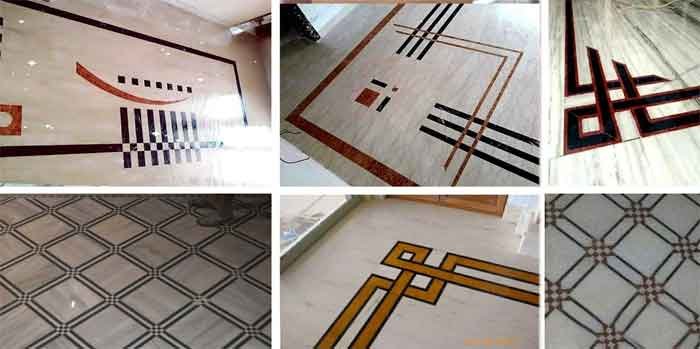 The soft yet elegant mood is provided by the curving black edges surrounding the white marble tiles. Rounded frames give your traditional or modern house décor design a unique touch. 
White and Black Marble Floor Designs
This is a fantastic choice if you're searching for something one-of-a-kind that won't overpower the rest of the furnishings.
Common Types of Marbles for Flooring
Marble flooring is pleasing to the eyes and is demanded widely because it adds a classic appeal to the architecture.  The complementing effect marble can give to your home is hard to define in words.
When it's all about the flooring trends in the country, the first thing which pops into your mind is the playful color combination of different types of marble or a serene beauty of white marble.
Refer to flooring types for uncluttered and fabulous appearance here as well.
The rugged charm of marble is surely attention-grabbing. A great way to enjoy the priceless possession is by installing it on the floors. The most luxurious floors in sophisticated homes and hotels are made of marble. With hues of black, brown, green, red, and white, you have a myriad of options for flooring.
Give a short read to:
Colors and Patterns in Marble
You can get blocks, slabs, and tiles of marble stone in varied colors. The most popular options in color and patterns include:
Breccia Marble: Demanded widely for flooring, the Breccia marble features all the darker and warmer categories of this natural stone. The most common colors in Breccia marble are deep browns and shades of red.
Calacatta Marble: This marble involuntarily gives a luxurious look to the interiors. Featuring bold vein patterns, the playfulness of Calacatta Marble is often accessible in warmer hues like yellow, green or dark shades of brown.
Carrara Marble: It is the most sought-after variety of marble, featuring similar properties as Calacatta marble; the Carrara marble is often trusted to maintain the pristine look due to its pure white beauty. It is one of the lightest marble colors available in the industry.
Limestone: The tan or beige variety of marble is also recognized as limestone which is visibly porous. Limestone is also a category of marble and can be availed in earthy colors that are good options for bathroom floors and high-traffic areas.
Also check: Construction Cost Estimator
Varieties in Marble
You may wish to install the adorable looks of green, white, and pink marble in your homes, but due to the abundance of varieties, picking the right product is often overwhelming. Out of those 3000 varieties of marble in the world market, here you can see top marble varieties that are ruling more than 90% of the market in the country.
Makrana Marble: Found in Rajasthan, the marble stone comes with sub-varieties like Kumhari, Doongri, Alberta, Chosira, PaharKuwan, Bhot, Adanga marble, Makarana Chalk, Abu white, and Makarana. This category is widely known for its serene vibes and pure white color.
Rajnagar Marble: The variety is found in a town named Kishangarh in the state of Rajasthan. It is the largest marble-producing area in the state, and here you can find dolomite and quartz varieties.
Other Varieties: Other common varieties include the Indo-Italian marble Andhi, which is found near Jaipur, Baroda Green Marble in Gujarat, along with slightly green Katni Marble of Madhya Pradesh.
Try these some of the best small bathroom ideas for your bathroom make over.
Finishes in Marble
Marble has a porous surface, but usually, it is free from stains and cracks. Generally, you can get uniformly colored marble slabs and the options for floor finishes can be:
Polished Marble:Featuring a mirror-like surface, it is good for interior flooring.
Honed Marble:The surface is velvety smooth, but it lacks the gloss of polished marble.
Sand Finish Marble: It features a non-reflective surface, which can be used for exterior installation.
If you want to attain the complete character of marble, then go for pure white Carrara marble flooring with a polished finish.
However, the sand and grainy finish of Rajnagar Marble in earthy tones are quite good for exterior surfaces.
Benefits of Marble Flooring
If you care about the environment and are aware of it, you may rest confident that installing marble floor tiles in your home is an environmentally friendly alternative since no chemical treatments are used during manufacture. 

Polishing marble flooring is simple – Marbles are simple to polish because they have a high gloss finish. When polished to a high sheen level, as seen in the image above, they truly gleam.
Highly polished marble flooring is very stain-resistant and does not require a lot of attention. They are simple to maintain and may last for many generations.
Marble flooring is long-lasting. Marble is a durable natural stone that may be used in high-traffic areas like living rooms or hotel foyers.
Marble flooring is not just beautiful, but it also radiates light. As a consequence, marble rooms appear larger and brighter.
Conclusion
Marble flooring is the epitome of refinement and luxury.  The surface is smooth, the colors are bright, and the designs are intricate. Marble floors are an excellent investment for your home. Not only will they add value to your property, but they will also last for many years with proper care.