Want to give your space an updated and personalized look? If yes, then the right flooring idea can give a totally new look of your home. Although traditional flooring ideas such as marble, mosaic, and granite are still in demand, wooden floor designs are quite amazing and they offer an unmatched look to your house. 
Floorings are associated with beauty, design, and durability. And, you will love to choose a floor that can stand up to traffic, especially if you have pets or children. If you want to achieve an aesthetic look, then opt for these amazing flooring ideas.
This article primarily focuses on the categories and groupings of floorings. Flooring is the lower enclosing space in buildings ad houses. It is a permanent covering of the floor laid over it.
In addition, flooring is called the process of laying down a flooring material. A wide range of attractive and stylish floorings are available, such as the ones mentioned below. Every flooring material explained below comes with its pros and, in some cases, cons too.
So it is an individual choice, and one should keep in mind the flooring requirements before selecting. The details, from style to budget, should be kept in mind. Flooring is extremely dynamic and static.
An optimal flooring should be aesthetic, practical as well as functional. So, here is a compact list of the ten most stylish and trending flooring materials you can choose from.
It is one of the best flooring ideas that you can choose if you want a stylish option for your home. This material is available in inexpensive options and can be found in different designs that stimulate hardwood and stone finishes. 
Vinyl Flooring is totally water-resistant and also stain-resistant. So, one can easily choose from one of the most durable options. Vinyl can be one of the best floorings for houses and it needs to save the floor from scratches.
Vinyl floorings are fixed by gluing and delivered in rolls. It can also be manufactured using a wide variety and diversity of colors and profiles, such as studded. 
This has many merits such as durability, the convenience of maintenance and hygiene, suitability for bathrooms and kitchens, easy installation, and economical range.
Granite
Granite is an elegant option to consider and the best part is one can easily choose granite in different color options. Due to the high stain resistance and durability, granite flooring is easy to maintain as well and only needs protection from scratches.
The best part about this stone is that it remains cool for most parts of the year and that is why it is amongst the best flooring options available in India. 
Concrete Flooring
Concrete flooring is very common in India as well as budget-friendly. Concrete is basically a man-made concoction of cement, granite chips, rocks, and other materials. Concrete-made flooring is quite strong. The concrete flooring types can easily be found in a wide range of textures and colors in Indian homes.
Wooden Laminate Flooring
The nest in this list is Wooden laminate flooring. It is a compressed fiberboard plank that is surmounted with an image of material such as stone, tile, timber, and others of the same category and then given a protective coating.
Laminates can be apt for rooms that require aesthetic flooring. It offers an easier installation and minimizes the risk of scratches. A good quality laminate can provide a guarantee for up to 20 years. They want less maintenance and are installed with underfloor heaters as well.
This flooring option is absolutely amazing because of the easy maintenance that it offers. In addition, wooden flooring adds warmth to the room layout as well. So, opt for floating wood or laminated wooden tiles are very easy to install.
Wooden tiles are relatively new to household flooring and are composed of synthetic material as well that stimulates new to household flooring. 
So, go for this amazing option that is composed of synthetic material and stimulates the wooden appearance which is then laminated. The only disadvantage of this flooring is that it can be slippery when wet. This flooring idea comes under top flooring trends. 
Although it is quite movable, the timber is sponge-like in texture which makes it highly dangerous for rooms exposed to frequent moisture and humidity. You can get easily wonderful finishing like wax, oil etc. 
There is solid and engineered timber flooring available. Each piece is made from a single wood, typically 18-20 mm thick in the reliable system. It uses the tongue-and-groove method.
The second one has engineered flooring in which each board has three to four layers of laminated timber which is built by holding it together at an angle of 90 degrees using glue to create a plank of 14mm thickness.
Bamboo Flooring 
Bamboo floorings give you a proper natural feeling inside your home. These kinds of flooring look very simple and also have less maintenance cost. Water and stain resistance features make house more beautiful for long time. Go for this flooring idea if you want something unique and under budget.
It is more grass than wood that has been compressed well into a flooring material and is glued together or nailed down after that. It is a renewable resource and is water-resistant. 
Brick Flooring

 
Looking for something popular and durable, then opt for a brick flooring option. It is known for its extraordinary strength, extensive durability, and fire resistance. Brick flooring is one of the best options to look for if you want to add a hint of rustic style to your home.
The best part about marble flooring is that they are easy to maintain and looks stunning in areas like the living room. They are ideally comfortable and aesthetically pleasing flooring that you can opt for. Or, you can even go for tiles that look like marbles but are more affordable.
Terrazzo
Terrazzo consists of granite chips and marbles that are placed in concrete or similar kind of materials. These floorings are also called mosaic flooring. One can easily opt for these stain-resistant tiles that are easy to maintain and the best part is there are several options available in Terrazzo.
White Wooden Floors  
White wooden floors create a unique style and distinctive look that you can't get from any other type of flooring. If you want to achieve a calming and relaxing look that is uncluttered by textures and multiple colors, then White wooden floors are the ones that you must try out. These floors are quite versatile and work with different design styles.
In addition, White wooden flooring can offer an inexpensive look as well to bring to your flooring if you use the paint or whitewash method. All in all, White wooden floor is an amazing option to consider if you want to give your house a revamp. If you want some more so just at these best flooring options in India.
Cork Flooring
This type of flooring is specially designed for the basement and bathrooms. It is advantageous in terms of water resistance and renewability.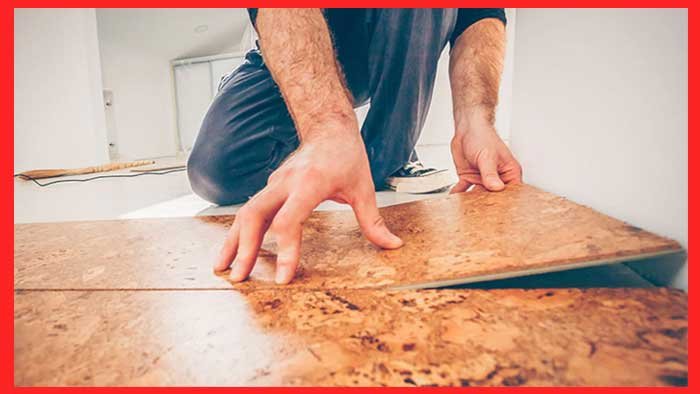 It can be used as a standard option and is installed easily by clicking and gluing. They offer warmth and are agile but may be subject to damage due to sharp or pointy objects.
Tile: Porcelain or Ceramic
The most common flooring option, tiles, are available in many colors and textures. They are hard enough to avoid all damages caused by scratches or dents.
They are well suited for wet environments and come in many shapes and finishes. However, these may be cumbersome in terms of installation and may break if not provided with proper support. However, they are appealing to the eye and are aesthetically pleasing. 
Carpet Flooring
The carpet is mainly created by an upper layer of the pile. The pile is generally wool or fibers such as nylon, polyester, and even polypropylene which is heat-treated after twisting it into tufts or weaving. It offers diverse textures, styles, and colors.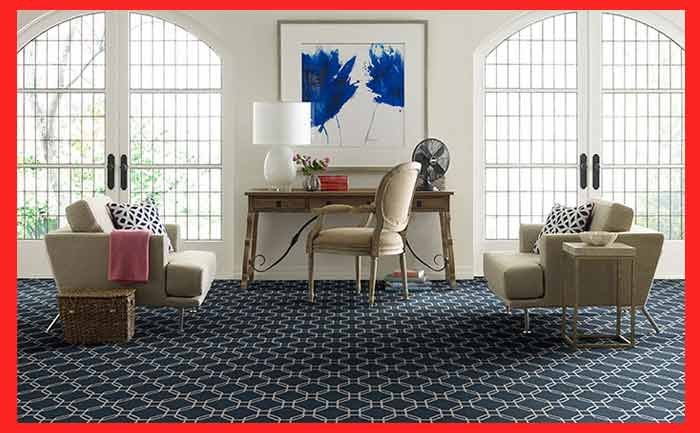 Carpet Flooring is durable as well as easily maintained. It also provides insulating properties to heat and sound.
However, they are prone to staining and can be damaged by water and dampness. Apart from that if you want something unique flooring idea then try Kota Stone flooring which is very much popular outside India.
Rubber Flooring
Rubber flooring is manufactured from recycled rubber tires and can be natural or synthetic. It is one of the 'elastic' and 'bouncy' materials and thus is characterized by resilience.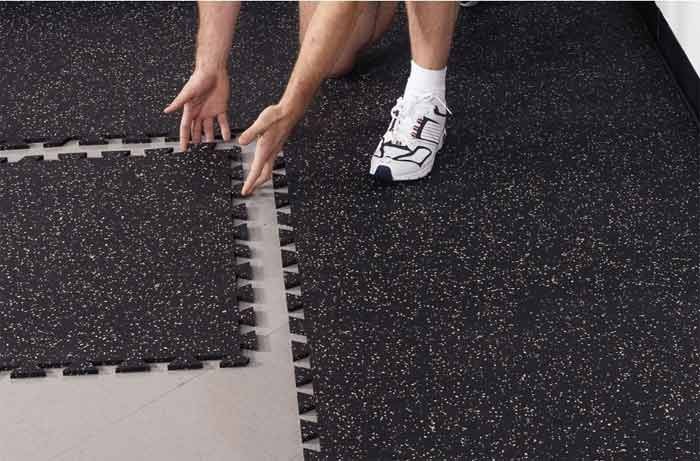 Besides this, it is also gaining popularity in the domestic sector. It is widely used for children's playrooms, showers and bathrooms, garages, home gymnasiums, and many more.
Poured Flooring: Mastic Asphalt and Polymeric
Mastic asphalt is poured in the form of liquids and then disperse across surfaces. While we do not commonly find asphalt and polymer floorings, they serve out to be quite advantageous in terms of commerce and industry and even domestically, where water protection and durability are a must.
Conclusion
Thus we can safely conclude after viewing the above points that floorings can range from simple ones to loud and eye-catchy ones. It is convenient to choose the most suitable one according to your location and environment and the one that fits your budget.
The best floorings have lesser cost and higher durability. These are lesser perishable and free from daily wear and tear. They cannot be damaged easily, and most of them come up to 20 years of warranty. So go for the one which you find aesthetic as well as functional and long-lasting.