Do you really want to decorate and design your living space? If yes, then there are a vast variety of options in dining sets that one can choose from. For instance, you can opt for a bright dining area, or a dull dining area depending on your preferences. 
There are various layouts and designs available for your living room. So, if you want to achieve a perfect look, then consider factors such as focal point, color combination, relaxation place, and many more. Therefore, take a look at the cozy living room ideas into account and create the coziest and warmest living room for you. Here, are some great design options that you can choose from.
Dining Room With Cafe-Like Feel
One can bring the outdoors and indoors together and enjoy the outdoor environment with a cozy home feel. It is an amazing idea to consider a small dining area as it will create a functional space. For the cafe-like feel, you can pick certain elements such as a long vase, or nice paintings that gives that cafe vibe.
Dining Room With Wooden Interiors 
When it comes to interior design, wood is a major element nowadays and no one can ignore it. Choose the dining table and accessories with a little more perfection that goes well with your home decor and can instantly light up your space.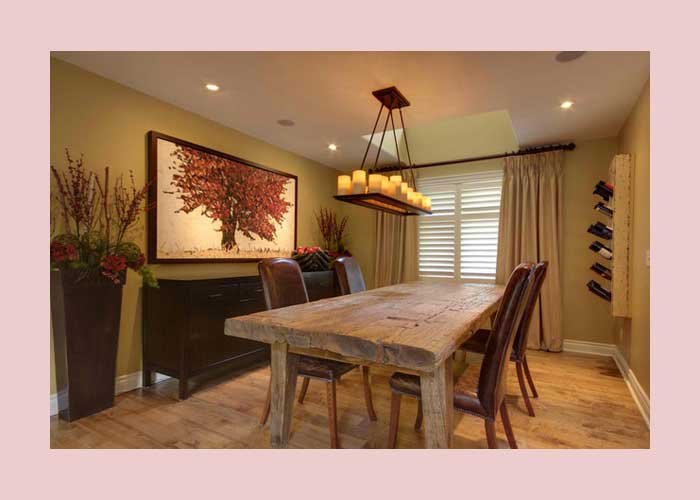 Dining Table with Tropical and Biophilic Scheme With Plants 
There are several mood-boosting and anxiety-reducing houseplants available in your dining rooms that can do wonders for your family at dinner time. 
Therefore, add the elements of greenery and enjoy your chaotic mealtime. One can even create a peaceful atmosphere by blocking out the sun's rays or street lights 
Boho Styled Dining Room 
If you want a dining room full of gorgeous textural elements, then go with a bohemian-style dining table or decor. To achieve that look you can go with rattan chairs, faux fur cushions, planters by the side, and many more.
Add a hint of decoration with patterned glasses and bowls as well. Go with a lampstand by the side. And, now you can sit and enjoy your boho-style space. 
Dining Room Decor With Pastel Colors 
Pastel colors have always been in trend for quite some time and they have become a part of lifestyle as well. One can opt for a pastel pink or pastel blue kitchen to break the monotonous colors and make the entire area look appealing.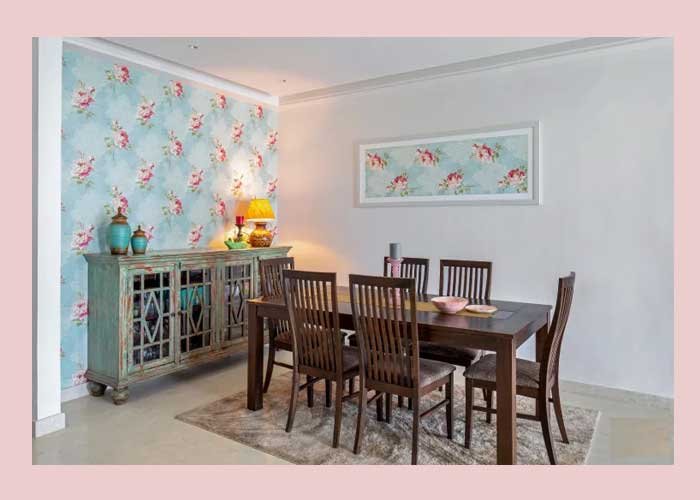 Go for a Farmhouse style Dining Room 
Try out a dining room design that is available with a farmhouse kitchen idea as to its foundation. For instance, you can create a dining room scheme that is a perfect combination of modern and old styles.
You can achieve a perfect look with rattan chairs, wooden wall paneling, and other elements as well. Style with the wooden utensils and wicker baskets for storage. So, what is the wait for? Pick the perfect decor elements such as a leather footstool, armchair, and many more. It will make the entire space look elegant and classy. 
Opt for a Round Dining Table Design 
A round table design takes up fewer spaces as compared to a square and a rectangular table. So, create a perfect sociable space where you can work without any hassle and go for a round table dining design. Here are some beautiful dining table set designs to make your home more beautiful.
Open Dining Room Decor Design 
If you are having a huge family or a small apartment, then it might not be possible to fit everything in a room. Therefore, one can easily choose to the dining area that comes with foldable chairs and tables. Therefore, all the decor ideas that you are going to implement must be chosen considering that factor for sure. 
Choose a Classic Sitting Room Design
One might try using vivid colors in the background that stand out. For instance, you can choose the roof architecture, and the dining table design smartly.
 Also, adding subtle textures and colors will help create stunning designs and it will make a perfect match as well.  Each of these styles will have different layouts and arrangements. 
Creating a Reading Nook With Dining Area
If you want to achieve something unique, then go with a small dining room design and create a perfect reading nook. For instance, you can choose a beautiful lamp right next to the comfy chair and add a floor lamp for the reading spot.
Adding Touch of Pattern in the Dining Room
For any decorative aspect, pattern and colors play a vital role. And, if you are in love with the main wall color then you can play around with patterns in the elements like sofa and dining to create a beautiful contrast overall.
It will make your space look stunning and offers a rustic vibe as well. One can even choose minimalistic elements that will give the dining room a relaxed feel and with some copper elements, you can achieve the look that you have always desired.