If your bathroom needs a makeover but you don't have the budget for a complete renovation, there are still plenty of ways to give it a new look.
Small bathrooms may be transformed into attractive and functional places if they are modified with little imagination. Here are some small bathroom ideas to get you started:
1. Stylish yet Simple Small Bathroom Ideas
Even the tiniest bathroom is deserving of a well-designed plan that exudes opulence.
On the plus side, because a small bathroom has a smaller canvas to work with, you may raise your demands for things like as this marble bathroom proves, less is more. 
2. Single Color Budget Small Bathroom Ideas
One alternative to tackling the proportions difficulties of a compact bathroom is to go all in on one hue. The color-drenching concept entails saturating every aspect of space with the same hue.
You may trick the eye into believing that a room is larger than it is by painting both the ceiling and walls the same color.
If the bathroom is attached with the bedroom, try implementing two colour combination for bedroom walls that match the bathroom as well.
The bathroom is an excellent location to make a distinctive statement that is one-of-a-kind. Tiles on the walls provide tactile appeal and allow light to emanate off the glazes, bringing life to a room.
3. Wallpaper For Small Bathroom
This year, bold and gorgeous bathroom wall coverings are making a comeback in a big way. Wallpaper allows you to be more inventive and daring in a smaller room than in the larger or more open one.
Plus, by incorporating this one design feature, the atmosphere of a tiny bathroom can be completely transformed.
Don't be limited. Intensify the look of this small bathroom as much as feasible to make it feel like a retreat.
However, in a tiny bathroom with a shower or bath, use waterproof wallpaper or murals since condensation can damage ordinary papers. For your best option, keep wallpaper for a little guest bathroom or powder room and not your family restroom.
4. Oversized Tile Style for Small Bathroom
The simplest way to extend the look of your bathroom is by using bathroom tiles design. Tile allows you to change the size of a room without having to demolish it, as long as you choose carefully.
Because bigger tiles imply fewer grout lines, there are fewer visual breaks while viewing the space.
In a powder room, we suggest combining large-scale floor tiles with tiny, basic subway tiles on the walls. We believe this makes the bathroom seem larger and more luxurious because the eye perceives the floor to be big and uniform.
Try waterman tiles or johnson bathroom tiles for your bathroom to give it a unique look.
5. Dramatic Wall Paint in Small Bathroom
No rule states you can't make a small bathroom lively and daring in color. Make this little cloakroom one of the focal points of your home by adding a big dose of personality to it.
Light, pastel corals for bathroom walls are a fun option. When combined with natural materials like terracotta or terrazzo and contrasted against the oak cupboards and furniture in this happy selection, it appears refined.
Note: Do not forget vastu tips for bathroom to make it vastu complaint while selecting paint for your bathroom.
Seasonal colors, such as fuchsia or orange, may be an excellent way to liven up a dark area. Seasonal colors like lime green and red can transform the appearance of space while keeping it earthy and naturalistic.
6. Install a Small Bath Tub
Rather than following the popular notion of reducing features in a tiny bathroom to keep it modest, we propose you think outside the box.
A compact bathtub, for example, might give the area a high-end feel and make it seem like a spa bathroom.
Have a look here at the top brands for bathroom fittings and hardware in india.
The bathtub appears diminutive in this project, but the experience of a long soak while seated is unlike any other. Wall-hung fixtures avoid confusion and prevent the region from getting cluttered.
7. Use A Large Mirror in Small Bathroom
In tiny bathrooms or powder rooms, extend a bathroom mirror across the wall or down the vanity. Every inch helps in less-than-ideal location situations.
When working within restricted locations, it's critical to pay attention to detail. Small bathrooms are limited by their size, but there are some tricks you can use to make the most of what you have.
A large (correctly sized) mirror over your vanity is an excellent method to create the illusion of a greater room in a small bathroom.
#bathroom_designs_treands_to_follow
8. Install a Glass Door
A frameless glass bathroom shower enclosure may be used in any style and appeals to contemporary tastes. It has a formal and classic appearance.
The modern bathroom door designs do not break up the scene and give the room a unified look. It also prevents water from reaching other areas of the bathroom, keeping it clean and dry.
9. Use More Than One Mirror
Mirrors aren't only for examining your reflection; they also have a variety of uses. Mirrors aid in the expansion of light, creating the appearance of more space and making rooms seem limitless.
A clever option for little bathroom storage is to conceal it behind the mirror to give the area a clean appearance.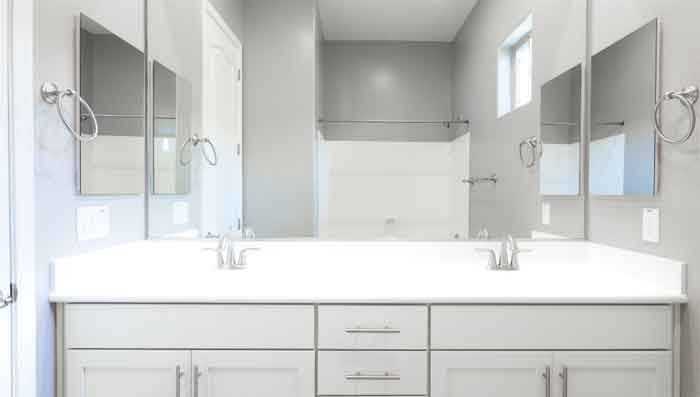 A window does the same job, but with greater impact, because it reflects light and pattern (and, sometimes, that open door). If mirroring an entire wall is not feasible in your area, you may simply add many mirrors to one side.
10. Hide Plumbing and add Storage
While it does take up a little more space, it also creates a very minimalist bathroom with no unsightly pipes and extremely useful shallow bathroom shelving – ideal for storage and decoration.
This type of design, which is both simple and elegant, fits perfectly. Tiling floor to ceiling rather than just the stud wall for a more seamless appearance.
Consider viewing and reading about the Aquant Bathroom Fittings brand in india here.
Tips To Maintain Small Bathroom
A weekly once-over with a damp cloth should do the trick.

Pay special attention to the fixtures and tile, as these can get grimy quickly.

Use light colors when painting or decorating.
Finally, don't forget about the power of accessories!
A few well-placed towels or candles can brighten up a small bathroom.
Important Ideas for Small Bathrooms
Ideas For Small Bathrooms – Like every other part of your house, your bathroom is also a very important part, so this has been a very important aspect when you take your house as a whole. Being the place where you rejuvenate yourself and get in a better mode, it is very important that you keep it neat and clean even if it is not a big place.
So there are many things that you might keep in your bathroom and at times when you overload things here, there are chances that you might find it complicated for making space for all of that. First of all, you need to take care of the bathroom layout and plan in small space.
And yes it has always been one thing that has created a lot of fuss in big families having 1 bathroom because if you have just 1 bathroom and there are 6 members in a family then the shortage of space can be a frequent problem.
Although, people at times forget or neglect considering the Vaastu for bathroom and toiletries that does not mean you cannot have a better place in it. So, we are going to discuss amazing storage ideas for small bathrooms that will blow up your mind.
You might know a few of them and there are healthy chances that you must be using a few of them in your place.
Firstly Drawers are important

: Now at a stake of small place you can just keep things here and there, it is very important for you to create space and one thing that can help you do so is the inclusion of a drawer.

Yes, there is often a lot of space under the wash basin or just adjacent to the basin, so why leave it as it is? You can very well utilize it by putting up some drawers in it. Trust me it is an alternative that will help you utilize the space to a very huge extend.

You can store your face wash, towels, pluckers and many other necessary items like shampoo and soap. So, you can think of putting in some drawers.
If drawers don't work well, hang the wood

: You must be confused about what I am saying, aren't you? No sweat, this is what I was saying. I meant that if drawers are too big to use or you have any other issue with drawers then you can very well put some shelves on it.

See this is one thing that takes very less space and you can enjoy easy and low price installment. There is no big problem in using it as you just need to attach it on the wall at a certain height where you find it comfortable.

One more perk that can steer you towards using the open shelves is the customization part. You can easily and very well customize the depth and size of the shelves.
Rags behind the pot

: Almost everybody is using western pots now a days and what the best part of this pot is, that you can simply use the open portion behind the pot.

In most cases, although I don't know what yours is, but generally people leave the portion behind the pot empty. So, why are you killing the space like this? You can very well use it for toiletries and toilet paper.
Installing a Vanity

: I bet you might not have heard of it. The vanity is a complete set of few shelves under the washbasin. And this is not uncommon or odd. You can put in a lot of things in these selves and make space for other things in your bathrooms.

Lately, people have adopted this thing to create the maximum amount of space in their bathroom. It is a one-time investment, a low budget for maintaining it and you have so much space.

So if you are trying to evolve your place into a hub of space by using the space in a judiciary way then you can install the Vanity in your bathroom. You can rely on DécorChamp for the best quality.
Obviously, a stainless steel towel hook or rag can be helpful

: Being at a place where you have a small bathroom is very pissing but there is a very good stressbuster in this case which will take a few bucks and completely eradicate this problem of yours for sure. To get this you can use a towel hook or a small rack.
So these are the top 5 things that you can do the Direction of Bathrooms and renovate your bathroom in such a way that your small space gets the best treatment.
Conclusion
There are many ways to style a small bathroom so that it looks bigger, brighter, and more inviting. By following some simple tips and tricks, you can make the most of your small space and create a bathroom that is both functional and stylish.
We hope this article was helpful. Let us know in the comments if you have any other suggestions for styling a small bathroom.