Everyone wishes to instill elegance at their floors but at a minimal cost. Your wish can come true if you use the durable, less expensive and easily available flooring option, named Kota Stone.
Found in the Kota district of Rajasthan, Kota stone is an excellent building stone that is getting immensely popular among builders due to its lots of advantages including its cost benefits. To know more about the exclusive properties of Kota stone keep reading.
What is Kota Stone?
Fundamentally, it is a dolomite stone, and builders usually see it as a grained version of limestone. The hard wearing stone is quite cost effective, which is why you can see large scale application of Kota stone at driveways, corridors, kitchen platforms, terrace flooring, factories, government buildings and railway stations.
The subtle blend of earthy colors and luxurious finish of Kota stone makes it a viable option for flooring. People love Kota stone for its rustic look, which is far different from marble (know the types of marbles for flooring here) and granite. However, the sophisticated material can be polished to get a high shine which is best for both interior and exterior flooring.
Make durable pavers from Kota stone or utilize the wide textures and styles to compliment the bedroom, drawing room, lobby, balcony; the choice is unlimited with this mesmerizing stone which is also used for wall cladding these days.
Types of Kota Stone Flooring
You can attain the architectural effect by installing polished Kota stone floor in your home or office. Depending on the style preferences you can avail your choice of material from varied types of Kota stone slabs.
Colors in Kota Stone Flooring: Although greenish-blue and brown have become the most popular choices in Kota stone, you can attain the subtle blend of grandeur in lots of other color variations, such as honey, black, pink, gray and beige.
Finishes in Kota Stone Flooring: Kota stone is the most economical building stone that is easily available at many places in varied surface finishes. Add appeal to your interior or exterior flooring by availing the stone in natural finish, one side natural and one side polished finish, one side natural and one side calibrated finish, and one side polished and one side calibrated finish.
Also read: Construction cost estimator
Advantages of Kota Stone Flooring
The smooth and highly durable stone is widely used in commercial, residential and industrial verticals for flooring applications. The most common reasons that you can see an abundance of textures, styles, and colors of Kota stone in the market can be listed in the form of its benefits. Take a look: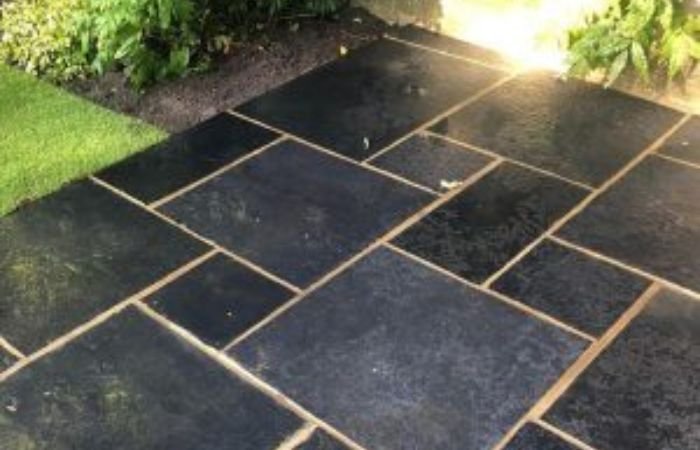 Hard and tough: Kota stone features a compact homogenous nature which is very durable and works perfectly for high traffic areas like corridor, entrance hall, porch, and staircase.
Wear resistant: It is a long lasting stone that makes it a viable option for commercial flooring and public places where wear and tear is comparatively too much.
Water resistant: Kota stone floors are non slippery Andon sloppy and work best for the bathroom and kitchen flooring.
Non porous: The hard wearing stone is non water absorbent and non-porous which makes it perfect for installation in humid areas and gardens.
Affordable and easy to maintain: It is easy to attain a luxurious look by installing the low cost and maintenance free stone which features a rustic feel.
You can also consider elegant looks of Vinyl Flooring
Disadvantages of Kota Stone Flooring
You need to maintain the luster of Kota stone flooring by regular polishing. Besides, periodic polishing is also required to eliminate the problem of flaking which is the biggest disadvantage of Kota stone flooring.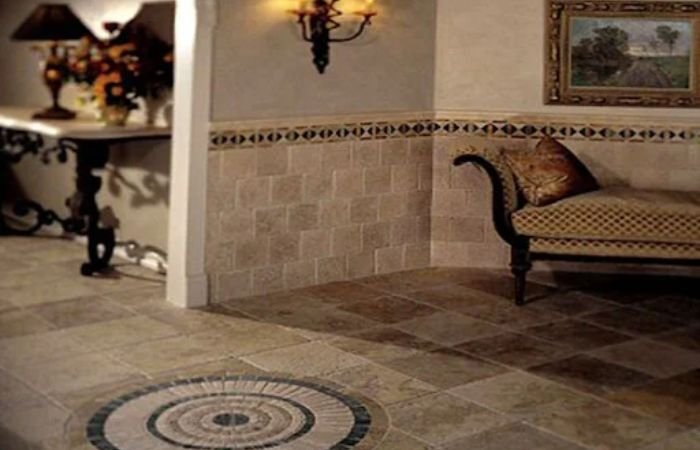 You can get Kota stone slabs in different dimensions such as, 30×30, 40×40, 30×60, 40×60, 60×60, 50×50, 55×55, and 60×90 centimeters. Pick the one that suits best to your application and get ready to envy the onlookers.
Kota Stone Flooring Design Ideas
Kota stone is a popular choice for flooring due to its durability, affordability, and natural beauty. When it comes to design ideas for Kota stone flooring, here are a few suggestions:
Classic Straight Pattern: Create a classic and timeless look by installing Kota stone tiles in a straight pattern. The uniformity of the tiles will give your space a neat and clean appearance.
Diagonal Pattern: Install the Kota stone tiles diagonally to add a dynamic and visually interesting element to your flooring design. This pattern can make small spaces appear larger and add a sense of movement to the room.
Checkerboard Pattern: Alternate two contrasting colors of Kota stone tiles to create a checkerboard pattern. This design works well in both traditional and contemporary settings and adds a touch of elegance to the space.
Border Accent: Use a different color or pattern of Kota stone tiles to create a border around the perimeter of the room or to define specific areas within a larger space. This can serve as a decorative accent and add visual interest to your flooring design.
Herringbone Pattern: Install the Kota stone tiles in a herringbone pattern to create a unique and eye-catching design. This pattern is particularly well-suited for larger areas and can give a sense of movement and texture to the floor.
Inlay Design: Kota stone is an excellent choice for creating intricate inlay designs on the floor. You can incorporate patterns, motifs, or even personalized designs using different colored Kota stones. This can be a great way to add a touch of artistry and individuality to your flooring.
Need extraordinary bathroom flooring? – have a quick view here
 Kota stone flooring: Cost
The cost of Kota stone flooring can vary depending on several factors, including the quality of the stone, the thickness of the tiles, the size of the area to be covered, and the region or location where you are purchasing the stone. Additionally, installation costs should also be taken into consideration.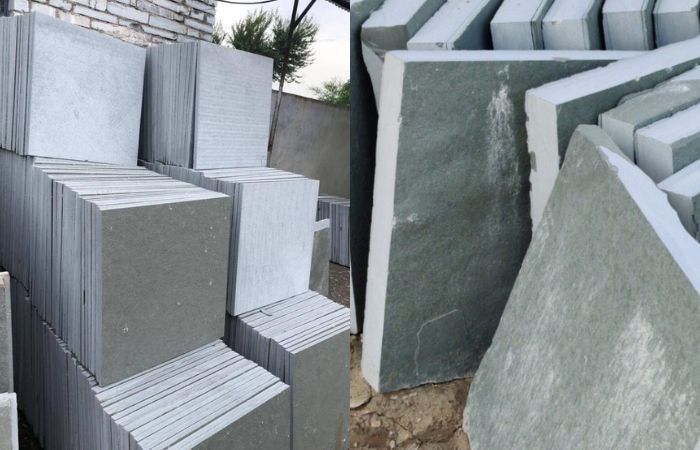 The cost of Kota stone tiles typically ranges from Rs. 40 to Rs. 100 per square foot
Higher quality or premium Kota stone tiles can be more expensive
Generally, the installation cost can range from Rs. 10 to Rs. 30 per square foot
Other expenses to consider include the cost of adhesive, grout, and sealant for the installation. These costs can vary depending on the specific products chosen
CONCLUSION
In conclusion, Kota stone flooring is a popular choice for its durability, affordability, and natural beauty. It is a type of limestone available in various colors, making it versatile for different design preferences.
Whether you prefer a classic straight pattern, a diagonal layout, a checkerboard design, a herringbone pattern, or a random layout, Kota stone can be arranged in various ways to suit your style.
Ultimately, Kota stone flooring offers a durable and aesthetically pleasing option for both residential and commercial spaces, adding a touch of elegance and natural beauty to your floors.
All you need to know about- Marble Flooring