On the outside of your house, a beautiful name plate design may give it a touch of luxury and privilege.
We've compiled a list of the greatest and modern name plate designs for home so you can choose from them.
These name plates are certain to provide an individual twist to your property if you have recently bought a flat or a house.
Keep reading this post for more ideas about unique nameplate designs for home/flat/villa or any residential property. You can also have a look at the main gate design that matches with the name plates as well here.
These name plate designs look pretty when you go for a modern steel gate design and an attractive main gate pillar design along with latest house front wall cement design for your home.
Things To Consider Before Getting a Name Plate Made
Before we start discussion about the same, consider reading home front boundary wall design as well.
Material and Finish of Name Plate
There is a vast array of materials that can be used to make name plates for flats, from metals such as brass and copper to natural stones like granite and limestone. You may also find them in ceramic, glass, wood, or even Siporex. The finish you choose will depend on your taste and budget. If you're looking for something with a more rustic feel, then opt for wooden name plates.
Nameplate Size and Shape
If you want something that's big and bold, then go for a rectangle or square nameplate. If you're tight on space, then go for a smaller size or a more unique shape like a circle or oval.
Text Fonts
There are many different fonts that can be used on name plates for flats. The most popular ones are Times New Roman, Arial, and Helvetica. However, there are many other options to choose from, so take your time and pick the one that you think looks best.
Color
The color of your name plate will also be determined by the overall look that you're going for. If you want something that's more traditional, then go for a white or off-white color. If you want something that's more modern, then go for a brighter color like yellow or orange.
Choose the perfect and modern parapet wall design as well that matches great with the name plate as well.
Images
You may also choose to add images to your name plate to make it more personal. Just make sure that the image is high quality so that it doesn't look blurry when it's printed.
Also read and view about: Iron gate design | Wooden Gate Design
Name Plate Designs For Main Gate
Engraved Modern Name Plate Designs For Main Gate
With these ornate engraved name plates, you may choose to have your name or simply your name etched on them for a low-key aesthetic.
You can select from a variety of font styles to match your style. These etched name plaques are fashionable and sophisticated, and they're ideal for people who want a more subtle message.
Have a look at some attractive two colour combination for bedroom walls if you are getting your bedroom walls painted.
Acylic Name Plate Designs For Main Gate With Address
Acrylic name plates are similar to glass but much easier to maintain. These flat name plate designs have a nice and elegant appearance.
They also merely require some basic upkeep, such as vacuuming. Any home may be given an exquisite touch with these acrylic name plate designs.
Brass Name Plate Design For Home
Name plates made of brass are classic and ageless. While brass lettering is most commonly used, the material may also be molded into a variety of designs.
These popular brass flat nameplate designs are visible from anywhere and provide an elegant air to your property.
Handcrafted Ceramic Name Plate
Name plates made of earthenware clay are handcrafted. These tiles are bright and colorful, and they give your house a sense of whimsy.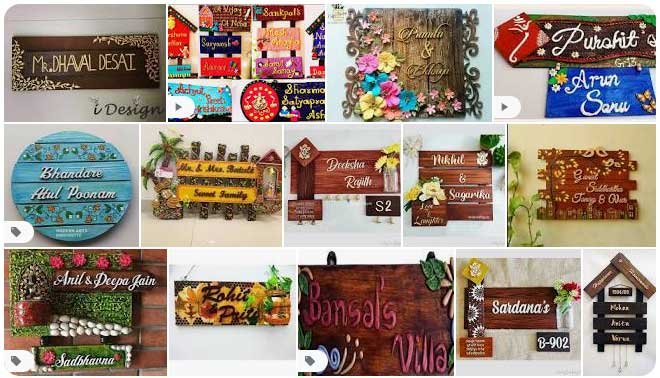 Handmade ceramic name plates are the most vibrant and colorful among other door name plate designs for flats.
Also read and view images of indian house colour combination outside home wall here.
Stainless Steel Name Plates
Name plates made of stainless steel are strong and have a beautiful smooth finish. These flat name plate designs are dust and tarnish-resistant, making them suitable for all types of weather.
Stainless steel name plates for homes have a long life and are waterproof. Nameplates with a polished look provided by steel add to the elegance of flats' name plates.
Wooden Name Plate
The most popular material for name plates for main gate is still wood. Wood has a natural majesty of its own, with beautiful natural variations in texture and color.
You may go all out and make motifs on it, or keep it simple with font designs. It will look excellent on any surface, whether it's elaborate or basic.
Have a look at some modern texture paint designs on which these wooden name plates look attractive.
Glass Name Plate Designs for Flats
Glass name plates are beautiful and elegant, yet because they are so fragile, many businesses seek for a more durable option.
However, glass name plates for homes are a good way to show your personality while still maintaining an air of sophistication.
Name Plate Designs for Flats with Light
Name plates for flats may be illuminated to make them more visible and help your name plate stand out so that visitors do not have trouble locating your home.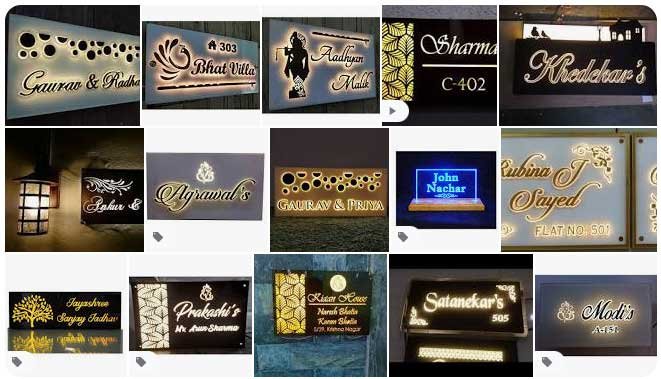 They also provide a lot of aesthetic value to it.
Limestone Name Plate
The popularity of natural stone name plates has increased significantly over the last decade.
They are commonly used in modern homes to provide a rustic appearance.
Do check out here the latest and modern two colour combination for living room if you are getting your living room repainted or its a fresh painting.
Iron Name Plate
Wrought iron name plates are ideal for tiny areas and may be made at a low cost. It is elegant, weatherproof, and durable.
It offers a wide range of styles, which is one of the reasons why it is so popular.
Siporex Name Plate
Siporex is a lightweight concrete block that many artists and sculptors are using to create name plates for main gate.
Granite Name Plate
Granite is a very durable stone that can endure all types of weather and live for decades. It's also fashionable, and popular.
It has been in style for quite some time after coming back into vogue recently.
Copper Name Plate
Copper name plates are trending because of their antique style and the fact that they're unique. They offer a rustic look and may be used in any season.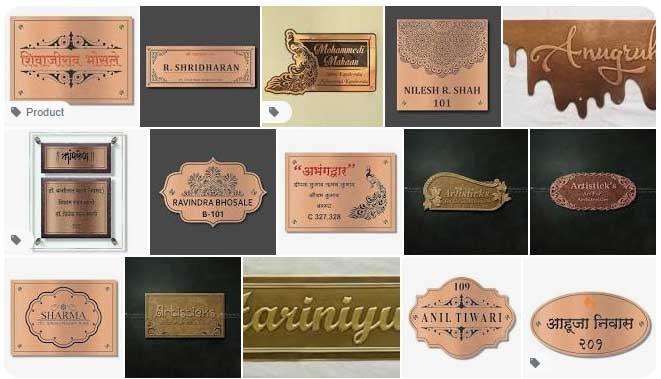 These nameplates for main gate are cheaper than other materials and last long with little to no maintenance required. 
Have a look at the tips on how to make orange colour paint.
Marble Name Plate
Marble nameplates are one of the most luxurious and expensive materials used for nameplates. They offer a classic look that is perfect for any type of décor.
Marble is a timeless stone that will never go out of style.
Conclusion
Name plates for homes are a great way to add personality to your home and make it more unique. There are many different materials, sizes, shapes, fonts, colors, and images to choose from, so take your time and pick the one that you think looks best.
Consider Reading: