Marble is an excellent choice when it comes to designing pooja rooms. It adds a high-end, sumptuous aspect to the area.
It is also simple to clean and maintain for the long term. Although marble mandir designs are somewhat more expensive than other materials, they will make your pooja room stand out and look indisputably beautiful!
It has also received strong endorsements from Vastu experts. If you're still unsure about how to arrange your first pooja room, we can assist you!
Take a look at these exquisite pooja rooms, each with a touch of marble.
1) A Complete Marble Mandir For Home
A stunning marble pooja unit made completely of white marble The material is also very durable in this case.
When you're ready to devote an entire room to your pooja room, think about creating an area entirely out of marble. 
2) Marble and Granite Mandir Design
For a magnificent pooja room, combine marble and granite you may use a stone niche in the wall to make your pooja area entirely out of stone. A stylish modern mandir design made in granite is created using a niche in the wall and a granite panel with backlighting.
A marble top ledge with illumination will be spectacular.
3) Marble Tops/Panel Design
A marble top or panel on a mandir design is a cost-effective option if your budget does not allow for an entire marble redesign.
4) Marble Floor Mandir Design
Choose a mandir that complements the marble flooring for a more elegant look. Your pooja unit may sit well on an Italian marble design surface and be matched.
The use of a false ceiling and backlighting will enhance the impact and make this area seem heavenly. However you can opt for wooden pooja mandir designs for home with marble to give it an attractive look.
5) Marble Jaali Panel designs
The motif on this backdrop has intricate designs with the word "OM" etched on it. If you have complicated pooja room ideas, consider using this star-shaped garland for the background with a marble frame and counter.
The intricacy of the work, with an "om" etched on it, is ideal for your mandir and coordinates well with the white marble T.
6) Marble Floating Shelves
So, you've already got marble flooring at home and want to make a marble pooja room? Uniformity, which is an under-appreciated type of design, can have a fantastic impact on any space.
For marble temple designs, install similar marble ledges on the wall and a matching marble platform that complements the flooring. You'll be shocked at how lovely and easy it is!
If you are looking for a matching almirah design as well then try these designs listed.
7) Om Marble Design For Mandir
This 'Om' inlay with backlighting exudes a soothing atmosphere. Simplicity has always been in vogue, and it's worth considering for your pooja area.
If you're going to install lights, consider illuminating the marble inlay with a modern touch.
8) A Wall-Mounted Marble Temple
You can also have a mandir built specifically for tiny spaces If you don't have much space, there's no need to worry! We offer a lovely option for you.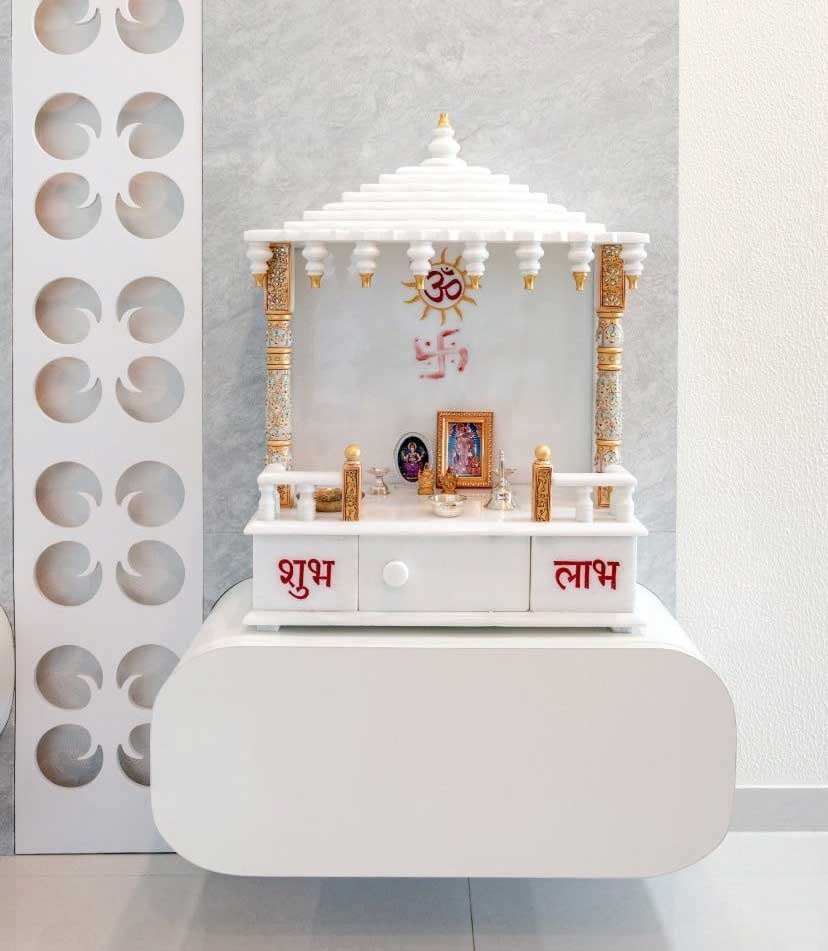 Check out this tiny pooja cabinet with traditional carvings and glitter splattered trimmings on a wall-mounted platform. Isn't it gorgeous?
Also try these wall fixing almirah designs for your home which matches with these wall mounted mandir design.
9) Traditional Marble Mandir Design
When you're going for something classic, think about incorporating wooden carvings and designs to add more distinction. To keep the ornate nature of the design without overpowering it, use a neutral-colored marble such as white or beige.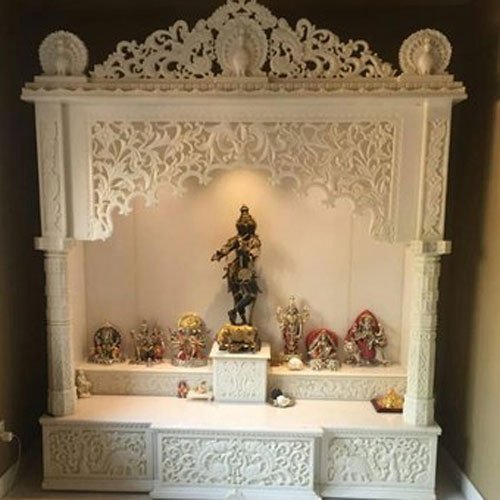 It will look gorgeous!
10) Marble Temple Designs with Textured Walls
Here's another look at how texture can make your pooja room stunning! This pooja room has an Oriental feel with arched panels and wainscoting at different heights.
The wall backdrop is covered in tiles which are finished off well with a small classical statue in the front. Backlighting will bring it all together! 
Also read a bit about sliding almirah design with photos.
Things To Consider While Building A Marble Mandir For Home
If you're ready to build your marble pooja room, remember these factors when you start to make your pooja room vastu friendly:
Use a niche in the wall as it will make it more subtle.
Fix up a niche in the wall and install white LED lighting for both illumination and aesthetics. This way, you'll be able to see clearly at night without straining your eyes or using excessive electric bulbs.
Have shelves custom-built according to size. You can have them made from wood or marble; however, the latter is preferable if you already have flooring tiles in place since they'll match!
The top shelf will hold expensive, fragile items like real flowers, a fine statue of your god or goddess, and the like.
The bottom shelf will hold books about pooja, religious texts you want to read regularly during your devotional sessions, and other similar items.
When buying marble for carving designs on top of a mandir unit such as this, always buy good quality marble. This type is made from white granite with an inlay of pure white carvings.
Here is a complete brief on Marble vs Granite vs Tiles for your reference.

Marble can be used for virtually any part of your pooja room design; however, it's best to have it professionally installed by experts rather than attempt to do so on your own if you're not sure how!

If you love the design shown here but want it to be more subtle or less gaudy, consider altering the design and size. You are also able to personalize the color to match your preferences!

We offer several types of marble pooja room designs, including ones that are traditional and match Indian culture and decor. Which one appeals to you more? Please leave a remark below!
Conclusion
Before selecting a mandir design, think about your personality and preferences. You have to choose a pooja room design that can enhance your home décor. All the marble pooja room designs which we've discussed above are available in different styles so it's up to you which one will fit best with the existing interior décor of your house.
Do select suitable marble pooja room designs for building a beautiful and elegant space where you can conduct special spiritual activities. You can also include a marble mandir in your office to keep yourself relaxed and stress-free.
Marble pooja room designs are easy to maintain, so you don't need to worry about the cleanliness of these spaces.
Also read about types of marble flooring here.