Almost everyone gets confused while buying tiles for their bathroom as there are lots of variety in market to buy from. The color combination is the main factor while selecting bathroom tiles.
We have given some of the best bathroom tiles design with their combination, you can choose from below. Blue, Red, White, Orange and what not.
These tiles combination also match with almost every color you get painted in your home. Check out these stylish, modern bathroom tiles design and their combinations.
Normally, the tiles are used up to 7 ft but it is completely a matter of choice whether you want it to be up to 7 ft or keep it on the entire wall of the bathroom.
Bathroom tiles are a great way to add personality to your bathroom and make it feel more like a luxurious spa than a cold, sterile room.
There are many different tile designs available that can be used to create a variety of looks, from classic and traditional to contemporary and modern.
Bathroom Tiles Design for Wall and Floor
When choosing bathroom tiles, there are several things you need to keep in mind, such as the size of the bathroom, the type of bathroom fixtures you have, and what kind of overall look you want to achieve.
Have a look at some different bathroom tile designs to get small bathroom ideas of what would work best in your space.
Starburst Bathroom Wall Tiles Design
This beautiful bathroom has a modern and fashionable vibe to it. The space appears wider and more open, thanks to pulling the shower tiles through to the floor.
The blue starburst wall tiles are a lovely contrast to the white sink and floors and add just the right amount of color and pattern.
Bathroom Floor Tiles Made Of Pebbles
Do you want a tile that will provide your bathroom a spa-like atmosphere while still offering your feet a little massage after each shower?
Take a look at this fantastic bathroom with an elegant minimalist design and gorgeous pebble flooring.
This tile concept is ideal for adding texture to your restroom while keeping it simple and traditional. To give a unique look to your bathroom try the ideas and tips mentioned here. Also consider vastu for bathroom tips to make your bathroom vastu friendly as well.
Floor-to-Ceiling Symmetric Tiles Design For Bathroom
This beautiful design includes a classic subway tile with black grout that looks spectacular and beautiful against the dark tile floor.
The contrast of the black grout lines with the black floor tiles creates an eye-catching focal point in the room. To make a focal point in a larger bathroom, use black grout lines to draw attention away from clutter.
Chevron Bathroom Wall Tiles
Laying chevron tiles in a design is a fantastic method to add variety and texture to your bathroom.
This bathroom, which has a tiled floor and white and gray tiles that are just distinct enough to provide a distinction, is one of our favorites.
You can also opt for water proof wall stickers for home to give it a unique look as well.
Dark Tone Bathroom Wall Tiles
This exquisite open-concept shower has a rich, dramatic black tile that gives the impression of more room in the bathroom.
Subway Tiles For Bathroom
Subway tile is a popular bathroom tile, but there's no reason you have to stick with the norm.
Take a look at this beautiful bathroom with a pearl-colored subway tile in a crosshatch pattern. This is an excellent method to mix things up while still maintaining your restroom conventional.
Graphic Modern Bathroom Tile
Have you ever wanted to add a design that instantly becomes the focus of your bathroom? This graphic design is a fantastic method to refresh a bathroom and give it a completely new appearance.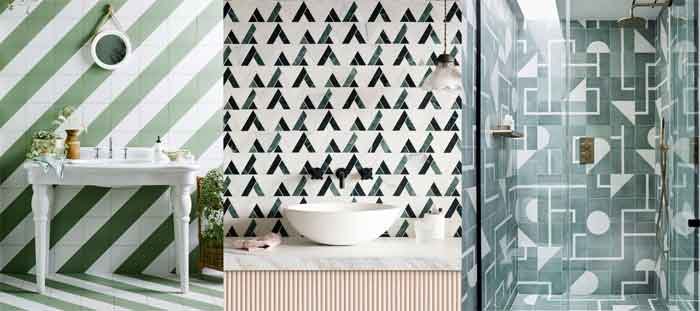 Even if you only replace the floor or backsplash, a vivid title like this one will have an impact on your room.
Wallpaper Bathroom Tiles Design India
Tile is pricey, so if your budget doesn't allow for floor-to-ceiling tiles, you may still achieve the same level of drama by using wallpaper on the walls beyond your tile work.
This bathroom has a vibrant, modern wallpaper that coordinates with the overall look of the bathroom.
Ask for asian paints colour book to choose the color of your choice for your bathroom.
Large Bathroom Floor Tiles Design
Tiles that cover a lot of areas, such as the ones seen in this bathroom, require fewer grout lines and give a bathroom an illusion of greater space.
Though this beautiful bathroom is already spacious, these tiles are ideal for smaller bathrooms if you want to create the impression of more room.
Marble Small Bathroom Tile Design
This lovely bathroom has both exquisite gold finishes and a subway marble tile that radiates old-world charm and elegance.
Marble is a wonderful substance for almost any bathroom, as well as a fantastic method to elevate the entire appearance.
Try these bottle painting ideas and place these bottle in your bathroom to decorate your bathroom in modern way.
Blue Bathroom Tiles In Monochromatic Style
The different dimensions add visual appeal while the similar color palette maintains consistency and class. Mix up the tile sizes throughout the room if you want a spa-like bathroom but don't want it to seem too organized.
Many people prefer blue tiles to give their bathroom sea side theme. These blue tiles are small in sizes and adhesive in nature and give brick style look and make you bathroom a completely new look.
Off white tiles with brown combination in between is a good choice to make your bathroom good looking. You can also use a multicolored stripe of shining tile to attract the eye balls as shown in below image.
This is a light colored sober yet attractive look of bathroom tiles. Covering full walls of your bathroom with single color tile gives your bathroom a five star look. Again, you can use a stripe with sleek tile to attract the eye balls. This stripe can be multicolored or proportionally darker than the light color tile.
Although, you can visit few shops to have a look on the styles of tile available in market but we listed some of the best combination which are known for attractiveness.
Top 3 Bathroom Tiles Brands in India
There are many bathroom tile brands in India, each with its unique style and design. Some of the most popular brands include:
Hindware

: This brand offers a wide range of bathroom tiles that are perfect for both Indian and international markets. The company has a rich history dating back to 1896 and is one of the oldest sanitary ware brands in the country.

Parryware

: Parryware is a brand of sanitary ware and bathroom fittings manufactured by Hindware. Parryware products are known for their quality, durability, and design. Some of the popular Parryware products include toilets, wash basins, urinals, taps, showers, and bathroom accessories.

Jaquar

: Jaquar is one of the most trusted names when it comes to bathroom fittings and fixtures. From simple taps and mixers to urinals and WCs, Jaquar has it all.
Also consider brands like: Johnson tiles and Waterman Tiles as these are known for manufacturing quality products in india.
Consider This Before Getting Bathroom Tiles
There are many factors to consider before getting bathroom tiles. The type of tile, the size of the tile, the color of the tile, and the texture of the tile all play a role in choosing the perfect tile for your bathroom.
If you have a busy bathroom with lots of traffic, you'll want to choose a tile that is easy to clean. Glossy tiles may require more cleaning than matte tiles, but they will also show fingerprints and water spots more easily.

Smaller tiles can make a bathroom look cramped, while larger tiles can make a room look too open. Choose a size that is appropriate for the space you have available.

Smooth, glossy tiles are easy to clean, but they can be slippery when wet.
When getting tiles for the bathroom, the first step is to take measurements of your bathroom so that you know how much space you have to work with. Once you have the dimensions, you can start browsing through tile design ideas online or in magazines to get an idea of what you like.
Looking for best modular kitchen designs for your home? Here you go.
Ceramic and porcelain are both popular choices because they are durable and easy to clean. Stone is another option that can add a luxurious look to your bathroom but it is important to note that it is also more expensive and harder to maintain.
Conclusion
The type of tile, the size of the tile, the color of the tile, and the texture of the tile all play a role in choosing the perfect tile for your bathroom.
Take measurements of your bathroom and browse through tile design ideas to get an idea of what you want before you start shopping.
When you are ready to install the tiles, follow the manufacturer's instructions carefully to ensure that they are installed correctly.