Through these years, the kitchen designs have evolved a lot. Nowadays people prefer modular kitchen designs. Even in India, the trend and need for a modular kitchen is so much a requirement. 
Why is there so much craze for a modular kitchen design???
It's so simple, the reason being that it is very convenient. Having things properly organised and arranged in the kitchen is just the thing today.
People nowadays are so busy that they don't have time to sit and arrange or organize their kitchen every time after having their meal, so they prefer these modular kitchen designs. 
These modular kitchens are so much in hype in India because of their contemporary design which gives a very expensive look and overall enhances the decor of your kitchen as well as your house.
Now when it comes to setting up a modular kitchen design, people say it's too expensive. Yes, it is, but what if we here tell you the modular kitchen designs on a lower budget?
What are you waiting for, read this blog to know more about it.
Talking about the price of a modular kitchen in India, the rates are quite reasonable if you go for some mediocre ones, which look simple, sober, and beautiful at the same time. 
The normal starting range for a small low budget modular kitchen starts with ₹50,000.
What is a Modular Kitchen?
It means a kitchen that has small divisions or sections, attached together with each other to build a completely well designed and organised kitchen.
Modular kitchen is rapidly taking over, because of their contemporary and subtle look. The designing of these kitchens probably requires pre-designed furniture which is well versed for any modern space, giving a sight of customization.
The designs of these modular kitchens consist of drawers, cabinets, macro and microcompartments, shelves, and countertops, which obviously give your kitchen a lavish and clean look.
Types of modular low budget kitchen designs.
L-shaped modular kitchen design
This L-shaped kitchen design is perfect for small houses. It's in the design of the letter L as we get to know by the name itself.
The counterparts are all positioned on the right angle, in the form of L. If you have plans for a square kitchen then this design is ideal for you.
All the corners can be utilized in this small kitchen and can be effectively used. This design also gives you ample storage options. Obviously, the size of the counterparts can be designed according to your requirements.
Also you need to choose the perfect modular kitchen colour combination to give it a unique look.
U-Shaped kitchen design 
These designs are basically the best for bigger spaces and obviously larger houses. This type of kitchen has the most efficient spaces in comparison with all the designs.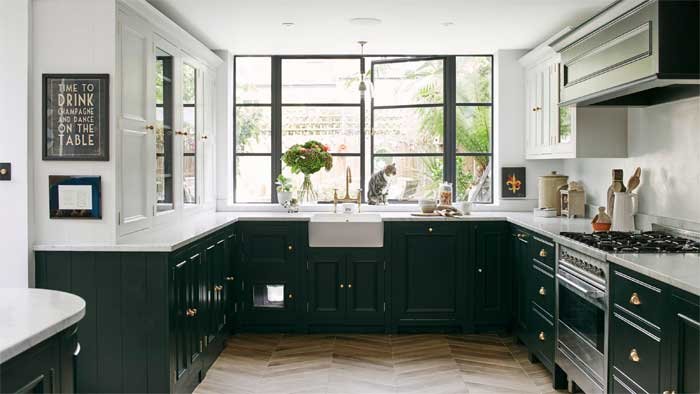 Unlike the L shaped kitchen, in this design, the counterparts are all arranged in the three sides of the kitchen in the shape of the letter U.
This is a flexible kitchen design as it can be designed in both large and smaller spaces. This has more space than the L shape, it has more shelves, more drawers, more cabinets, and is very spacious. 
Consider reading about modular switches for your small Indian modular kitchen which are low in budget and best suited for you.
Overall, after having more space for everything, the taller units over the counterparts gives this kitchen a premium look. If designed with wooden supplements then this can be the perfect low budget modular kitchen design for your house. 
Also it has a lot of spaces so more than 3 people can get in at a time doing a nice cooking session with some gossip.Isn't it the perfect one ?
Island kitchen design
This kitchen design is actually a really modern design and is very flexible. Doesn't matter whether your choice is an L-Shaped kitchen design or a U-Shaped kitchen design, this fits for both of them.
An island kitchen design is basically a design with a small free-standing area in the middle of the kitchen or at one side which might include a sink (choose the perfect modern kitchen sink design here) and can also be used as a dining space or a working space. 
This design can be sufficiently made under ₹2.00.000 in India. 
Straight Kitchen Design
A straight kitchen design might sound simple, might even look more simple but the point is, this looks the most perfect for any kind of space, be it large or small, this gives the house a perfect look.
These kitchens are also known as single-wall layouts. They are the best option for apartments or bachelor houses. This design can keep the kitchen in the minimum space required without making it look too huge.
This straight kitchen design gives your house a minimal look as it has the cooktop, cabinets, etc all just on one wall. 
This can be the perfect one for you if you want to save some space but also make it look pretty.
Consider Reading:
Parallel Modular Kitchen Design
This is also a very efficient yet pretty kitchen layout for your house which can be made at a lower budget. This requires covering two parallel walls with two counterparts facing each other.
The parallel kitchen design has cabinets and drawers, shelves, etc, everything facing each other. This is the most preferred kitchen design by a chef as it makes the work much easier than compared to other design kitchens.
These layouts are usually found in large apartments as this requires more space but can also be made in a smaller area as per the requirement. 
The corridors of this parallel-designed kitchen help in easy moments when working in the kitchen.
You can also go for a G Shape kitchen but it requires a big size and hence bit expensive.
Who doesn't want their kitchen to look amazing and give their house a premium look. These are the lists of designs for the kitchen which can be made on a lower budget. 
Hope you might have got some ideas from this blog, if not comment below and we are here to solve all your problems.