Gone are the days when kitchen used to be one of the most narrowed down spaces of any house when it came to its utility. A modular kitchen, as the name implies, is an off-the-shelf design that can be easily expanded or relocated. A modular kitchen's popularity has risen in line with our ever-changing lifestyle.
With modern-day living which is in vogue among most people these days, kitchens in households have become a space for reflecting one's taste in interiors and It is as if, the kitchens these days have a life of their own.
According to a recent poll, demand for modular kitchens in India has increased by 350 percent in the previous six months. The top 10 modular kitchen designs offered below are based on this study.
The kitchen has evolved into a welcome element of the home, with people gathering in it since it complements every space in the house.
So, choose furnishings and fixtures that complement one another, as well as wall colors and designs that excite your design aesthetic.
Starting from the very basics to the very advanced modern-day kitchens spells life for most household. Never has it ever been a case when the rest if the house is done with an eye on sheer artistry but the kitchen is left out to be the mediocre addition to the entire living space.
Modular Kitchens are the Future.
Are you ready for the future?
With the various enhancements and developments that have happened to the kitchen décor and the overall look and feel of a modern day kitchens, an entire industry enabling the same has mushroomed around it. The latest being the craze over modular kitchens.
L Shaped Modular Kitchen Designs

:
As the name suggest these are L-shaped modular kitchens as shown below. To view all latest L-shaped modular kitchen designs with photos click: L Shaped Modular Kitchen Designs with Photos
L-Shaped kitchen designs are often chosen by housewives because of their small footprint and attractive appearance. To make it user-friendly and easy to install the other components of the kitchen, the cooking and washing area may be simply divided.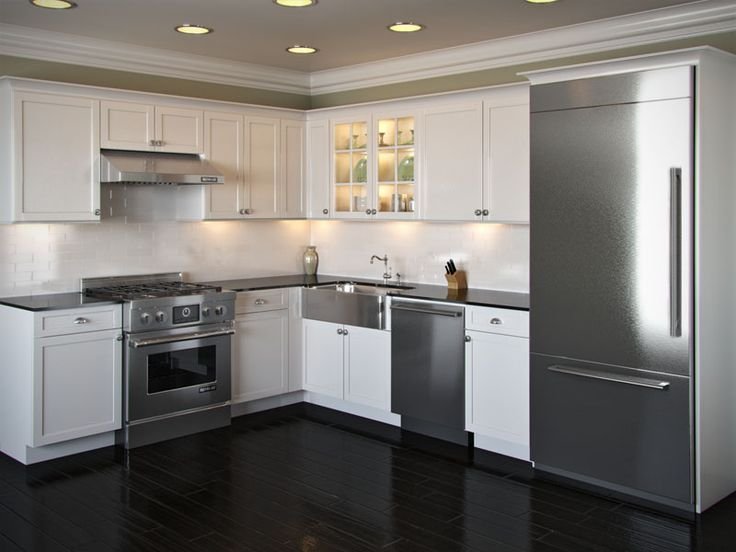 It also allows for several people to work in the kitchen at once thanks to its L design. For storage, it offers lots of drawers and shelves as well as large cupboards that are simple to use.
Please note, do not forget kitchen vastu rules to make your kitchen as per vastu as it not only brings positive energy but good wealth too.
G Shaped Modular Kitchen Designs
Given below is about G-shaped modular kitchen. However, you can view latest images or photos on g shaped modular kitchens here: G Shaped Modular Kitchens designs
U Shaped Modular Kitchen Ideas & Designs
A U-shaped kitchen is ideal if you need a lot of area in your cooking area and want to be somewhat removed from the living space without sacrificing quick access to the dining room. If you have enough room, an island table at the heart of it can make it look more elegant.
It's a typical alternative for people who live in multi-generational households and enjoy sharing meals while providing a large number of family members to feed.
Design of U-Shaped Modular Kitchen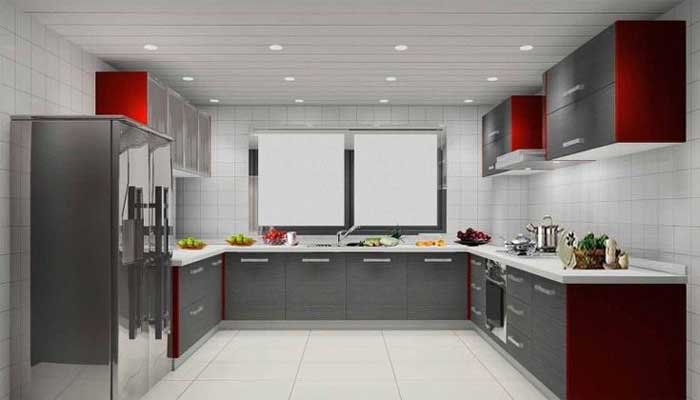 Parallel Modular Kitchen Design Photos
With less area, parallel kitchens are superb. Because they allow for a little central walk-away, this is a galley kitchen design. The kitchen almirah design extended to the top of the ceiling in these kitchens since shelves and drawers span the walls to the door. These kitchens perform well when someone needs an outlet such as a window or door to the garden terrace.
Be it any kind of modular kitchen one opts for L shaped modular kitchen, G shaped modular kitchens or the very basic parallel modular kitchen, one thing that does not change is the minimalistic and utility-driven designs. As it can be seen that people have switched from getting themselves posh and large spaces that are not well-designed for an optimal utility to spaces that are cozier and high on utility.
Parallel Modular Kitchen Photos:
Parallel Shaped Kitchens, in such homes especially Indian kitchens tend to be smaller. Here we present some of the best ideas that have been going around for a while that have been substantially customized from the original German modular design. 
Straight Design Modular Kitchen:
It's simple to maintain and uses minimal countertop space. You can hide almost everything, including cabinets, ingredients, and cooking utensils, in pocket doors that you can easily access.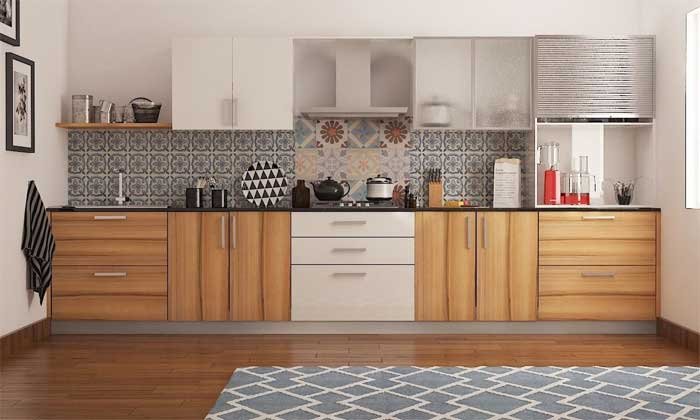 The storage cupboards on the floor provide easy access to all of your appliances thanks to the different color schemes used on both sides of the cabinets. It adds beauty to your kitchen by using various colors for both cabinet layers.
Modular kitchen with monochrome accents:
The fact that modular kitchens are easy to install in any of the spaces one might need to move in to, monochromes are new hit among the masses.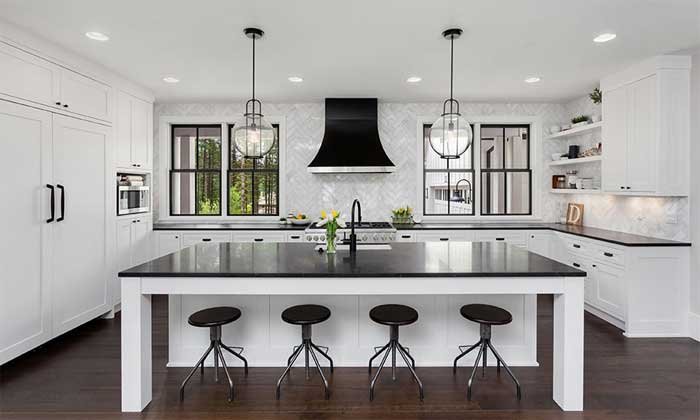 Tastefully done with black and white tops and working area in glass, stone and steel, these kind of modular kitchen epitomizes simple and appealing living.
Wooden glow-up Kitchen Modules:
As the name suggests these kinds of kitchen modules use generous amounts of the woodwork. For cabinet and pullouts only the best quality of timber or sheesham wood is used that renders it certain classiness to the entire look.
The tops and the working areas are made out of steel and granite wherever necessary.
In addition the entire module comes equipped with the lighting of its own that makes the entire space very stand-alone and cozy.
The Classic Modular Designs:
Straight out of the modular kitchen playbook, these kitchen modules use granite in its build and look. The unique crockery unit designs and pullouts are swankier and definitely score more when it comes to utility and durability. The best part of such modular designs of kitchen space is the fact that they need very little customization in order to fit in and look in resonance with the rest of the house.
Tasteful and contemporary designs with very little need for you to shell out extra bucks, what else can one possibly ask for!
Modular Kitchen With Island:
A common kitchen design concept is to add a counter space over the existing cabinet. This provides a useful working area for cleaning, preparing meals, and so on.
It may be utilized as a separate storage area since it does not obstruct the cooking space. This is an alternative to a dining hall for small families and children because of its appearance. It just adds to the kitchen's appeal with different lighting.
Wall fixing almirah designs go good with these designs of modular kitchens as shown in photos.
Peninsula Modular Kitchen Design Ideas:
A peninsula kitchen is a space-saving design that has an island in the center and incorporates many of the features of a traditional kitchen. A typical kitchen has an island, whereas a peninsula kitchen does not have one.
It acts as a permanent dining area, neither coming entirely into the kitchen nor being separate from it. These combine with the sink area to provide additional space for cooking preparation, multiple users, and so on. In kitchens with less room, it is quite beneficial. There's no need to worry about shape since the island can be molded to fit your needs and available space.
Also read the latest almirah designs here listed with images as well.
Stainless Steel Kitchen Design:
Stainless steel kitchens are user-friendly since they require little maintenance, have no corrosion, and can be tailored to fit individual tastes. To save space, the majority of the storage and oven may be installed directly on the wall unit.
The greatest advantage of these kitchens is that they are energy-efficient and long-lasting. These kitchens come in a vintage style when combined with wood and glass components.
Tropical Themed Modular Kitchen Designs:
A kitchen in the tropics is currently popular since people desire to be more connected with nature, and it has a laid-back appearance.
The most appealing feature of tropical interiors is the use of traditional designs and ornamental wood carvings with some tropical plants. Beautiful wooden cabinets with artistic wood carvings on them sit on top of a grassy hillside. Replacement bulbs or lights may be used to change the looks of these kitchens.
Also read: Modern wardrobe design for you home with dressing table.
Matte Quartz Theme
This latest kitchen design is popular among today's youth because it provides a cool, moody, and stylish look to the kitchens.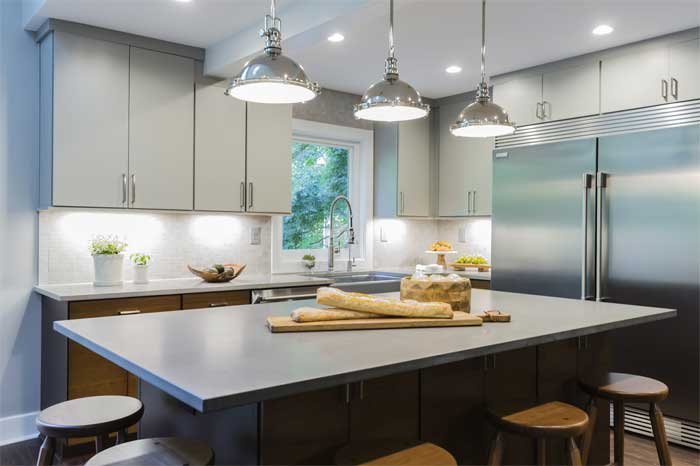 The kitchen has an industrial appearance thanks to the matte finish and the use of contrasting counter colors such as grey and white. Black has gone from being a negative color to one that is now acceptable.
Kitchen Designs With Material Finishing
It has a robust and luxurious look thanks to the dark colors combined with contrast. The countertops, in particular, are designed to look wonderful.
They're also quite functional; they provide food preparation space while still keeping the kitchen clean and uncluttered. Furthermore, the appliances' sophisticated and elegant style stands out.
Also have a look at wooden almirah design as well that matches with your kitchen theme.
These are some of the most popular modular kitchen designs that you can choose from according to your taste and preference. You may also utilize various patterns to make your kitchen's design more distinctive.
Tips To Design Your Modular Kitchen
Start by assessing your kitchen space and determining what kind of layout will best suit your needs. Pay particular attention to the size and flow of different areas, taking into consideration how you plan to use them.

Consider your budget when designing your modular kitchen. This will help you decide on the materials that are within your price range and which ones may require more upfront investment. It will also allow you to set realistic expectations for the overall cost of the project.

Look for inspiration online or in magazines so that you can get a better idea of what styles and designs you like most. This will help ensure that you end up with a cohesive look that reflects your style preferences and tastes.
Conclusion
Some popular design options include the island modular kitchen design, which provides additional counter space for food preparation and cooking; the stainless steel kitchen, which is highly user-friendly and environmentally friendly; and the tropical kitchen, which has a laid-back appearance and makes use of traditional wood carvings.
Ultimately, deciding on the best modular kitchen design depends on your preferences, budget, and available space.