A modular switchboard is a type of electrical panel that consists of multiple modules, or sections, that can be connected to create a custom configuration.
This type of switchboard is often used in commercial and industrial applications where a high degree of flexibility is required.
Modular switchboards are available in a variety of sizes and configurations, making them well-suited for a wide range of applications.
In addition, they offer many advantages over traditional non-modular boards, including easier installation and maintenance, greater flexibility, and improved safety.
Why Should You Get Modular Switches in Your Home?
Four main characteristics of Modular Switches are described in this section, including their advantages and disadvantages:
Fluorescent modular switches are built from fire-resistant material. To prevent your children's accidental contact with live electrical components, all sockets are shuttered. All controls and sockets meet international safety standards and bear the ISI stamp.
Modular switches tend to have a longer lifespan than nonmodular or semi-modular switches. The Luminous modular switch is subjected to more than 240,000 clicks of testing. This may last you a long time.
Switch Design: The simplicity of use enables you to simply add switches, sockets, fan regulators, and other features with minimal effort. Because Luminous switches are 100% modular, they effortlessly slide into their correct location.
Luminous modular switches are beautiful and blend in well with contemporary designs.
Consider viewing modular kitchen design photos here to make your kitchen a modern one.
Modular Switches Brands – Best Modular Switches in India
ABB
The company offers a wide range of products which include modular switches, sockets, light fixtures, circuit breakers, etc.

L&T Modular Switch Boards
They are used in commercial establishments and high-rise buildings for the distribution of electrical power.

Anchor Modular Switch Board
Anchor by Panasonic is one of the most trusted brands in the electrical industry and offers a wide variety of modular switches.

These switches are easy to install, offer long-lasting performance, and are highly durable.
Crabtree Modular Switch Board
Crabtree modular switchboard is one of the most widely used and versatile products in the market.

It is suitable for use in a wide range of applications including office, home, retail and industrial environments. The product is easy to install and comes with all the necessary accessories for a complete installation.
Consider reading about thermal insulation for home here.
Havells Modular Switch Board
A Havells Modular Switch Board is an essential part of any modern home. It provides a safe and convenient way to connect electrical appliances and other devices to the main supply.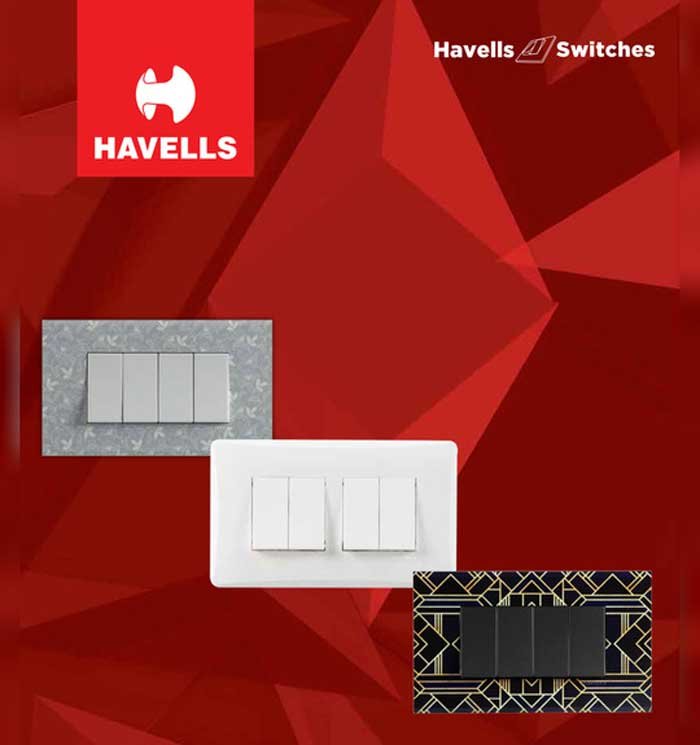 The Havells Modular Switch Board is made up of two parts: the main panel and the sub-panel. The main panel contains the switches for all the circuits in your home, while the sub-panel contains the sockets for plugging in electrical appliances.
Legrand Modular Switch Board
The Legrand Modular Switch Board is a versatile and easy-to-use switching solution for your home or office.

The switchboard features two main types of switches: standard and dimmer. The switchboard also includes a timer switch, which can be used to set the duration of time that an appliance or light will stay on.
GM Modular Switches
These are characterized by a wide range of choices and various functions. They have been widely used in the fields of industry, energy, transportation, construction, mining, and home life.

With their characteristics and advantages, they can meet the needs of different application scenarios to the greatest extent.
Pritam Modular Switch Board
Pritam Modular Switch Board is the next big thing in the electrical industry. With its unique modular design, it offers a safer and more efficient way to power your home or office.

This switchboard is made up of multiple modules that can be connected to create a custom configuration that fits your specific needs.
The Pritam Modular Switch Board is also equipped with several safety features that make it a safe and reliable choice for your electrical needs.
Honeywell Modular Switches
Honeywell recently acquired MK to become Honeywell MK, one of India's leading electrical equipment manufacturers. In the Electrical Switches and Sockets category, Honeywell offers a wide selection of series and models.

With a little modernism, Honeywell's bespoke switches and sockets are certain to fulfill all your electrical needs.
Modular switches and sockets, with contemporary styles, smooth operation, hassle-free set-up and installation, and shuttered contacts, have shown to be considerably more durable than standard switches and sockets.
Difference Between Non-Modular and Modular Switch Boards
Modular Switches
Modern switches, also known as modular switches, are available in any home, office, or commercial location. They have several benefits over traditional non-modular electrical switches. The most significant distinctions between them and ordinary ones are aesthetics and ease of operation. They provide a screw-less electrical installation that is easy to use.
Non-Modular Switches
Non-modular switches are the standard switches used in veteran homes and offices. They provide conventional style and are less expensive than modular ones.
Differences
The non-modular variety has been offering conventional electrical solutions for many years. They utilize screws to have a firm grip on the switchboard panel.
They are less expensive than modular switches.
They were neglected when it came to interior design before because there were just a few alternatives.
Switches from multiple companies have little or no difference in terms of switch design because they are all electrical switches and sockets.
However, the introduction of modular switches brought about a significant shift.
Benefits Of Modular Switch Board Designs
These switches are fashionable, attractive, and created to match the home and workplace interiors. Because of their adaptable design, they're appropriate for every style and individuals want them.

Modular Switches Are Safe to Use: Switching to modular switches is often due to a lack of safety concerns. The modular switches, on the other hand, are entirely devoid of any metallic parts on the switchboard. There are no electrical shocks possible with these switches since they protect against it. These switches are made of high-quality material and have no metal components on the front face. Furthermore, the sockets are shuttered to keep young kids from injuring themselves.
Multi-functional: Modular switches may be utilized in a variety of ways, including automation, security, and data transmission. These switches can be installed in various locations throughout the structure to meet the different needs. Modular switches are extremely versatile because they are simple to install and remove.
Conclusion
There are many benefits of using modular switches over non-modular switches. Modular switches are more aesthetically pleasing, they are easy to use, and they provide a screw-less electrical installation.
Non-modular switches are less expensive than modular switches, but they do not offer the same benefits in terms of aesthetics and ease of use. When deciding which type of switch to use in your home or office, be sure to weigh the pros and cons of each type to make the best decision for your needs.