It's possible to have a blast while making a balcony garden. Beginning, on the other hand, may be the most difficult. Here are some amazing balcony garden ideas to inspire you.
While you look through the designs, pay close attention to those that catch your attention. Creating a plan for how you want to utilize your balcony area might be helpful.
Do you want a flower, veggie, patio, or any combination of the three?
The current design and décor of some balconies are intended to enhance the home. It's important to take into account your available budget.
Without spending a lot of money, you can create a lovely atmosphere with various balcony garden ideas!
The amount of sunlight your balcony gets is another factor to consider. Choosing plants that are affected by this is a good idea.
Finally, when will you be using your new space? If you spend most of your time at night on your balcony, you'll want it to be bright. You may build a lovely balcony garden to meet your gardening needs if you plan it properly.
Please note, if you also take vastu for balcony points in to consideration, do check these here at DecorChamp.com to make your balcony garden vastu friendly.
Different balcony garden ideas to choose from for your balconies:
Vertical Terra Cotta
Don't underestimate the effectiveness of hooks when balcony gardening. Terra cotta pots and hanging baskets are ideal for them.
This arrangement connects the pots using metal rods, washers, and bolts while utilizing basic eye-hole hooks.
The visual appeal of this design comes from staggering the pots. Water flows from the top down through the metal rods, which constitute a form of rain chain between the pots.
You may also like to read and view the modern balcony railing designs for your home.
You can prevent water from seeping into the ground by watering the top. This pattern may be used to decorate flowers or herbs.
Tiny Space with many Colours
This tiny balcony garden design is highlighted by bright colors. This plain wall was transformed into a beautiful piece of physical art using strategically placed colorful pots.
Without drawing too much attention to themselves, plant identifiers that match keep the plants organised.
Choose the best modern iron railing design for balcony listed here while opting for this balcony garden.
The balcony flooring blends with the home's wood flooring, giving the mansion a sense of outside. The pots are complimented by a vividly colored ottoman, which also contributes to the home's décor.
A net around the balcony also allows fresh air and an unrestricted view into the home to flow in without concern of birds or leaves flying inside.
If you want to opt for modern steel railing design for balcony, here we have listed some of the latest and best designs that are trendy nowadays.
Oasis: keep it private
A one-of-a-kind balcony garden design was used to develop this little oasis. While using the existing tree, planting taller pots along the balcony edge provides seclusion.
This balcony becomes an extension of the home by incorporating floor cushions and a blanket into the decor.
The rattan mat and rope-covered ottoman complete the bamboo seating. In this tranquil balcony area, these contrasting pieces evoke an island mood.
Try these terrace gardening ideas for your terrace to make it a green terrace.
The balcony garden design requires a dark grey backdrop, which the wood has been dyed to. The pitcher of water is also an invitation to sit and relax.
Hanging Garden Style Balcony
Being useful does not require a lot of space on garden balconies. When creating a balcony garden in a tiny space, hanging pots and baskets are required.
This design allows for the cultivation of many plants in often underutilized overhead areas. Attaching pots to the balcony railing, which takes up less space, is another brilliant idea.
A few plants are placed on the ground near the end of this balcony, which has been set aside for floor space. There is enough room for a set of chairs and a table, which makes the most of this limited area because the majority of the garden is planted above and to the side of this balcony.
To paint your pot placed in your balcony go for pot painting ideas listed here to make your balcony garden colorful.
When it comes to balcony gardens, one thing is for sure: they can add a great deal of style and function to any small space. No matter what your needs are, there's likely a creative solution out there that will make your balcony garden thrive.
Italian Glam Balcony Garden
This large effect in a small space is shown by this bright balcony, which is inspired by an Italian window garden.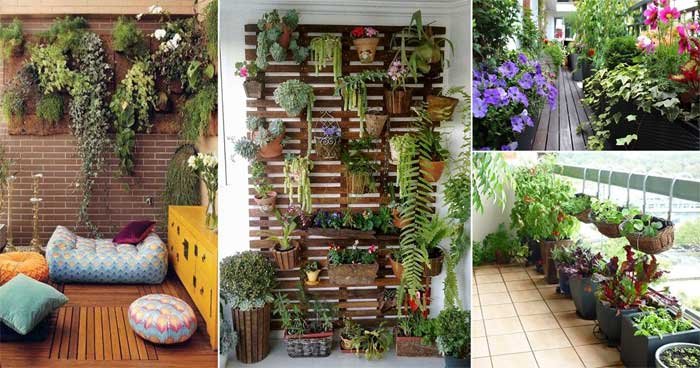 This spectacular arrangement of vibrant petunias is a show stopper, despite the lack of room for a table or chairs. The balcony's outside windows are suspended from the balcony's underside.
This style of plant cultivation is done in smaller pots placed throughout the balcony floor. The petunias have a nice flow thanks to the foliage, which acts as a superb backdrop.
Even behind the balcony, gorgeous flowers were displayed. In case if you want to decorate your balcony garden with used bottles, then try these easy bottle painting ideas to decorate your balcony.
Simplicity means black and white 
For a sleek design, use a monochromatic colour scheme. The eye has a chance to relax as a result of this.
Despite the lack of colour, a monochrome design is far from boring. Since the brain is not visually aroused, it creates a sensation of relaxation.
The colour black is associated with elegance, whereas white is associated with cleanliness. They create a stunning combination when coupled. Go for radium paint to glow your balcony in dark.
The striped rug anchors the room for solidity, and the white balcony floor creates the illusion of extra space.
Cabana Craze for Balcony
Have you ever imagined having your own cabana? As this garden shows, cabanas are no longer just for the beach. The rear wall is covered with a bamboo roll, which stretches all the way to the front.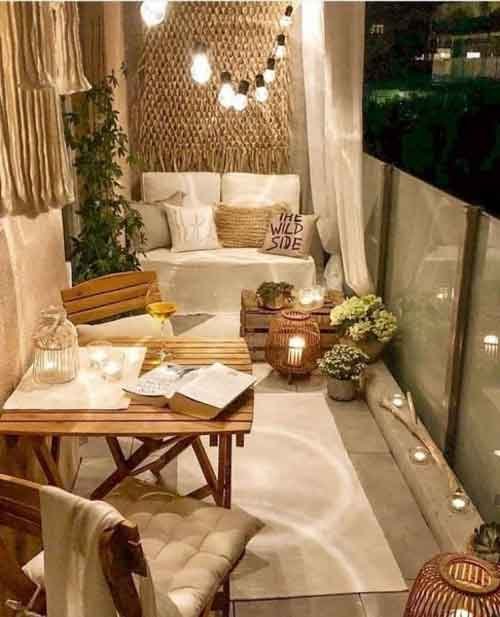 Most home improvement shops that sell fences sell bamboo rolls, which are reasonably priced. The foliage adds color and contributes to the cabana atmosphere, and the deck provides height and a feeling of isolation.
Consider Reading:
The space is an excellent location to relax with a book or a drink because of the bamboo stools and woven reed furniture. Some balconies are intended to enhance the home. It's important to take into account your available budget.
You can create a lovely atmosphere with various balcony garden ideas. It is important to select plants that thrive in the environment on your balcony, considering the amount of sunlight, shade, and other factors.
Hope we could help you out with several ideas for your balcony garden. Go design your garden and balcony.