When it comes to the cooking area, efficiency is vital. The easiest method to do so is through a well-considered design.
The appeal of the L-shaped kitchen design lies in its convenience, which it offers to all of your essential cooking demands while also fitting well with every kitchen.
L-Shaped Modular Kitchen Design Ideas to Breathe Life into Your Space and Make Your Living Simpler and Easier.
Given below are some L shaped latest modular kitchen designs ideas you can opt for your home. These designs can be adopted for Indian kitchens for small homes and villas as well.
To get these L-shaped designs you need to contact experienced interior designers and show the picture of your choice.
You can also ask for the catalog from interior designers to have a look on the designs he/she has designed. You can also make amendments to these designs based on your kitchen space and requirement.
Have a look at these L shaped kitchen designs and give your kitchen a wao look.
Wooden L-Shaped Big Kitchen
Are you searching for a more formal design for your kitchen? The appearance of a premium space would be enhanced by wooden cabinets with a marble work surface.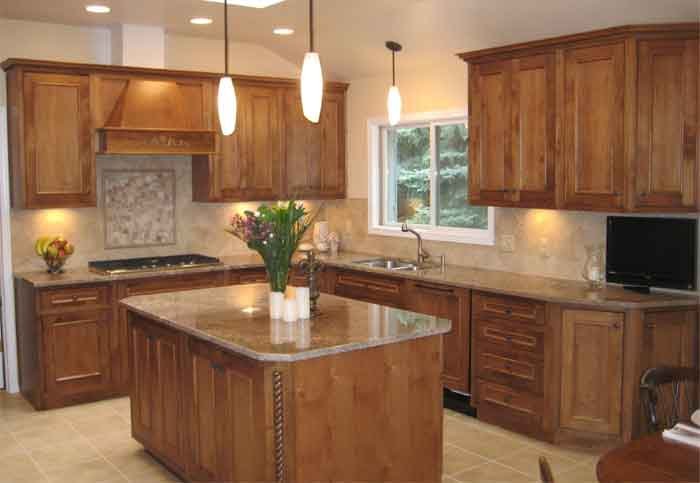 The rustic, down-to-earth aesthetic of the wooden cabinets would be a nice addition. An island adds to the grace and efficiency of this L-shaped modular kitchen.
Wooden Look Yellow Shade L Shape Small Kitchen
Yellow & Orange Tone L Shaped Kitchen
The color yellow is a strong hue that stands out. The hue looks fantastic in a tiny modular kitchen because it adds brightness to the space, making it seem larger.
Compact Modular Kitchen with Dual-Tone
When it comes to L-shaped modular kitchen cabinets at a low cost, two-toned hues are useful. However, if they aren't appropriately paired, they fall flat.
Have a look at the wooden almirah design that matches your L shape modular kitchen designs.
Blue Tone L Shaped Kitchen Design
In every kitchen, there is hardly any variation. Is it seeking a color that isn't dull? This hue for your L-shaped kitchen will bring out your inner child.
A pleasant color for the walls would be blue cabinets with white brick tiling.
Minimalist L Shaped Kitchen Design
With minimalist design becoming a signal of modern design, it's no surprise that people are flocking to this style. Minimalistic l-shaped kitchens are more energy-efficient, and in most cases, they are visually attractive.
Take a look at this kitchen, which appears to have little going for it at first glance, but when everything is put together, it creates an exquisite L-shaped modular kitchen.
Choose the perfect kitchen almirah design here for your kitchen here.
Cherry Red Kitchen L-Shaped
Is your kitchen underperforming? Use red to make a statement. Red may be frightening to some, but if you're daring and want your cooking area to stand out, it's an excellent color.
When selecting red for your Indian modular kitchen, keep in mind that much natural light will be required to make the hue shine.
Compact Kitchen With Window
White is a simple color that, when used heavily, frequently serves as a supporting actor.
The white cabinets in this kitchen serve to balance the rustic décor of the wooden doors while still creating a minimal and clean look.
L-Shaped Kitchen with Breakfast Area
This is a contemporary L-shaped kitchen design that looks fantastic in smaller kitchens. The cabinets are painted in muted grey, emphasizing the kitchen components.
Try these unique crockery unit designs for your modular kitchen from here and give it a perfect look and feel.
A countertop/breakfast area with a barstool design is added to the kitchen for good measure. It's ideal for a tiny kitchen because it's a modular kitchen design.
Traditional L Shaped Modular Kitchen
Today's kitchens are all about looking minimalist and stylish. The majority of contemporary kitchens fall short in an attempt to be trendy.
It's a traditional L-shaped kitchen design that looks fantastic in a tiny modular kitchen. Choose the perfect design of sunmica or color and match it with your modern wardrobe design which is present in the bedroom.
Also, have a look at the latest almirah designs here for your home.
White and Grey L Shaped Kitchen
If you're looking for a low-cost L-shaped modular kitchen design book, have a look at the one below. Gray and white kitchens are classic for their understated elegance.
This kitchen is beautiful regardless of the size of the room because it features a modern trim.
Black L shape modular kitchen design
Kitchens, after all, aren't about preferences. This is because kitchens are crowded places and black does not look good when the lighting isn't correct.
Here's an example of a designed correctly black-themed Indian modular kitchen. With enough light and elegant wood furnishings, this kitchen has a very high-end appearance to it.
Make sure to make your kitchen vastu compliant with the help of Vastu experts while constructing your kitchen.
Neutral L Shaped Kitchen Design
This kitchen has a Parisian motif. Neutral or subdued colors and a minimalist style are great choices for a stylish kitchen design.
It's not just about appearance; the island in the middle improves practicality in the kitchen. A breakfast bar is added to the L-shaped kitchen design to finish it off.
Coffee Tone L-Shaped Kitchen Design
Coffee! Didn't it send shivers down your spine? We're sure it will appeal to all of your design preferences with its many patterns.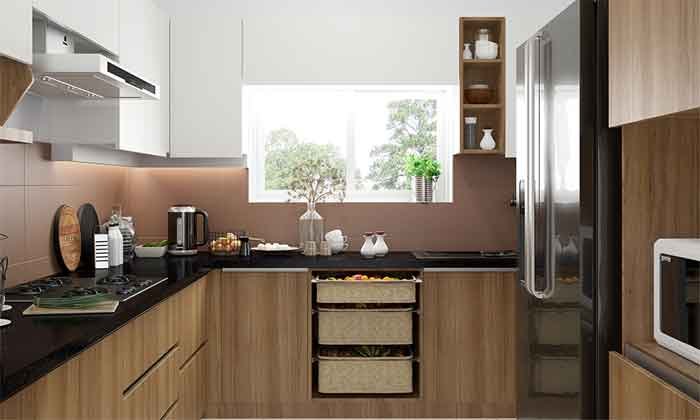 This contemporary small L-shaped kitchen has adequate storage for dishes as well as other kitchen equipment. While getting your kitchen slab placed, give  a read to vastu for kitchen slab colour to make it vastu complaint.
Glossy Laminated L-Shaped Kitchen Design
L-shaped kitchen designs are the sort of designs that you'll find in many homes.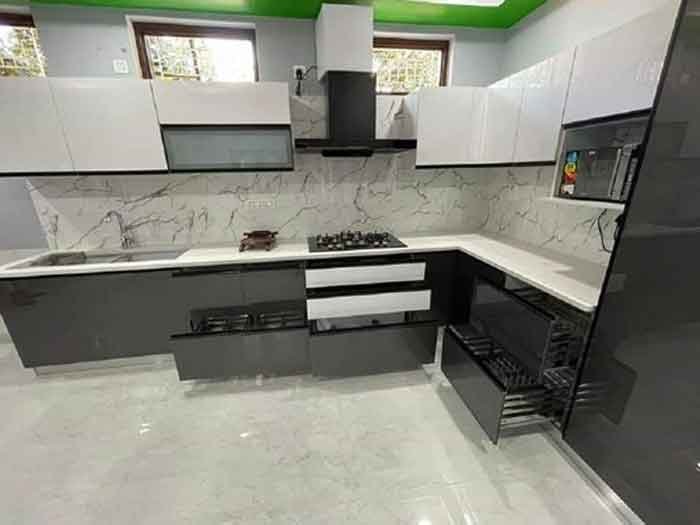 In addition, the lovely whites in this L-shaped kitchen appear so exquisite that it seems like they aren't real.
Stylish L-Shaped Kitchen Design
It's incredible how this kitchen design appears to be so basic yet is very fashionable. It features just a few chairs and a rich patterned floor type that keeps your house connected to the living room.
It has many shelves for storing food, which equals plenty of storage space.
Conclusion
The kitchen is the busiest room in most homes. If you're looking for an L-shaped modular kitchen design, we've got 15 fantastic designs for you to choose from. The above designs offer a range of styles, from traditional to contemporary.