Everyone moves toward the center table on every occasion, from coffee dates to celebrations. The central table is the living room's focal point.
Don't you think it ought to be the focus in a subtle way?  You can thus furnish your home. The center table's design must combine form and function above all else. The living room's design should incorporate practical elements.
It ought to be eye-catching enough to catch people's attention and useful enough to function as a coffee table, magazine holder, or even a stool for support.
The living room needs a center table because it gives you a place to put your belongings. There will be a place to rest your food and drink there.
The ideal center table can handle your snacks, has ample space for snacks, is sturdy enough to hold a book or even your feet, fits in with your decor, and looks good.
Designed especially for you, these center table ideas are practical, whimsical, and attractive if you want the ideal center table for your living room.
How to Choose the Right Center Table?
The height of the center table should be at least 1-2 inches higher than the sofa's seat. For a sofa of this size, the ideal standard height is 16-18 cm. A 20- to 21-inch-tall table is required to complement a large sofa. 
Before you go shopping, figure out how much you can afford to spend on additional furniture. For very little money, a centerboard can cost a lot. Because they serve as the living room's focal point, furniture like sofas, dining tables, and coffee tables can be purchased with a significant portion of the budget.
Consider which shape is best for your living room. If you have children or pets in the house, a round or oval center table is ideal. The curved design ensures that no one will be harmed by the edges. You will have sufficient movable space around the television if you use a rectangular center table.
It is essential to comprehend the table's primary function. Will it be used for decoration or storage? Storage options for the table may also include shelves or drawers. Select one that will firmly support your dishes for food and drink. You can also concentrate on materials, colors, lines, and textures if the decoration is your primary objective.
In case you are looking for attractive dining table designs, check out the latest steel dining table designs here.
Latest Centre Table Designs
You can pick a center table design that works for your needs and your home's spatial dynamics.
Aesthetics, current trends, size, and a few other design considerations have been used to select some of the most recent concepts for center tables.
Consider these options: – 
Design for an abstract center table 
To draw attention to the piece of art in your living room, select a center table with a slightly abstract style.
A distinctive center table can be made by combining metal, logs, and various materials. This abstract center table adds visual interest to your space and complements your aesthetic preferences. If you enjoy boho art and style then Anytime, you can choose this style. To make your living room Vastu compliant, follow these vastu tips for living room here suggested by experts.
Designs for modern center tables
A center table with smooth edges gives your home a bold, contemporary look. An alternative to the more common square or rectangular center tables is a round one.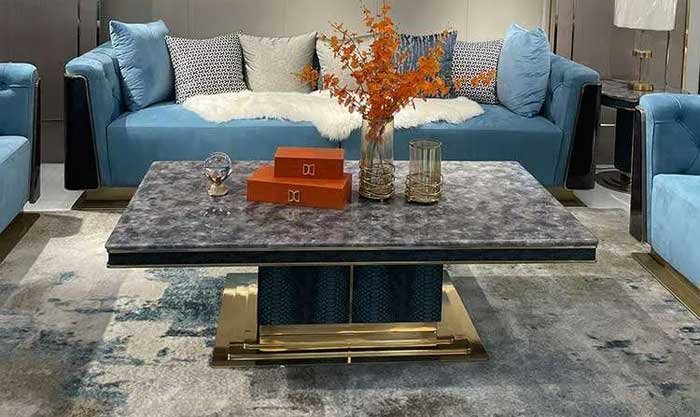 Give it a shot and check out how stunning it looks in your living room. It is current and fashionable. 
Design for a fashionable center table 
Choose this elegant design for the center table because it has a chic design for a center table that will give your home personality and charm. Consider reading about living room colors as per vastu here and choose the perfect combination.
The center table might be the most opulent piece of furniture in your room. Therefore, before deciding, consider design and utility.
For memorable space anchors, select a combination of materials like fiberglass, glass, or even metal. 
The wooden center table is strong enough to withstand heavy use thanks to its effective yet simple design for a more conventional design, select a wooden center table.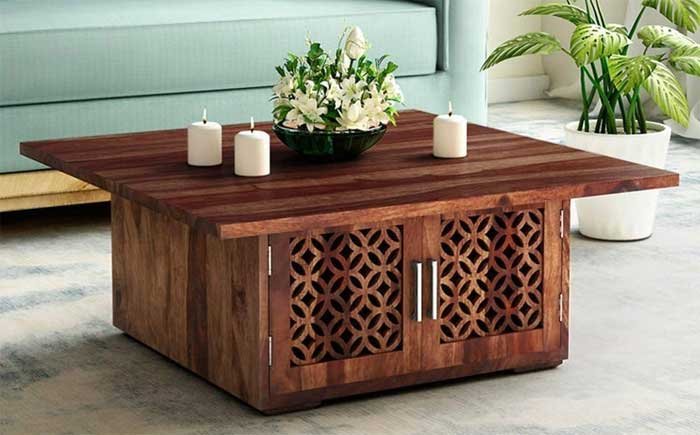 Because it is timeless and never goes out of style, a hardwood center table is a treasure trove of life. The best utility in your living room or anywhere else is provided by the exquisite finish and rugged texture.
This pattern can be made from many kinds of wood. obtainable in walnut, teak, and various other materials. 
Do check out the living room modern texture paint designs ideas here to give your living room a unique stylish look.
Design for metal center table 
An elaborate metalwork central table can be found in one of the notable mansions. Old things have a certain appeal.
When you bring this metal center table home, you will get a new look at it. This table's chic texture and shiny finish will last a lifetime in your home.
In addition, it is sturdy enough to support the weight of all your jewelry and ornaments. 
In some situations, a center table with a design that is less cluttered, more streamlined, and has been precisely sculpted can bring harmony to the space.
Choose this straightforward center table made with the fundamentals of a simpler existence in mind if this appeals to you.
Consider Reading:
Conclusion:
A key piece of furniture in your living room is the center table. You can enhance the decor and create a statement. The design and construction of the coffee table also evolve with time.
Even if antique patterns and traditional materials like wood are still fashionable, abstract, modern, and industrial designs are still well-liked nowadays.
This means that while searching for the appropriate center table for your living room, you should consider important elements like price, size, available space, function, and material.
Additionally, always picture the items you are buying in your living room before making a purchase. This piece of furniture can easily enhance or detract from a room's beauty.