Depending on the style of your home, you may want to go with a traditional look or something more modern.
When it comes to choosing a color scheme for your kitchen, there are endless possibilities of colours starting from grey, yellow, blue, white, red and the list is endless.
But if you're looking for a classic colour combo for your kitchen, be it a modular kitchen or a simple one, that will never go out of style, you can't go wrong with the following ideas.
Blue and White Colours
This year's themes revolve around conveying happiness and health in the rooms. And what better colors to convey these sentiments than blues and greens?
So, begin with blue, which is the most versatile modular kitchen color due to its versatility.
Because it combines well with white. This color scheme is popular because it can elicit vibrant and relaxing energy in the interiors.
You can opt for a bright finish with stainless steel handles for a cheerful design and lighter shades of blue.
Alternatively, you may create a more formal color combination for the kitchen by utilizing darker blues with matte finishes and black/dark details.
Green and White Kitchen Colors
Green has a myriad of feelings associated with it, such as plenty, security, and tranquility. And greens go well with whites in modular kitchen color schemes.
Although a combination of richer greens is preferred over one with lighter hues in this year, both require careful planning to achieve good results.
If you want to paint your bedroom as well, then try green two colour combination for bedroom walls here.
The most popular kitchen color scheme has two distinct color and texture combinations. White/grey countertops and cabinets go well with lighter greens.
Other natural textures, such as stone and wood, as well as white, would benefit from richer tones. Creative bursts of color are welcome in these color schemes for the kitchen to provide interest.
Black and Metallic Combination
The majority of us are aware of the importance of having a kitchen that is simple to maintain and requires little cleaning.
Black is an attractive color when used correctly; however, it can be made more interesting with a few metal highlights.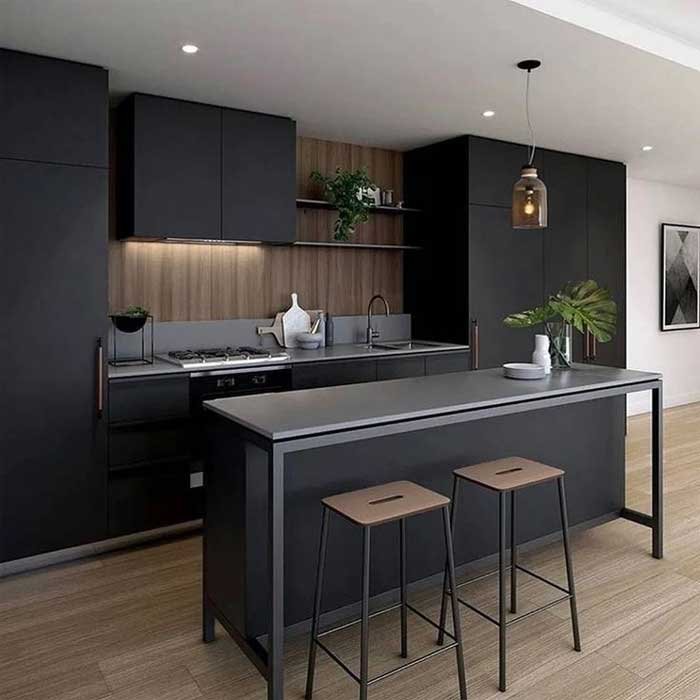 In 2022, black with metallic accents, especially bronzes, will be a popular choice for kitchen design.
Nowadays modular kitchens are mostly placed next to the living room, so you need to take care of the living room as well. Have a look at two colour combination for living room here to give it a perfect match.
For this decorating style, add in lots of other matching metal furniture for the black/dark cabinets and use shiny handles on them.
Also, because black absorbs light so effectively, go with a brighter modular kitchen color or two to make it easier to look at.
Pastels Color Combination
Pastels have been around for a long time and are an enduring style. The trend this season will be to combine pastels with solid textures in monochrome or earthy textures.
Choose a soft pastel color for the cabinetry and a textured terracotta backsplash or printed classic tiles for added depth. The impact is quite stunning without being loud with this kitchen color scheme.
Have a look at two colour combination for kitchen laminates here as well.
White with White/Grey
A white kitchen color scheme is versatile and readily changeable, as well as sustainable. Wood will also become an essential component in preserving all-white kitchens' timelessness and will be one of the most frequently utilized elements in 2022's kitchens.
For this kitchen color scheme & combination, you can use any shade of white with grey colour as well. Also, try to add some greenery to the all-white kitchen for a bit of life.
Try two colour combination for bedroom walls as well here.
Red and White Kitchen Color
One of the most popular color schemes for kitchens is red colour with white. This scheme can be used in several ways, from a traditional country kitchen to a more modern space.
When using this color scheme, it is important to remember that too much of either color can be overwhelming. A good balance of both colors will create a beautiful and stylish kitchen.
Lilac and White Kitchen Color
Lilac and white can make a beautiful kitchen color scheme. The Lilac cabinets are stunning and the white walls bring a freshness to the space.
Not just that, but it's perfect for a small kitchen because the light colors make the space appear larger. If you want to add a pop of color to your kitchen, consider using lilac as your accent color.
One can also decorate kitchen with kitchen wall stickers. This can be done for simple and modular kitchen both with two colour combination.
Yellow and White Kitchen Color Combination
There are a variety of ways to combine yellow and white in the kitchen. One popular option is to use yellow as an accent color, while white dominates the space.
This can be achieved by painting the walls white and adding yellow accents through the use of accessories, such as dishes, towels, or rugs.
Another option is to use both colors equally throughout the kitchen. You could paint the walls white and use yellow color for the backsplash or as an accent color on the cabinets or island.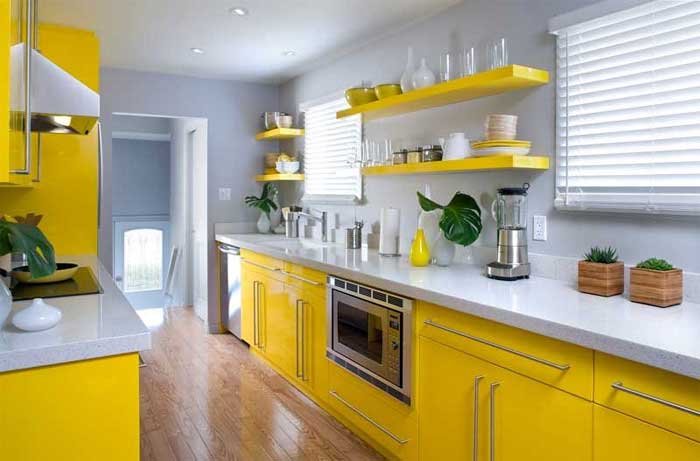 Whatever approach you choose, combining these two colors will create a bright and cheery space that is perfect for cooking and entertaining.
Orange and White Kitchen Color Scheme
Orange color with white is a fun and funky color combination. This color scheme would be great in a smaller kitchen as it will help to make the space feel bigger and brighter.
You could add a bright green vase or a colorful piece of art to make the space your own.
Black and Orange Kitchen Color Ideas
Black and orange are two colors that often get associated with one another. And when it comes to kitchen color schemes, these two hues can make a bold statement.
If you're not afraid of a little bit of drama, then a black and orange kitchen might be just what you're looking for.
For a daring look, try painting your cabinets or walls orange and using black accents throughout the room. You could also go for an all-black kitchen with pops of orange here and there.
Or, if you want something a little more subdued, stick to a neutral palette and add in splashes of black and orange as accent colors.
There can a texture paint on a single wall of the kitchen to make it a modern design and combination with rest wall's colours. Try these modern texture paint designs if you plan to give texture paint to one wall of the kitchen.
Conclusion
When it comes to kitchen color schemes, there are endless possibilities. From bold and dramatic to soft and feminine, there's sure to be a kitchen color scheme that's perfect for you.
Consider Reading: Modular Kitchen Sink Design