A kitchen sink is a must-have that we take for granted. Every kitchen requires at least one sink. It provides a contained area in which you may work with water while limiting splatter and water mess. 
The sink is an important feature of the kitchen, from washing food things, utensils, and dishes to organizing and storing food to thaw, cool, dry, and cook it.
Here are some fantastic, modern kitchen sink designs and ideas for adding new life to your current modular kitchen design or renovation project.
How To Choose Kitchen Sink Design For Your Home?
A good rule of thumb is to choose a sink that is about the same width as your stovetop.
If you have a small kitchen, you may not have much room to work with when it comes to choosing a kitchen sink design.

Stainless steel can show fingerprints and water spots easily. Ceramic sinks are also beautiful and durable, but they can be quite heavy.

Make sure that you choose modern kitchen designs but that makes your kitchen as per vastu too, because it is considered that, a kitchen should also be Vastu compliant.
Caring For Your Kitchen Sink
Once you have chosen the perfect kitchen sink design for your home, it is important to take care of it properly.
If you have a stainless steel sink, you may want to use a special cleaner to help keep it looking its best.
Modern Kitchen Sink Designs
Farmhouse Style Kitchen Sink
It gives off a rustic vibe, yet still looks chic and modern. The farmhouse-style kitchen sink design is usually made of stainless steel or porcelain.
Double Bowl Kitchen Sink
This type of sink gives you plenty of room to work with, whether you're washing dishes or prepping food for cooking. Plus, the two bowls can be used independently, so you're not limited to just one function.
If you're looking for a double bowl kitchen sink that will stand up to daily use, look no further than our selection of stainless steel models. These sinks are built to last and resist staining and rusting, so they'll always look their best.
If you have an L shape modular kitchen design or U-shaped design, you can also go with a corner to install a sink and check the corner sink designs.
Granite Kitchen Sink Design
Undermount Granite Sink

: This type of sink is installed underneath the countertop, providing a clean and seamless look.

Drop-In Granite Sink

: As the name suggests, this type of sink is designed to drop into a hole cut out of the countertop.

Apron Front Granite Sink

: This type of sink has an exposed front edge, which can give your kitchen a more traditional look.

Farmhouse Granite Sink

: A farmhouse sink is a type of apron front sink, but with a deeper bowl.

Single Bowl Granite Sink

: A single bowl sink is great for those who don't do a lot of cooking, as it offers plenty of space for washing dishes.

Double Bowl Granite Sink

: A double bowl sink is perfect for those who like to multi-task while they're in the kitchen.
All these sink designs are perfect regardless of any kind of kitchen shape. Be it g shaped modular kitchen or U-shaped or any type, these modern designs are perfect for all types.
No matter what type of granite sink you choose, you're sure to add both function and beauty to your kitchen.
Disappearing Kitchen Sink Design Idea
If you're going for a truly sleek and modern kitchen design, then why not try a disappearing kitchen sink? With this type of design, the sink disappears into the countertop, giving your kitchen an ultra-clean look.
One downside to this design is that it can be difficult to keep the area around the sink clean since there are no visible edges for dirt and grime to collect.
Note: Check the vastu for kitchen slab color while getting your kitchen slab painted.
However, if you're willing to put in a little extra effort to keep things clean, then a disappearing kitchen sink can be a great way to achieve a minimalist look in your kitchen.
Glass Kitchen Sink Design Idea
Another option for those seeking a modern look in their kitchen is a glass kitchen sink. These sinks are designed with a sleek and contemporary look that can make a kitchen stand out.
They are also very easy to clean and maintain, which is an important consideration for those who want their kitchen to look its best.
If you're looking for a truly unique and modern sink for your kitchen, then a glass sink is worth considering. With their sleek lines and contemporary style, glass sinks can make a statement in any kitchen.
Pick the perfect kitchen almirah design to match this glass sink installed in your kitchen.
Concrete Kitchen Sink
A concrete kitchen sink is a great way to add a unique touch to your kitchen. You may select from a variety of colors and designs to fit your kitchen design.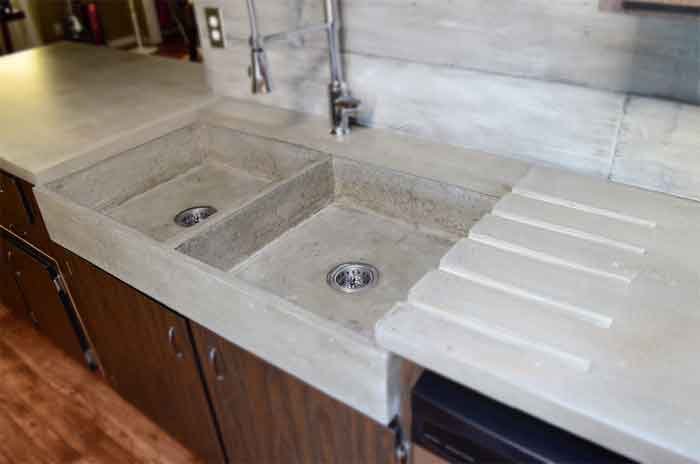 Stainless Steel Design Kitchen Sink
Stainless steel sinks are practical and stylish, and they can be used in any type of kitchen. If you're thinking about choosing a stainless steel sink for your kitchen, here are a few things to keep in mind.
You can find them with single or double basins, and they can also be designed for specific tasks such as prep sink or bar sink. It's resistant to scratches and chips, and it won't discolor or stain easily.
Cast Iron Kitchen Sink
If you are looking for a kitchen sink that is both durable and stylish, then a cast iron kitchen sink is the perfect choice for you.
Cast iron sinks are made from a mold of molten iron, which gives them their durability and strength.
In addition, cast iron sinks are also resistant to scratching and chipping, making them a great investment for your kitchen. 
Also have a look at unique crockery unit designs for your kitchen or dining room here.
Copper Kitchen Sink
There are many different styles of cast iron sinks available on the market today, so you should have no problem finding one that fits your style and needs.
Conclusion
If you're looking for a sink that is both stylish and functional, then you can't go wrong with stainless steel or cast iron sinks.
No matter what type of kitchen sink you choose, be sure to take the time to properly maintain it so that it will last for many years to come.
Try these modern wardrobe design for your home as well.