When you picture of an office environment, you might probably envision a number of chairs and tables making up workspaces, employee cubicles, conference rooms, and a reception or lounge area.
However, you must take in basic considerations before designing any office. Taking care of a proper office table design, room arrangement, and space use have a significant impact on employee productivity and comfort.
The equipment used in each office differs, and this is what creates a huge difference. The products in an office environment are tailored to the employee's preferences, designs, finish, and so on.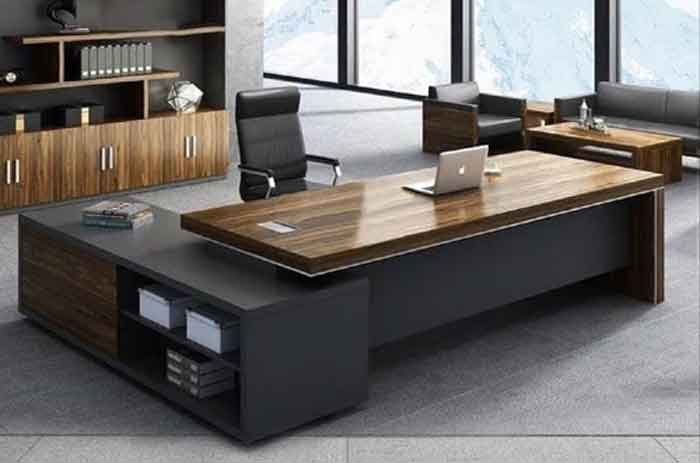 The greatest office table designs will allow you to work efficiently and comfortably, whether at work or at home. 
Match your table with perfect office chair designs to give a luxury yet stylish look.
A good office table design will always value functionality over aesthetics, thus most offices prefer to stick to traditional and neutral color choices that mix in perfectly in an office atmosphere.
Best Office Table Designs that you can use
The best office table designs come in a range of styles, dimensions, and wood types such as chestnut, maple, oak, plywood, and so on. Mentioned below are some of the best office table designs that you incorporate in any office room. These designs will enhance the look and feel of your overall company brand.
Make sure that your office is vastu compliant with these vastu tips for office by experts here.
Boss Office Table Design
The boss's office table design is usually oval-shaped that features a light mahogany finish and plenty of storage space.
This table is huge, with an exquisite design engraved on the table's edges. On both sides of the table, there are storage racks for important files and documents.
Also, a luxury boss office table design can be a vintage type such as the Victorian style for their top-level leaders.
If there are seniors in charge, they favor vintage Victorian furnishings that are in good condition.
Also try these wall fixing almirah design for your office.
Office Executive Table Design
If you want to use an office executive table design for an executive in the company, then go for tables that are made out of stainless steel, glass, or wood.
Such tables usually have good storage cabinets attached, require good maintenance and care, and a closed back area to prevent seeing the other person's legs.
An office executive shows maintain confidence and with the help of a good office executive table design, this can be achieved. 
Also view: Modern wardrobe design
Simple Office Table Design
If you do not want excessive décor in your office room, then choosing a simple office table design will be ideal.
A simple office table design is usually black in color, has good quality storage shelves on both the sides, and will either have a glass or wooden surface top.
The center portion of the table is left open to allow free mobility of the legs. You get immense comfort with this kind of office table design at affordable rates. 
L-shape office table design
Similar to l shaped kitchen designs, L-shaped desks due to its unusual shape, will fit perfectly up against the office corner area. If you have a small-sized office, you will not want a table that takes up half the space.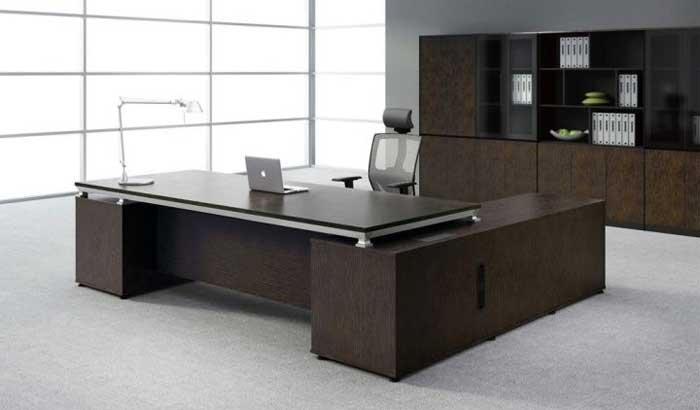 An L-shaped desk provides an extra workplace while taking up less office room. An L-shaped desk has two unique, separate surfaces.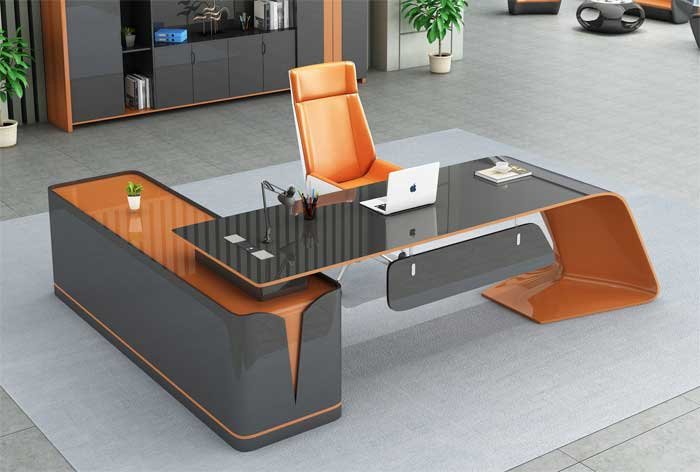 Thus, you do not need to be troubled by papers scattered everywhere on your table. 
Try these vastu tips for sitting arrangement in office to make it vastu compliant.
Steel Office Table Design
Because it is cheap maintenance, this is one of the most common office tables. A steel office table design is practically found in all government agencies and banks.
The table's legs are constructed of steel, giving it a slight shine, has storeyed drawers on one side and a tabletop made of laminated wood with a black finish.
These tables add a stylish touch to your workstation and are ideal for heavy-duty use.
Wooden Office Table Design 
The wooden office table design is a traditional setting for any office environment. The top section is usually sleek and smooth, providing it a hassle-free working area.
Most wooden office tables include two storage rows on either side of the table, each with steel handles for fast opening and closing.
Consider Reading: Christmas decoration ideas for Office
All of your important documents can be easily accessible in these cabinets. Wooden office table designs can be personalized as well with respect to the design, color, and choice of wood. 
Modern Office Table Design 
A modern office table design matches up to all the aesthetic trends of the season, and matches the overall theme of the room.
Usually, these can be labeled as luxury boss office table designs, because they will be found only in the company's leading people.
The table's color scheme will complement the room's visuals and has a seamless, velvety touch to it. 
Also read about vastu suggestions while shifting office
Designer Office Table
Designer tables, from their name itself, can be understood as tables specifically customized on the person's demand. A designer office table is usually made out of exotic wood, has sharp edges, and is polished.
Customized to the demands of the user, such tables are usually for people who hold important and high positions in the company. These office tables release a good impression on clients and promote luxury. 
Read about top tips to decorate office this diwali with unique ideas here.
Glass office table design
Offices are adult workspaces, and there are almost no chances of seeing children running around and hurting themselves with office equipment. Thus, using a glass office table design is perfect in such an environment.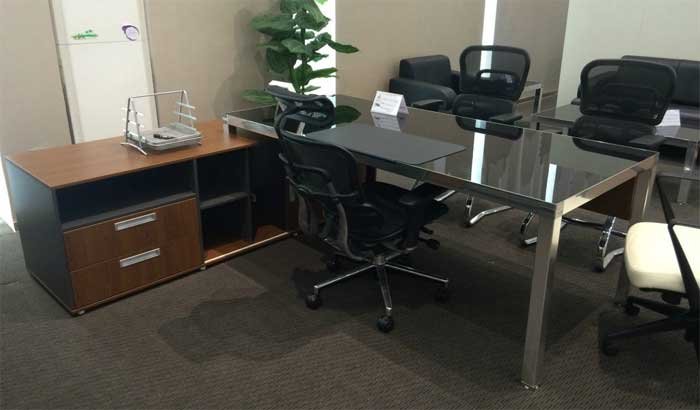 Using them will enhance the look of your office, making it look fashionable, elegant, and perfect in generating a positive impression. Still, using a glass office table design requires good maintenance and should be handled with caution.
Try these glass film for office while choosing a glass theme for your office.
If you have an office room overlooking a fantastic view, then a glass office table design is ideal. 
How to choose the best office table design?
Before you go on to purchase any office table, take into consideration the following points. 
Note that your office environment does have a direct influence on how you perform and think. Spend some time designing the ideal office table for a healthy body and mind.
Spend some time making your office table design more ergonomic. Inefficient ergonomic procedures can reduce productivity levels and potentially result in physical damage. Ergonomic office tables are surprisingly not that expensive, and manufacturers ensure quality over cost always.
Try a height-adjustable table, for example, to rotate between sitting and standing schedules. Along with an ergonomic office table, you can use an ergonomic chair that will also assist you in sitting with your legs parallel to the ground and keep your feet straight and flat.  Using an ergonomic office table design will improve your physical and mental wellness.
Lastly, your office table designs should provide you adequate space for you to move around in a neutral stance. Check the height of your workstation desk, for example, to ensure that your work laptop is at eye level. This posture would avoid bad posture, which can have long-term consequences for your health and spinal health.
Overall, it all comes down to choosing the perfect office table design to help you stay active, productive, and healthy.
Consider Reading: