When you picture of an office environment, you might probably envision a number of chairs and tables making up workspaces, employee cubicles, conference rooms, and a reception or lounge area.
However, you must take in basic considerations before designing any office. Taking care of a proper office table design, room arrangement, and space use have a significant impact on employee productivity and comfort.
The equipment used in each office differs, and this is what creates a huge difference. The products in an office environment are tailored to the employee's preferences, designs, finish, and so on.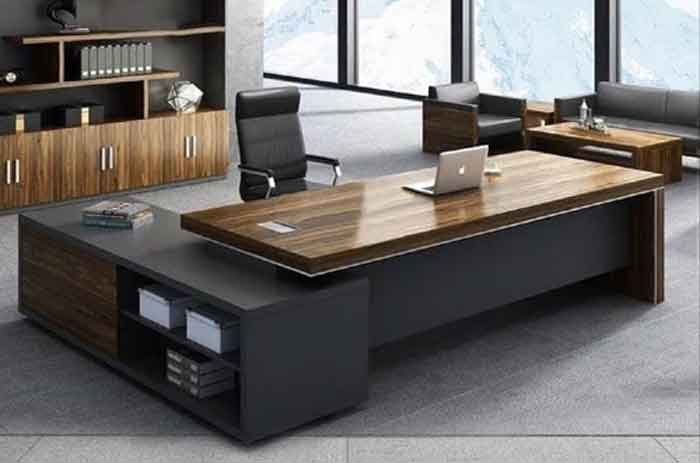 The greatest office table designs will allow you to work efficiently and comfortably, whether at work or at home. 
Match your table with perfect office chair designs to give a luxury yet stylish look.
A good office table design will always value functionality over aesthetics, thus most offices prefer to stick to traditional and neutral color choices that mix in perfectly in an office atmosphere.
Best Office Tablet Designs to Buy Online
Finding the right office table is the first step in creating a comfortable and fashionable workplace. The sheer number of possibilities might make it difficult to zero down on the best one.
Fortunately, there is a broad selection of stylish and functional office tables available online for buying. Here we will take a look at some of the most well-rounded office table designs that can be purchased on Amazon as well, in terms of price, quality, and style that you can buy today:
Jin Office Manual Height Adjustable Desk
The desk's tabletop is 25mm thick and composed of engineered oak. Both the 1200 x 750 mm and the 1500 x 750 mm table tops provide plenty of room for the user to set up their various pieces of equipment.
The desk's surface is laminated, making it impervious to water and simple to wipe down with a damp cloth. The frame may be adjusted in height from 700mm to 1180mm. The width is also adjustable, ranging from 860mm to 1330mm to accommodate a variety of tabletops.
The sit-stand desk's adjustable width means it may be used in a wide variety of spaces. When not in use, we may tuck the desk's handle away inside where it will be out of the way.
The Desk's included foot levelers make it suitable for use in spaces with varying floor heights. Casters or wheels can be attached to the desk.
The foot leveler needs to be taken off before the wheels can be screwed into the same hole (the same size screw must be used for both the hole and the wheels).
FURDEXO Omorfi Engineered Wood Table
The Furdexo Wooden Study Table is constructed of Highest-Grade Materials. The luxurious appearance of engineered wood with drawer and shelf storage will revitalize the appearance of your interiors and complement the design of any area.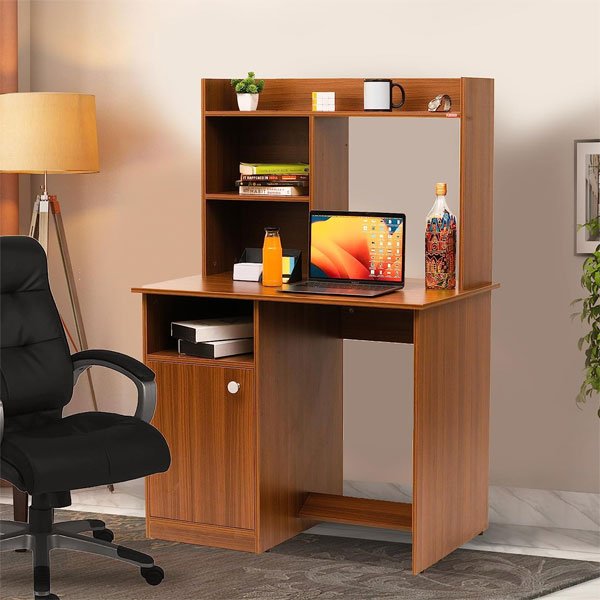 This Desk may be used as a study table, office table, office desk, computer table, computer desk, laptop table, and it is an all-in-one product that will cover all of your requirements while offering you a pleasant living experience.
Are you still seeking for a table that can serve several purposes? Try out this contemporary desk that comes with a lot of storage space.
Anikaa Weston Engineered Wood Study Table
Wall Shelf, TV Unit, Key Holder, Study Table, Wall Mirror, Dressing Table, Bed Side Table, Home Organizer, Linear Workstation, and much more are just some of the items that Anikaa is famous for producing.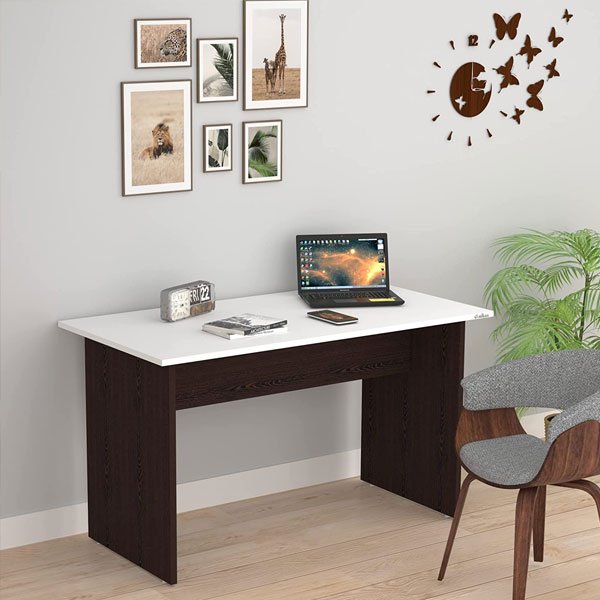 Known for its great quality, longevity, ease of use, durability, sleek appearance, and efficiency. Under the watchful eye of skilled workers, premium raw materials and cutting-edge manufacturing processes are transformed into these finished goods.
If you need a place to work from home, look no further than the Anikaa Table Computer Desk PC Laptop Writing Table for Home Office. And you may use it as a desk for your computer or a desk for your papers.
More fun may be had at the table, whether you're using it for a robust experience or leisure time.
The level surface is sleek and simple to wipe down. This compact desk may serve as either a workspace or decorative piece. The Engineered wood used to construct the table ensures that it will last for a long time.
The surface has been laminated before being exposed to water. It has an industrial-modern feel, reminiscent of classic school desks.
TEKAVO Computer Table
This writing desk has an industrial look thanks to the natural wood grain color variation design. Dimensions (in inches): (120 x 60 x 76); Depth (in inches): (100 ); Width (in inches)

This office desk is ideal for tight quarters since it provides a large work surface without taking up too much floor space. Its durability and stability are ensured by its sturdy powder-coated crc metal legs and thick particle board construction.
This computer desk can support up to more than 150 kg.
SheeshamCraft Nivora Office Table
Stylish and practical, the SheeshamCraft Nivora Office Table is a must-have. This office table was built with care and accuracy to be both a beautiful addition to any workplace and a functional, hardworking centerpiece.

The Nivora Office Table is a stunning example of the richness and elegance of the wood grain, as it is crafted from high-quality sheesham wood, which is noted for its longevity and natural beauty.
The wood's rich, earthy tones lend an air of sophistication to any workplace. The table's clean lines and modern style make it an excellent addition to either a modern or classic workplace.
The Nivora Office Table has a large desktop that can easily accommodate a computer, paperwork, and other office equipment. The sleek and polished finish makes for a pleasant and uncluttered workspace.
You can maintain your workstation neat and clean thanks to the drawers and shelves built into the table.
Amazon Brand Umi Computer Table
Need a quiet spot to get some work done, read, write, or draw. This stylish desk from Amazon's UMI brand has a monitor stand, giving you the chance to work more efficiently and enjoy your job more.

Both the stand and the desk can be utilized independently or in tandem for a variety of academic and professional pursuits. This gaming desk/study table is constructed with an engineered wood top, a black metal frame, anti-scratch shoe bush legs, and a special X design back support for added strength and stability.
The monitor riser included with this contemporary desk can help you sit more correctly while working on the computer by bringing the screen up to eye level. Lessen the burden of backache on your day.
The ideal present for your tenth- or twelfth-grader son or daughter
HNI India Office Desk
The IVO desk is uncomplicated and will blend in with any decor. This ergonomic table may be used for a variety of purposes and won't take up too much room.

The 25 mm Thickness MDF used in the making of this home office computer/laptop desk is of the highest possible quality.
Smooth and long-lasting pre-laminated particle board with a lip of 2 millimeters around all sides. Its small footprint makes it a great addition to any space, including a home office, bedroom, living room, reading nook, library, playroom, or study.
Useful as a workstation, study table, game table, or secretarial desk.
Shreya Decor Solid Wood Office Desk
The Shreya Decor Solid Wood Office Desk is an attractive and practical addition to any office's decor and functionality.

This desk has been meticulously crafted and is constructed from high-quality solid wood to survive regular usage and yet look great in your office.
The Shreya Decor Solid Wood Office Desk stands out due to its classic look. The desk highlights the beautiful grain patterns and warm tones inherent to real wood. Any workplace benefits from the resulting warm and professional ambiance.
The desk's timeless style makes it suitable for both conventional and contemporary workplace settings.
WOOD WELL Folding Wall Mounted Study Desk
Space-saving elegance in a wall-mounted, folding desk that can serve as a desk, a laptop table, a bedside table, or a makeshift office.

The table that can be folded up and mounted on the wall. The board of a foldable table needs to be durable to ensure that repeated folding won't cause any damage.
The table's versatility makes it ideal for a wide range of purposes, including as a desk, dining table, bedside table, kitchen island, standing desk, work station, etc. for students, professionals, parents, and kids.
This versatile table can be folded up out of the way when not in use and complements a wide variety of design schemes.
TADesign Harris Engineered Wood Study
This sturdy desk meets or exceeds all European quality and safety standards thanks to its construction from high-grade engineered oak.

This computer desk does not contain any dangerous chemicals or termites, making it ideal for home use. Six-sided lamination makes it impervious to dust and moisture.
Amazon's selection of office tables makes it easy to zero down on the perfect model for your workspace. There is an office table design that will meet your demands, whether you're looking for minimalist elegance, executive luxury, ergonomic efficiency, flexible workspaces, or space-saving solutions.
Read the reviews, check out the details, and look at the pictures to make a well-informed purchase. When deciding on the best office table for your needs, keep in mind things like space availability, affordability, durability, and practicality.
Having an office that is both practical and attractive can do wonders for productivity and morale, and the table design is a big part of that.
Best Office Table Designs that you can use
The best office table designs come in a range of styles, dimensions, and wood types such as chestnut, maple, oak, plywood, and so on. Mentioned below are some of the best office table designs that you incorporate in any office room. These designs will enhance the look and feel of your overall company brand.
Make sure that your office is vastu compliant with these vastu tips for office by experts here.
Boss Office Table Design
The boss's office table design is usually oval-shaped that features a light mahogany finish and plenty of storage space.
This table is huge, with an exquisite design engraved on the table's edges. On both sides of the table, there are storage racks for important files and documents.
Also, a luxury boss office table design can be a vintage type such as the Victorian style for their top-level leaders.
If there are seniors in charge, they favor vintage Victorian furnishings that are in good condition.
Also try these wall fixing almirah design for your office.
Office Executive Table Design
If you want to use an office executive table design for an executive in the company, then go for tables that are made out of stainless steel, glass, or wood.
Such tables usually have good storage cabinets attached, require good maintenance and care, and a closed back area to prevent seeing the other person's legs.
An office executive shows maintain confidence and with the help of a good office executive table design, this can be achieved. 
Also view: Modern wardrobe design
Simple Office Table Design
If you do not want excessive décor in your office room, then choosing a simple office table design will be ideal.
A simple office table design is usually black in color, has good quality storage shelves on both the sides, and will either have a glass or wooden surface top.
The center portion of the table is left open to allow free mobility of the legs. You get immense comfort with this kind of office table design at affordable rates. 
L-shape office table design
Similar to l shaped kitchen designs, L-shaped desks due to its unusual shape, will fit perfectly up against the office corner area. If you have a small-sized office, you will not want a table that takes up half the space.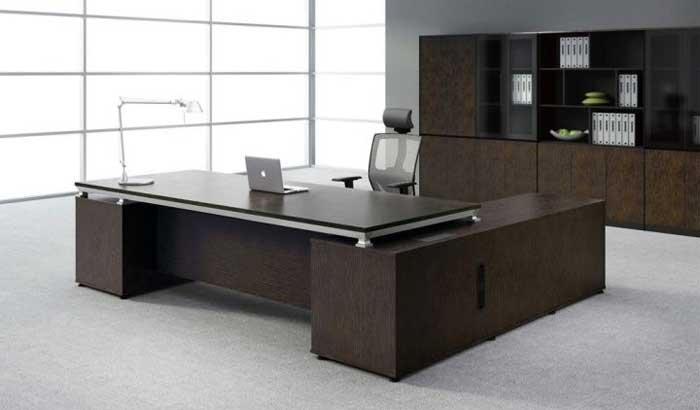 An L-shaped desk provides an extra workplace while taking up less office room. An L-shaped desk has two unique, separate surfaces.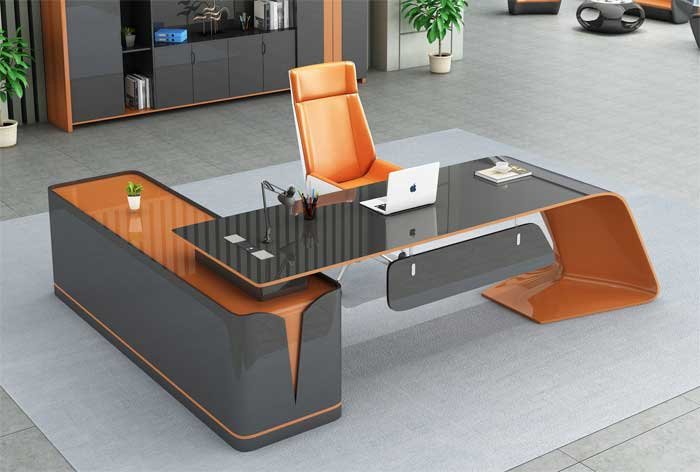 Thus, you do not need to be troubled by papers scattered everywhere on your table. 
Try these vastu tips for sitting arrangement in office to make it vastu compliant.
Steel Office Table Design
Because it is cheap maintenance, this is one of the most common office tables. A steel office table design is practically found in all government agencies and banks.
The table's legs are constructed of steel, giving it a slight shine, has storeyed drawers on one side and a tabletop made of laminated wood with a black finish.
These tables add a stylish touch to your workstation and are ideal for heavy-duty use.
Wooden Office Table Design 
The wooden office table design is a traditional setting for any office environment. The top section is usually sleek and smooth, providing it a hassle-free working area.
Most wooden office tables include two storage rows on either side of the table, each with steel handles for fast opening and closing.
Consider Reading: Christmas decoration ideas for Office
All of your important documents can be easily accessible in these cabinets. Wooden office table designs can be personalized as well with respect to the design, color, and choice of wood. 
Modern Office Table Design 
A modern office table design matches up to all the aesthetic trends of the season, and matches the overall theme of the room.
Usually, these can be labeled as luxury boss office table designs, because they will be found only in the company's leading people.
The table's color scheme will complement the room's visuals and has a seamless, velvety touch to it. 
Also read about vastu suggestions while shifting office
Designer Office Table
Designer tables, from their name itself, can be understood as tables specifically customized on the person's demand. A designer office table is usually made out of exotic wood, has sharp edges, and is polished.
Customized to the demands of the user, such tables are usually for people who hold important and high positions in the company. These office tables release a good impression on clients and promote luxury. 
Read about top tips to decorate office this diwali with unique ideas here.
Glass office table design
Offices are adult workspaces, and there are almost no chances of seeing children running around and hurting themselves with office equipment. Thus, using a glass office table design is perfect in such an environment.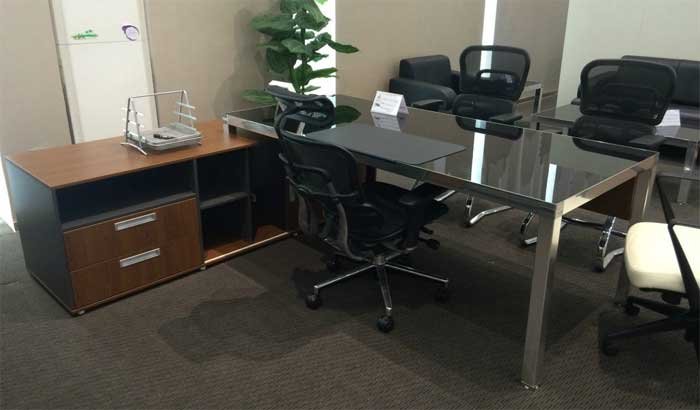 Using them will enhance the look of your office, making it look fashionable, elegant, and perfect in generating a positive impression. Still, using a glass office table design requires good maintenance and should be handled with caution.
Try these glass film for office while choosing a glass theme for your office.
If you have an office room overlooking a fantastic view, then a glass office table design is ideal. 
How to choose the best office table design?
Before you go on to purchase any office table, take into consideration the following points. 
Note that your office environment does have a direct influence on how you perform and think. Spend some time designing the ideal office table for a healthy body and mind.
Spend some time making your office table design more ergonomic. Inefficient ergonomic procedures can reduce productivity levels and potentially result in physical damage. Ergonomic office tables are surprisingly not that expensive, and manufacturers ensure quality over cost always.
Try a height-adjustable table, for example, to rotate between sitting and standing schedules. Along with an ergonomic office table, you can use an ergonomic chair that will also assist you in sitting with your legs parallel to the ground and keep your feet straight and flat.  Using an ergonomic office table design will improve your physical and mental wellness.
Lastly, your office table designs should provide you adequate space for you to move around in a neutral stance. Check the height of your workstation desk, for example, to ensure that your work laptop is at eye level. This posture would avoid bad posture, which can have long-term consequences for your health and spinal health.
Overall, it all comes down to choosing the perfect office table design to help you stay active, productive, and healthy.
Consider Reading: