Dussehra is an important Hindu festival that falls on the tenth day of Ashwin month. The most common ones are those of Lord Rama, Sita, Lakshmana and Hanuman.
Other popular designs include flowers, leaves, peacocks, and elephants. The making of Dussehra rangoli is considered to be a very auspicious activity.
It is believed that by doing so, one invites Goddess Durga into one's home and brings good luck.
Let us know a bit about Dussehra rangoli and the latest rangoli designs which are easy, simple, and attractive.
Significance of Dussehra Rangoli
Rangoli designs vary from simple to complex patterns. They can be geometric or free-form designs. Common motifs used in rangolis include flowers, leaves, birds, and animals.
On the day of the festival, they get up early in the morning and clean the courtyard or open space where the rangoli will be made.
The area is then sprinkled with water and the dry colored powders are used to create the design.
The process of making rangoli is both an art and a science. They can also be made for decorative purposes in homes and businesses. Rangolis are an important part of Indian culture and tradition.
You can also adopt designs from easy rangoli designs for Diwali shown here with images.
They are a symbol of India's rich heritage and can be seen as a reflection of the country's diverse history and culture.
Rangolis are made using a variety of materials including, colored powders, rice flour, sand, and even flower petals.
The most popular colors used in rangolis are red, yellow, green, and blue. The powder is first mixed with water to form a paste.
This paste is then used to create the desired design on the floor or ground.
Have a look at cool ganpati decoration ideas here for ganesha temple at home.
Types of Dussehra Rangoli
Goddess Maa Durga Rangoli
A beautiful Maa Durga Rangoli Design is perfect for making your festival more exciting and auspicious.
Vijayadashami Rangoli Design
The most ideal Rangoli design for Vijayadashami or Dussehra is one that has the right mix of patterns and designs.
For a more artistic look, use plain hues in the border and white chalk or paint to create it appear elegant and well-designed.
This style usually necessitates the assistance of a specialist, especially given all of the intricate patterns.
Durga Ashtami Rangoli Design
This Rangoli Design is perfect for Durga Ashtami. It includes a large number of diverse patterns and is impressively large.
Happy Navratri Rangoli Designs
For Navratri, a beautiful style will add to the celebration's splendor. You may use a wide range of designs and patterns in many colors and hues to create an unique design for Navratri.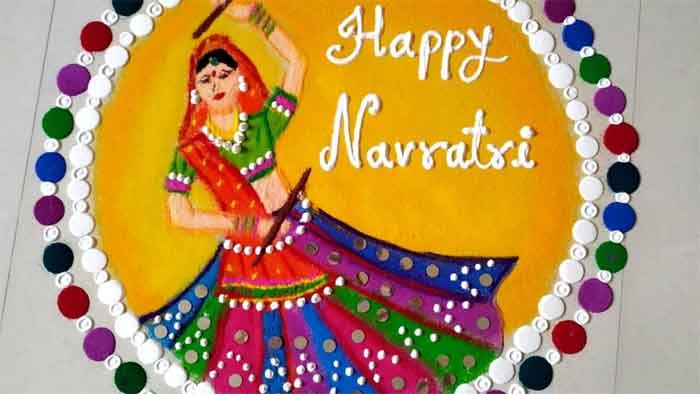 To make Durga matha appear appealing, use yellow and red color with white wider. Finally, enjoy the festive mood by drawing the bottom of the rangoli.
Simple Navratri Rangoli Design
Navratri Rangoli Design is quite basic and well-designed. This Durga can be made with a variety of hues to create her look extremely lovely.
Be careful not to overlook the significance of using white rangoli powder as a highlighter.
Here are do's and don't at home during Navratri to get maa blessings.
Dasara Rangoli Design with Flowers
Dasara Rangoli Design will be more beautiful and majestic if you include an image of Goddess Durga.
Bright Dasara Rangoli Design
This Rangoli kolam is perfect for making your Dasara celebrations bright and beautiful. Simple yet stunning, this Bengali-style Rangoli Kolam is sure to wow your guests.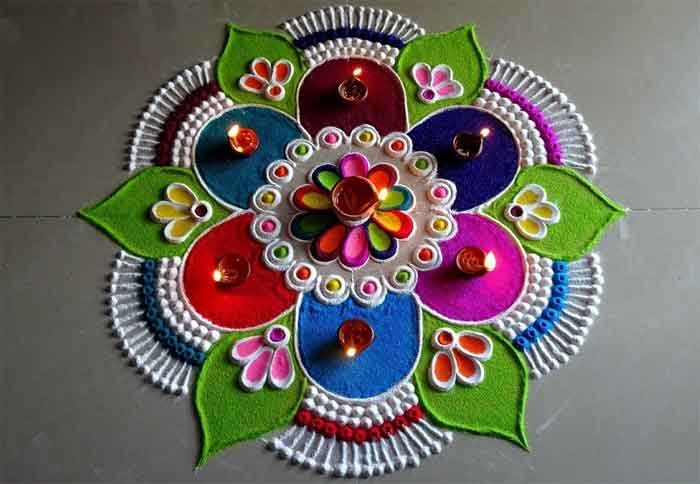 The image of Goddess Durga in the center surrounded by a natural, bright color background makes this piece of art truly special.
Great Navratri Rangoli Design
This easy and elegant Navratri design will be the perfect addition to your celebrations. 
The prominent use of blue and white makes it look really pretty.
Dussehra Celebration Rangoli Design
This is an amazing rangoli kolam that is perfect for the Dussehra celebrations.
It has a very colorful and vibrant design which is sure to catch everyone's attention. You can use a variety of colors to create this rangoli kolam according to your preference.
Small Dasara Rangoli Design
This small but beautiful Dasara Rangoli Kolam is perfect for those who want to make something simple yet special.
Things To Consider For Dussehra Rangoli
When it comes to Dussehra, one of the most important aspects is the creation of beautiful and intricate rangolis. Rangolis are a type of art that is created using colourful powders, sand or flowers, and are usually used to decorate the entrances of homes or temples.
There are many different designs that you can choose from, so take some time to look at different examples before deciding on one.
Traditionally, rangolis are created using red, yellow and green powders. The ratio of each colour should be equal so that the finished product is evenly coloured.
Once your powders are mixed together, it is time to start creating your rangoli. This tool is used to create small depressions in the powder, which will act as the outline for your design.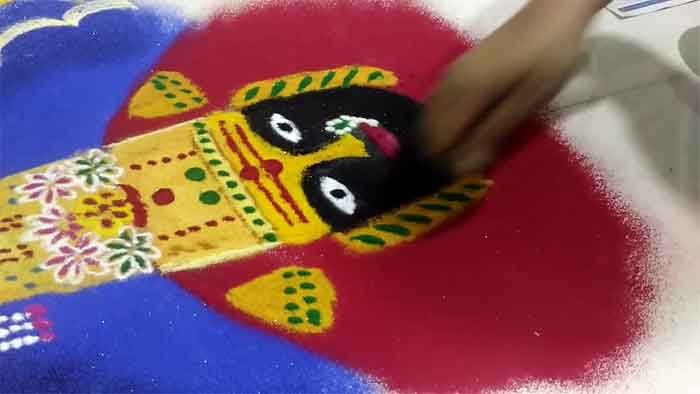 When filling in your rangoli, it is important to use a light hand. Too much pressure can cause the powders to break and crumble, ruining your design. Once it is dry, you can spray it with water so that the colours will set and become permanent.
Dussehra is a time of joy and celebration, so make sure that your rangoli reflects this. Choose bright and cheerful colours, and try to create a design that is both unique and eye-catching. 
Conclusion
Dussehra is a time of joy and celebration, and your rangoli should reflect this. Choose bright and cheerful colours, and try to create a design that is both unique and eye-catching.