Who doesn't want a practical, beautiful, and aesthetic office space that makes the working environment focused and productive?
Creating a dream office interior design on the lowest budget, possibly seems challenging when you have space limits.
Don't worry we are here with the top 10 office interior designs on the lowest budget for small spaces which will help you build the workspace of your dreams.
10 Exciting Small Space Modern Office Interior Designs
Add Texture
The potential to completely transform the look of a workspace is what textures do. The walls combined with artworks and paintings can be an excellent way to create a very distinctive but modern office design with the help of textures.
Also, they will never go out of style ever so yes you can count them into the list of small-budget interior designs without giving it a second thought.
Pick the best modern office chair design here to give your office a unique look with the help of DecorChamp.com
Use Bold Colours
No one wants to work in a space that is boring with dull colours so it is advisable that the only way to Outlook your small office is by enhancing it and embracing it with bold colours.
A tiny pop of these bold colours like yellow, blue, purple, pink, red, green, etc. can take out all the Monday blues and dullness that every employee has, this can also help employers to increase productivity. Do not forget to follow vastu rules for office paint color mentioned by experts here.
Moreover, adding these bold colours to the walls and the floors and the furniture will make it easy for you to add enough excitement and energy to the environment of the office to keep you and the employees in a good mood at work.
Light up your Space
When talking about simple small spaces with minimal and aesthetic designs for an office, then lights play a very important role in enhancing the office look and its vibe.
For this,you can go with the table lamps which are obviously minimal and aesthetic but you can also go ahead with coloured lights on the spots where you want to emphasise.
A bit warmer and whiter colours complement each other well ,so make sure to consider a mix of them while choosing your office interior design.
Setting up Shared Desk
An office setup with a small team will help achieve the objectives of, effective use of space and better collaboration if the desks are properly shared and connected.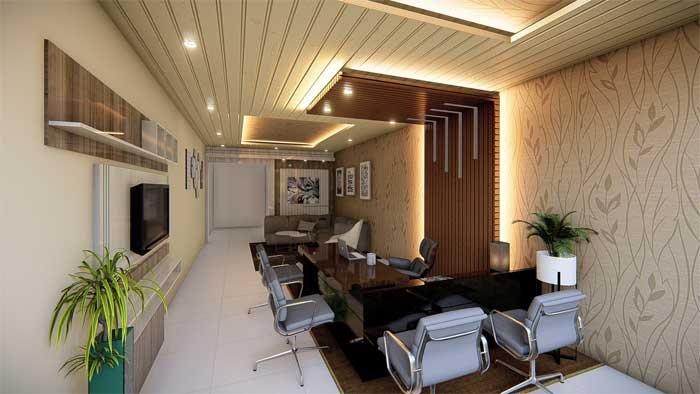 Adding in some attached desks, you can assure that people work together without invading their privacy.
To choose the perfect luxury boss office table design have a look here.
The thought of placing a small coffee table and a lounge sofa in the office space can also help in bringing down the formal setting and giving your team a place to relax and chill.
Perfection with Simplicity
The only key to an idle office interior design in a small space is to keep the balance between perfection and simplicity.
The office is not just a place to work but an office can also be made comfortable and secure by placing the furniture in an artistic way.
You can also set the tone of your office in minimalist and aesthetic designs that use colour to represent your brand or organisation.
Consider reading about dussehra rangoli design for the office here.
Minimal Furniture
The only reason behind designing small space offices is to avoid making it look stuffy and claustrophobic.
You should leave spaces wherever possible and try putting in as few elements as possible. This small thing makes your office ultimately look spacious, clean, aesthetic and beautiful.
The concept of designing a small space office with lesser furniture and more space also tells us that the required budget will be low.
Also read: Where can i buy attractive and comfortable furniture for office.
Here's the deal: a low-budget office designed, in a small space, with minimal furniture and it also makes it look creative.
There is no doubt that you can choose the basic furniture such as a standing desk, a 4 by 4 desk for the employees, chairs that match your office's colour scheme, etc.
Add fun Elements to the Walls
Who likes those monotonous traditional office setups with those banners and motivational quotes? Design your small office space in a creative manner and come up with your creativity and fun side.
Go and look for cool office interior designs in your budget that are anything but boring!!!!!!
Add up something like some quotes, pictures, funky frames, etc. or storage spaces like boxes, shelves , racks that are functional and at the same time kill boredom. Also to save space choose small desks and chairs.
Consider reading: Budget-friendly options for office wall cladding
Use of Glass Partition
Although your office is small also you have to stay on a budget so yes you can use a glass partition to separate cabins and this would also help you easily visualize and access the entire workplace.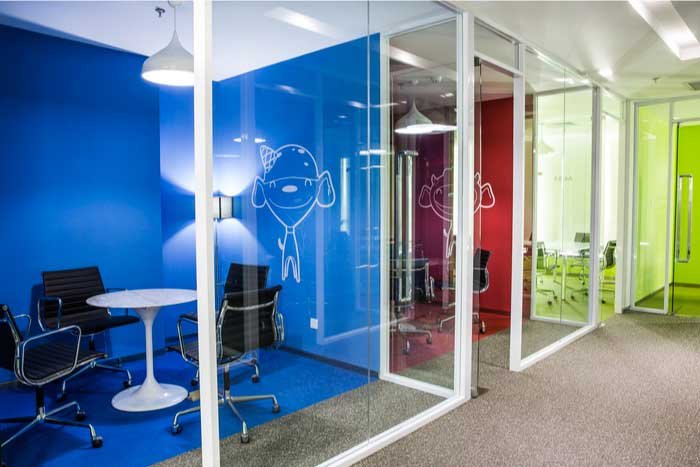 This glass partition would also help you have your own personal space and not make it look much larger. And also if you want, it is still possible to redesign partitions later in the future.
To make the partition look attractive try using glass films for office shown here.
Greenery is Something to Add up
To give a fresh start in the morning, give your small office space a fresh makeover. you can add plants and natural elements. This will effortlessly fill up the space while making it look more lively and energetic for work.
The addition of greenery will also stimulate creativity and Beauty and will help the office air purify.
The best part of having these greenery items like plants and natural elements in your office space is that they can be kept easily anywhere, maybe it's on your desk, your coffee table, walls, or the corners of the room, etc.
Also read: Vastu tips for office sitting arrangement
Make use of Wooden Elements
Wooden furniture has always been a plus factor in designing small creative office interiors.
The coordination of soft brown walls or natural elements with the right colours of your wall set the right working atmosphere.
This small step makes it calm and relaxing while giving your office space separately with a classy appearance.
Also read: Tips to decorate office this diwali.
How to Revamp your Office Interior in Small Budget
Looking for a more creative workspace? Here is how you can revamp your office.
If your workplace looks quite dull and boring and if you are looking for ways to revamp it to get the necessary attractive look, this post is definitely the one you are looking for.
Listed below are some ways in which you can not only revamp your office to make it look more interesting but also create a better and more focused environment, best suited to your mood swings.
Bring in the positivity using plants
Try to include a lot of greenery in your workspace. The advantage? – supplies you with more oxygen and keeps you refreshed all the time. If your work is one involving a lot of stress, simply looking at nature can effectively distress you out.
Add an artistic touch
Have a perky and artistic touch to your device's wallpaper. Simply looking at it is enough to take you places, if not, at most can help you distress you out and divert your mind for a little bit at least. What do you say?
Keep your work desk clutter-free
Try creative hangings and cubicle holders for dealing with all those clutter-causing items. This will indefinitely help you become more organized than ever. So, next time when you need anything, you won't have to frantically search for it. Just look in the holder, won't you?
Add a touch of elegance to your cubicle with a rug swatch
Deploying a rug swatcher for your desk top bloater creates a soothing effect on the overall. Also, the soft caress you get every time you rest your hands on it is one feeling that is worth millions. After all, satisfaction is one thing that is not easily available, is it?
Explore your creative side
Create a collage with your pictures and personal preferences to give that extra classy look to your cubicle. Having a collage or mood board is fair enough to give some serious work goals and also help you in achieving them. I know, this sounds quite weird, but having something in front of you is better than having a blank wall stare back at you. What do you say?
Scented candles for that perfect workspace
Adding a set of scented candles in your workplace indefinitely increases the positivity of the atmosphere and creates an aromatic space all around. This ultimately keeps you occupied in your work with fewer things to stress about. It is more like having a whiff of fresh air in a poorly cramped workspace, which ultimately keeps your mood fresh at all times.
Organize your schedules with a fancy calendar
Compared to the traditional calendars available, having something creative and unique keeps you occupied and also create an extra attractive effect for that cubicle of yours. A perfectly nice way to revamp your office, isn't it?
Whiteboards for leisure time scribbling
Yes, you heard me correct. Having a whiteboard for all your leisure time drawing and scribbling creates an extra casual creative outlook on the whole. Perhaps, there are chances that your boss might get impressed with your creative side.
These are just a few tips that can help rejuvenate your workspace and give you that extra attractive and edgy look best suited to deliver the picture-perfect professional look on the whole.
Also read christmas decoration for office
Conclusion:
These office innards' design ideas for small spaces will work astonishingly well. still, if you're confused about which interior designs to go with or want some further innovative ideas for your office space.