Diwali is the most fascinating festival and it brings lots of lights and sweets to our surroundings. Diwali has cultural importance. For the blessings of goddess Lakshmi, people worship her. Lord Ram is also worshipped during the festival.
In schools and colleges students perform cleanliness procedures. At homes too people do cleanliness for welcoming lords. Many sweets are made for celebrating diwali. People wait for diwali to cherish the togetherness that it brings in their lives.
On Diwali various beautiful Rangoli designs are made and people prefer making it in various ways. Beautiful and gorgeous designs look eye catchy. Different colours are used for making rangoli. We will talk about the Rangoli designs in this blog.
Spiritual Significance of Making Rangoli
As we all know that rangoli is made on various occasions for various purposes. Different designs are made accordingly. Now we will talk about the spiritual significance of making rangoli.
On diwali it is made so that-
It can give a clean and

beautiful environment to the deities

as they visit homes during this festival.

It can give their deities a pure atmosphere.

It can help having blessings of their deities.

Rangoli helps  by bringing prosperity.

It gives a beautiful view.

It represents all forms of energy.
All these are the points that tell us the spiritual significance of making rangoli.
One needs to make rangoli to reap all these benefits.
Also read about: Bathroom lighting
Simple Happy Diwali Rangoli Designs
You can make various beautiful rangoli designs with very easy designs. There are various simple designs. You can check the following designs for making rangoli-
You can make rangoli by making

simple petals on the border

and then fill different colours in it. Write happy diwali with your favourite colours.

A peacock style rangoli can be made with pink colour. Then fill the feathers of the peacock with good colours and after that place candles around that. It will look great.

Make a house style rangoli and then write Ram inside it . This will look beautiful and it will reflect devotion too.

Make a

side border rangoli

on the borders of your room. Place candles too on the side and see how cool it will look.

Diva rangoli can look good too. A simple chain of divas can be made and colour can be added.

A floral petal design can be made and it is very easy to make. You can simply make it very easily.
These simple, easy and beautiful rangoli designs will elevate the festive and will help you in your diwali decoration. Add diva's and candles in a particular manner to create a design on rangoli. This will look very great.
What are the Benefits of making Rangoli?
Making rangoli can be very beneficial. It can have a lot of benefits. We will discuss the benefits of making rangoli in this section.
Benefits of making rangoli are as follows-
It is believed that an entrance without rangoli brings bad luck. One should make rangoli to

bring good luck to their

houses.

It helps by welcoming goddess lakshmi.

It brings prosperity to the place.

Rangoli radiates positive energies.

Round designs of rangoli helps by reducing negativity.

Different colours and specific items can help keep insects away.
All these are benefits of making rangoli. Along with this we all know that it looks appealing.
May you also like to read: Place of Pooja room in house
Rangoli Powder at Home
Now we will discuss how you can make rangoli powder at home by yourself.
We know that rangoli powders are easily available at shops but you can make it at your home too.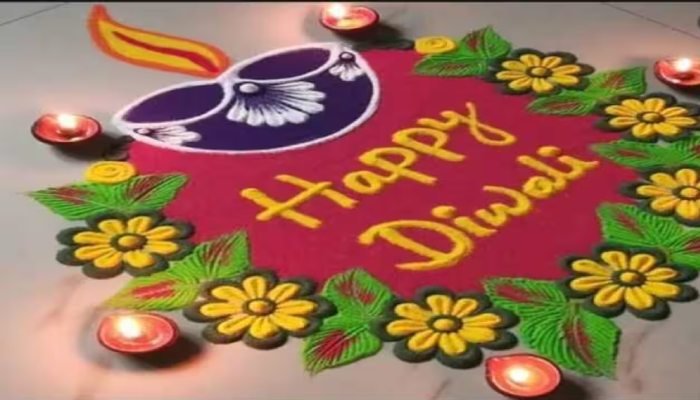 Are you excited?
If yes then read along and see how easily you can make rangoli powder at home.
Make rangoli colours at home by-
Yellow colour powder can be made with the help of turmeric and with help of chickpea flour. It will add a great tint to your floor.

Red colour can be used by

using red petals of rose

and you can add those petals in the design of your rangoli. It will look beautiful and realistic.

Orange colour can be made by drying marigold petals. The orange colour in your rangoli will

look vibrant and energetic

.

Grind beetroot and obtain magenta colour. Add this superb colour in your rangoli and feel its effects.

Use green leafy vegetables and grind them . After grinding them you can use the green colour. 

Lavender shade or colour can be made from lavender.

Use rice flour for white colour.
As you have noticed that different colours can be obtained easily and you can simply have them.
Now you just use these colours for making your perfect rangoli designs.
This diwali you must add natural colours of rangoli to your rangoli for a more original look.
You should also know: Vastu for Trees and Plants
Rangoli Colour Price Lis
t 
If you are having a busy schedule and you feel that you can not spare time for making rangoli powder on your own then do not worry as you can simply buy them.
But buy the natural colours for magnifying looks.
Rangoli colour price list is as follows-
Black rangoli colour for beautifying rangoli at just Rs 8 per kg.

Multicolour rangoli for

great rangoli is available

at just Rs 30 per kg. Multicolor shades will look great.

Multi Colour rangoli shades bottles will look great and they are easy to use too. You can buy the bottles easily at just Rs 75 per piece.

Green colour for rangoli at just Rs 7 per kg.

Rangoli colour kit in powder form at just Rs 120 per unit.

Different rangoli colours like red , pink , etc can be bought at just Rs 125.

Yellow colour is

available at just Rs 5 per kg

.
Different brands offer different colour shades and one can buy them easily in shops or one can order it from online stores too.
Add amazing colours to your rangoli and celebrate this diwali with the amazing rangoli designs.
Consider reading: