When choosing the wardrobe handles, there are several factors that one needs to consider. These handles can range from traditional, contemporary, or minimalist designs. Therefore, one needs to choose these handles carefully. The material of the handles also matters a lot. They can enhance the decor or blend with the overall look. So, go for that type of wardrobe handles only. 
Be it strength or style both are one of important factors to consider. So, choose your wardrobe handles that are sturdy, durable, and can last long. Now, before you make your final decision on buying these wardrobe handles, here are some amazing types that you need to know about. 
Knobs
Knobs are circular and fixed handles that instantly offer a classical look. If you want your Wardrobe to stay minimalistic, then it is one of the preferred options to consider. But, they will eventually lose over time due to the point load that comes on the screw. 
So, it is recommended to go for knobs if you do not have very wide drawers. Or, you can simply use two knobs to distribute that load evenly on the channels. It will facilitate the easy opening. 
Sleek Recessed Handles 
These handles are generally embedded in the shutter and the best part about these handles is that they allow you to pull it open very easily. 
They are usually made of Aluminium and if you want to use recessed handles for the sliding shutters, they are easy to use and offer a modern and sleek appearance to the wardrobe. 
T-Shaped Handles
These handles you can fix at a point on the shutter.. The style of these handles looks good for the modular kitchen designs or whenever you want minimalistic shutters with a flat finish.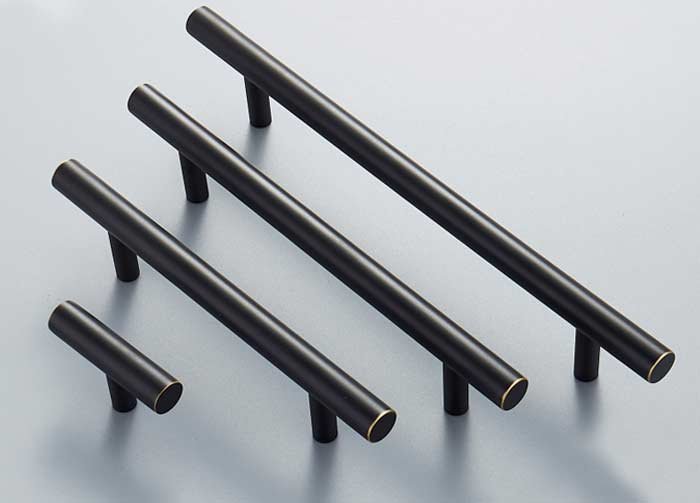 Bow-shaped Handles
Bow handles are quite similar to bar handles. These handles are different in shape which means bow handles are curved shapes and it is easy to grip from the middle. One can opt for these bow-shaped handles as they are best suited to transitional, classical, or traditional wardrobes. Here, you can try these modern wardrobe designs. 
Bar Handles
They are one of the simple handles that you can find available in the market and that too in different finishes. Bar handles can be screwed into shutters. 
Bar Handles can range from popular chrome, stainless steel, wooden, metallic, and many more types. They are absolutely popular and can range from wooden to metallic designs that can go well with your decor theme. You can give your home a decent look with innovative home decor ideas. 
Edge Profile
If you want to have to achieve a minimalistic look for your wardrobe, then Edge profiles is one of the best types of handles that you can try out. 
They are basically the hollow-out profiles of aluminum or wood that are fitted to the edge of the shutter. One can easily put their fingers in these hollow designs and pull the shutter open. 
Or, they can be used both on the drawers or cabinet shutters. These handles are ideal and can easily be used on the cabinet shutters as well as the drawer which are quite ideal for modern and contemporary designs. 
Handleless Drawers
These drawers are absolutely amazing and use a push-to-open mechanism for opening the shutters or drawers. Go for the Handleless drawers and the best part is even the slight push can activate the spring of slide thereby allowing shutter open without any hassle.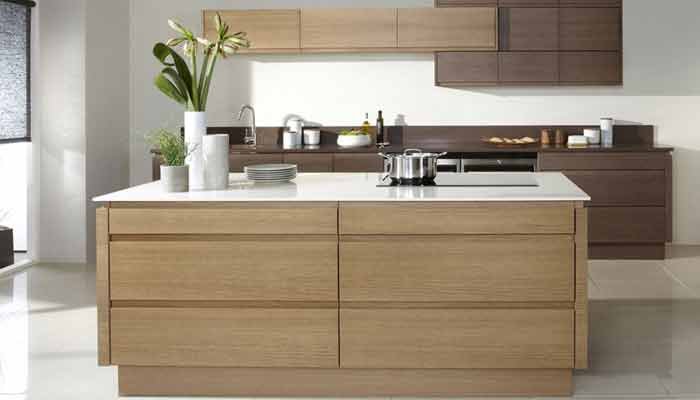 The spring present in the handleless drawers opens up partly thereby allowing the shutter to slide open. In addition, the mechanism also offers a streamlined look. 
When it comes to handleless drawers, never ever compromise on the quality, cheaper versions that will not last long. If you load the drawer heavily then in that case, spring can become damaged. So, don't compromise on the quality and go for the handleless drawers. 
Glass Handles
Glass handles offer a luxurious feel and you will find them available fitted on the glass doors of workplaces and offices. It is mostly used with Glass film for office. They are one of the best handles that are made with care and precision. Go for these aesthetic, classy, and elegant handles that can offer a marvelous finish. 
Sleek Long Steel Handles 
These handles are one of the stylish handles that make a style statement. One can find them available in aesthetic design. If you want to give your wardrobe a nice finish, then go for these horizontal sleek long handles matching the horizontal handles. This is the perfect combination of long steel handles and steel door designs. 
Wooden Long Handles
There are various wooden long handles available in the market that will never fail to grab your attention. The best part of having these handles for your wardrobe is that you can achieve a monotonous yet classy look. If you want to use them, then we suggest you go for cream or white shutters as they will offer a stunning classical appeal. 
Exposed Screw Design 
If you want to achieve a unique look, then choose a bronze or brass pull that features exposed screws on the sides. These designs are absolutely stunning and one can achieve a commercial or industrial feel.