The exterior colors of a home have a powerful impact on first impressions. They effortlessly express who you are and what you enjoy without the need for words.
It becomes increasingly difficult to mix excellent color combinations that will amaze the audience.
Indian home outside paint schemes differ from location to location, but they have evolved considerably throughout history, continuing with current design trends.
Listed below are the latest and trending indian house exterior color combination ideas for outside of small and big houses.
In case you are looking for two colour combination for bedroom walls, here you go. Check these colour combination which are displayed with photos for real experience.
The Right Proportions in Yellow, Blue, Cream, and Grey
According to psychologists, the colour of your home exterior may have a significant impact on how you feel about it. How wonderful would it be if all of your windows were painted in bright colors?
On the surface, this appears to be entirely reasonable, but there is some science behind it as well.
The exterior color combination in indian house can make a huge difference when used in the appropriate proportions. The image above will offer you some creative ideas for attractive colors for your house's exterior.
The house in the photo is painted in deep blue, grey, and cream hues, with yellow colour strategically applied to lift the spirits of the occupants.
When you're using various colors for your home exteriors, be sure they're in the correct proportion.
Peach and White Colour Combination
The home in the preceding image stands out for its elegance and opulence. The colors appear to be fresh. The peach used in huge amounts is balanced by the white.
The house's roof complements the exterior hues of the property.
The green garden and blue swimming pool accents, combined with the pale colors of the home, work very well.
You may also like to know about making purple colour here
This design may be a good fit for homeowners who are hesitant to use bright colors on their homes' exteriors.
White and Indigo Outside Colour
Indian houses have a distinct flavor. White is the most common color on the outside of each neighboring home in the image above, with blue accents adding to the beauty of the structure. The brown lines give depth to the property's exteriors.
Note: Before you start the painting work, we suggest you have a look at vastu for colors combination and choose the colours that attact positive energies.
The use of white in the colors is appropriate, but the right indigo play prevents our eyes from being drawn to the white. The contemporary Indian taste is complemented by the modern design of the home's exterior decorations.
Red and Cream Exterior Wall Paint
Red-tiled roofs are common in many Indian homes. It exudes tradition, warmth, and desi vibes. A twist of traditional and contemporary is seen in the home above.
Traditional red colour tiles with tinted wooden windows and columns are paired with quintessential cream paintings to create a unique aesthetic.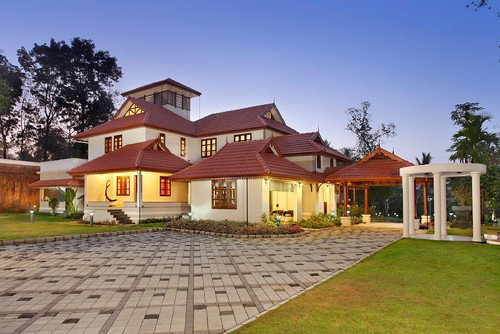 The interior of this home, which mixes traditional and contemporary hues, will appeal to both the young and the old in the family. If you want to use monochromatic colors on your walls but don't want them to appear drab, try using any of the above shades.
Orange and Grey Combination
Exterior house colors do not frequently employ the color orange. If utilized repeatedly, the results may be catastrophic. However, an example of a South Asian home in steel grey reveals a different tale.
Despite being covered in orange colour, the property appears pleasant due to the steel grey accents. You may paint a brilliant color on the outside of your home, but keep in mind that it must be offset by a natural hue.
In the garden paint your pots with the colour that matches with the exterior wall paint of your indian house. Try these pot painting ideas for your garden as these are trending nowadays.
Grey and White Colour for Outside Wall
When we talk about the colors of a home's exterior, we think only of vivid and brilliant hues with light shades. Neutral tones alone, though, may create a minimalist yet beautiful combination for house exteriors.
The above home is painted in ash grey with white accents to counteract the glare.
The white hue brightens the gloomy appearance of grey. These outdoor hues create a welcoming atmosphere. The colors showcase the building's intricate architectural designs without being ostentatious.
Try these bottle painting ideas for your garden to give your garden a new look and feel.
Yellow and White Indian House
Many Indian homes are painted in bright white and yellow. The lovely home in the image above is highlighted by white windows and red-shingled roofs, which provide a striking appearance.
The white-trimmed windows bordered by painted trim give a great finish to the home. In addition, the red roof is an interesting element of design for the outside of the house.
Also read about radium paint here if you want to give it a try in your garden area.
Yellow and Cream Indian House Colour
The most frequent color on the outside of Indian dwellings is yellow. Many various hues of yellow can be seen on Indian homes, including ochre, amber, and mustard. If this description reminds you of anything, consider how to combine yellow effectively within the image's architectural style.
Note: Try asian paints colour combination with code here to get the right shade of the paint you are looking for.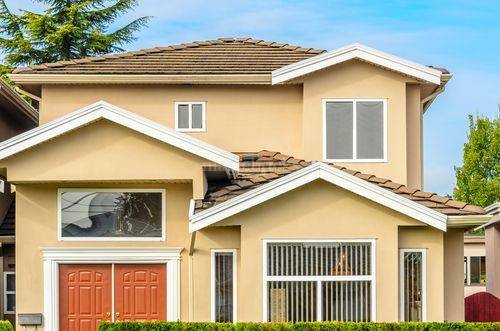 Indian homes are generally painted in white or cream. The combination of white and yellow looks nice. If you find that yellow is too intense, consider combining it with white or cream; it will become quieter.
Grey, White, and Orange Combination
The exterior of the above Indian home is painted in neutral tones of grey and white with a hint of orange. The hues appear muted, yet they have a powerful effect. Freshness is enhanced by the use of grey and white colors.
To know how to make brown colour check here.
Orange color, which is used in tiny quantities on the exteriors, serves as an accent. When gray is applied creatively to this house demonstrates that it may be lovely.
The homeowner used neutral hues with one vibrant color to create the magic. All of the colors are magnificent in their way. The home appears basic, beautiful, and respectable.
Grey and White Outside Color
In India, the majority of home exteriors are painted white. People pick hues that will aid in the dissipation of heat from a subtropical summer.
The model duplex house shown above is finished in a peaceful white and gray color scheme. Accents of mustard yellow provide drama to the building by adding punch.
**For latest and modern texture paint designs which goes well with your exterior paint wall of your indian house try this combination.
The interior of the home is just as lovely, with rosewood-finished windows and doors. To add brightness, the exterior is appropriately painted in rosewood. White and grey are a good combination of colors that would be appropriate for Indian homes' exteriors.
Conclusion
If you look at the world's most expensive residences, you'll notice that their enormous size necessitates that the exteriors be in soothing hues with little show-through, such as white and beige.
Also read and view here modern two colour combination for living room that matches your exterior wall paint as well.
If you have a big house, keep this in mind when choosing exterior colors. You must find the proper balance if you want to avoid drawing unwanted attention to your property by selecting colors that are too vibrant.
Unlike in other countries, where houses are manufactured in large quantities and have a certain uniformity, India's homes are varied.
In Indian homes, white, beige, and yellow bricks are common. However, it is the exterior color combinations that define each home and set it apart from the others.
To get the right hue of orange two colour combination for your bedroom walls, look at the color of the outside walls.