The single-floor house design has been around since the 1950s, and it seems to be on the rise now.
You may be wondering what's behind this demand, and if you're considering jumping board to get ahead, we've got you covered. In this essay, we'll tell you why choosing a single-floor new home design as your new home design is advantageous.
Many homeowners would love to have a large house with a sleek, modern, and pleasant one-story design. A contemporary home is also a desire for new families in addition to the design of a minimalist residence.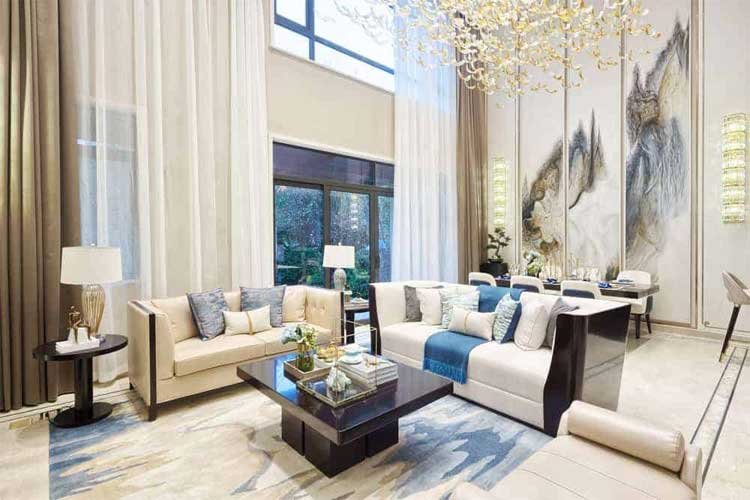 Modern homes are frequently adopted by millennial families when new households are searching for a home. This design is intended to be tidy and pleasant-looking, using a minimalist concept.
The single-story homes only have the ground floor and, unlike traditional tiny cottages and modest farms, you may pick from a variety of sizes and styles.
Have a look at 2 bedroom house plans indian style here if you want to construct a 2bhk home.
Simple Modern Single Floor House Design
A flat-roofed residence typically has a greater height than two stories, with a rooftop that may be utilized. The top section can be used as a Rooftop Garden, lounge area, or clothesline.
Refer to the link given if you are looking for a 30 40 house plan
The contemporary house design in the image still has a classic vibe with natural-looking wooden features on the front. Because there is no carport or garage, the paved yard is intended for automobile parking. You may also use it to grow potted plants outside. 
For the boundary wall, you can refer to residential boundary wall design to give your home an exterior boundary.
Modern Low Budget Single Floor House Design
If you're looking for a way to give an understated aesthetic to a Modern House, neutral hues can be used to create a basic effect. Various paving in the yard and street are used to clarify the front of this home's placement, unlike the preceding image, which uses only one type of paving.
Minimalistic Modern Single Floor House Design
A lot of colors are used in Minimalist Houses, especially in houses. This Modern House may be called minimalist in style because it incorporates a carport that is linked to the terrace.
The minimalist design of the home is revealed by the iron fence, and while keeping a flat roof like other residences, it nevertheless appears beautiful with its tiny colors and motifs. The top area of the house not only includes a garden on its side but also serves as a Rooftop Garden.
So that the overall upper perspective does not appear empty and may generate a natural effect. For latest parapet wall designs try these.
Classic Single Floor House Design
The color scheme and design of this Modern House are very conventional. Bricks might be used to give a home a modern or traditional appearance, but they do not destroy the sense of elegance.
This house lacks a flat roof, and it may be converted into either a two-story Modern House in the future. Light hues are once again used here, which will keep the atmosphere calm. To prevent looking barren with a large yard, a tiny garden is established around the property as protection.
Furthermore, Minimalist Gardens can also be created all around the yard, in addition to being a carport. Try modern steel gate design while adopting this modern single-floor house design to give it a perfect match.
Yellow Single Floor House Design
This lovely home design is quite intriguing. This residence appears to be enjoyable with a basic and open appearance. This house, which uses bright yellow and natural hues, appears cheerful and unboring. Furthermore, the grassy yard adds to the attractiveness of this dwelling.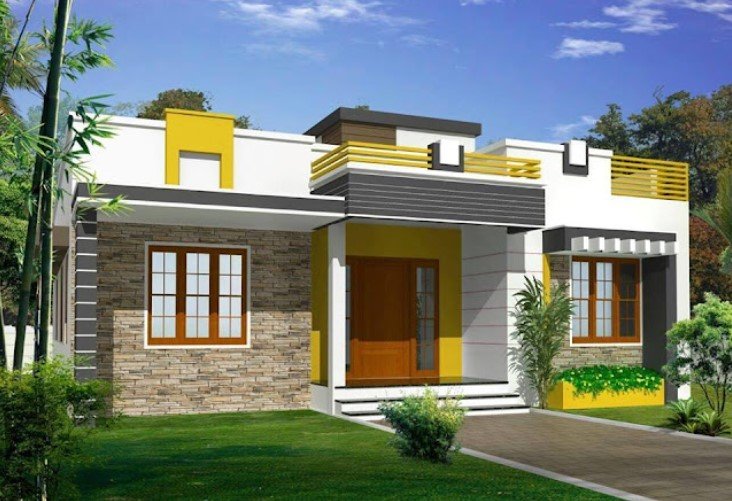 Because the green of the Front of the House and the paint color that complements it are used in this upper portion, it is not utilized as a rooftop garden. The top is better suited for a place to sit and unwind, with some low-key plants on the clothesline.
Try these modern Indian balcony railing designs for your modern single-floor house as these look great with modern designs.
Pastel Modern Single Floor House Design
The house below has a carport that is linked to the terrace, which is more accurately built with an open top. Even though it may obstruct activities in and out if there is a vehicle there, this home seems rather comfy and attractive.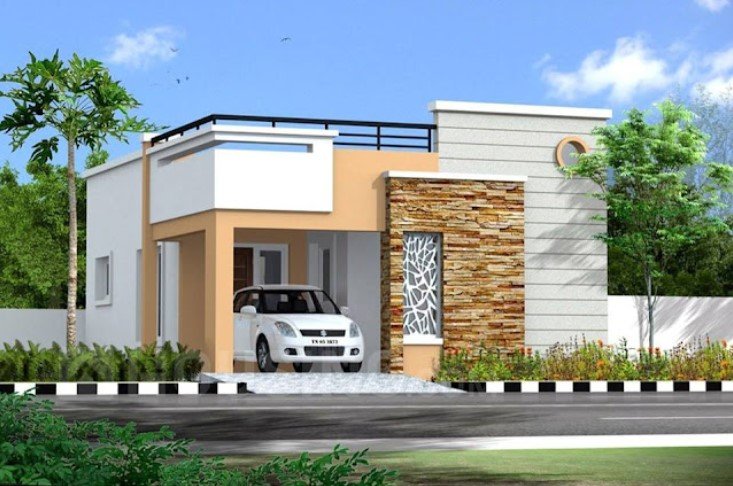 This home uses natural stone walls for ornamentation, as well as to avoid the appearance of the house being too monotonous. It would be nearly tough to add additional plants around the property with present gardens on the right and left. The iron fence-covered roof is ideal for a rooftop garden, relaxation area, or drying laundry.
Use these two colour combination for bedroom walls while getting the interior painted for your single story house.
Contemporary Single Floor House Design
The majority of people who are currently living in the house ahead of them have chosen to live there because it is unique, so they would want to preserve that special feeling for themselves.
Try these Vastu plan for north facing house while getting your house constructed to get positive energies.
Typically, creative types or art enthusiasts choose these designs. The home's numerous accents make it appear congested, which provides a pleasant first impression to anyone who passes by.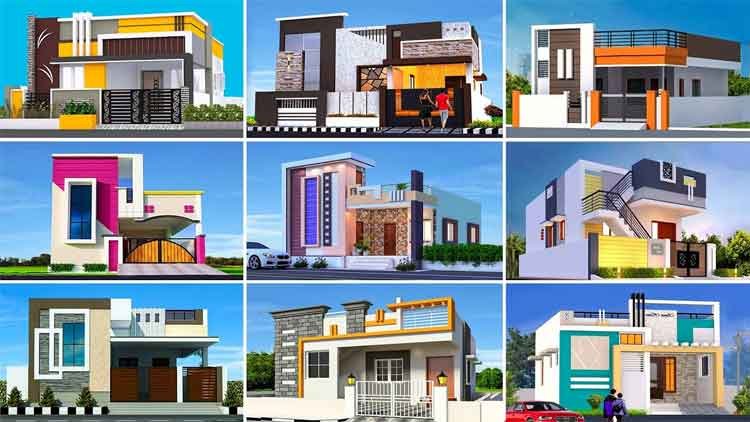 The design of this house has a basic appearance, which is enhanced by the brown color scheme. The top of the fence, which is intentionally set far enough up to be enjoyable, makes a great spot to unwind with a little roof garden next to it.
Not only that but the front garden was made even more entertaining with an area where you may rest on the side of the home.
Have a look at these indian style 2 bedroom house plans for your home.
Luxury Single Floor House Design
This contemporary opulence house design might be a helpful resource if you have a big space to cover. This house has a conventional appearance with only a plain paint color. Then, in some minor areas, use bright colors to make it appear rich, cool, and wonderful.
The terrace is set higher than typical luxury home plans. A little garden that encircles the property as a barrier keeps the lower half of it hidden.
Consider Reading: Vastu direction for wardrobe
Many individuals like the wide windows on various sides, which gives a pleasant first impression to visitors. This contemporary luxury house, which has been built high, makes use of a roof in the rear area to ensure that its activities are not visible from the outside. As a result, this luxury home will still appear clean and calm.
Conclusion
Whether you want to go all out with a luxurious design or keep it simple with a minimalist approach, there are endless possibilities.