A parapet originally meant a defensive mini-wall made of earth or stone that was built to protect soldiers on the roof of a fort or a castle. Now it indicates any low wall along the roof of a building, the edge of a balcony, the side of a bridge, or any similar structure.
In ancient days, parapet walls were used for privacy purpose. The mini defensive walls were meant to be a barrier to prevent soldiers entering the castle. Though modern architectural projects are designed by taking inspirations from kings and emperors, however, the parapet wall designs we see today are completely different. If you are looking for ideas to have a parapet wall design, then you have landed to the right place. Keep reading to find new model parapet designs.
Top Front Parapet Design
According to the modern design trends, you can select from two categories of parapet wall designs.
Must read: Construction Cost Calculator
Solid parapet walls: These are the most common Indian house parapet wall designs. Generally, these walls are made from bricks and suitable for traditional architectural designs and low-lying If you want to go a bit classical, then pick a Parapet wall design with decorative moldings and borders on top. It is advised to use this type of front parapet design for roofs only.
Grill parapet walls: Unlike solid parapet walls, the grilled parapet walls can also be utilized for balconies. Stainless steel parapet designs are getting widely popular these days. The best part is they are durable, easy to clean and can be molded as per design.
You can browse through lots of photos of parapet walls designs on the internet, but before take a look at the pointers defining the latest trends in the architectural landscape.
A fusion of different materials is utilized by lots of designers to create interesting parapets.
Nowadays, balconies can be seen with more open and clean parapet.
For added luxury, people are using toughened glass to create parapet walls.
Sometimes a complete glass wall is used which is fixed on the floor, whereas some homeowners wish to fix it with the help of stainless steel screws.
Read this as well: Indian Balcony Railings Looks and Their Types
Typically, the height of the parapet wall is around 42 inches. It is an adequate height for fall protection. However, it can be seen that some people wish to create smaller walls and raise the height with added accessories and railing solutions. Use interesting colors or add fusion of material, whatever is your choice always keep the safety and durability concerns in mind while selecting a modern Parapet design.
The extra protection offered by the vertical extension known as the parapet can be very important for both the users of the structure and for the structure itself.
These parapet designs look good with these main gate pillar design so have a look at these designs and construct it accordingly.
A parapet is also known as a protective dwarf wall that surrounds the edges of roofs, steps, walkways, and balconies to prevent those behind it from falling. During ancient times, the parapet was an important component of forts and structures, protecting people from assaults from the outside. We'll go through a few of the most prevalent ones in this post.
Border Parapet Wall Design
The border parapet wall design is a popular style that is used to protect the edges of roofs, balconies, and walkways. It features a thin, low wall that extends out from the structure and surrounds the perimeter.
A low wall with a parapet is an excellent choice for small gardens, as it is quick and inexpensive to build. It's also lightweight, so it takes up minimal room, making it ideal for cramped settings. However, because the wall is so thin, it can be easily damaged and isn't very effective at preventing people from falling.
Have a look at the construction companies in hyderabad here to get your construction work done with perfection if you are constructing your home or office in hyderabad.
Glass Parapet Wall Design
The glass parapet wall design is a beautiful and elegant option that is perfect for modern homes. It features a thin, transparent wall that surrounds the edge of the roof, balcony, or walkway.
This type of parapet is very attractive and allows users to enjoy unobstructed views of their surroundings. It is, however, costly to install and necessitates regular maintenance for it to remain in excellent working order.
Parapet Design With Bricks
This architectural style adds character to the contemporary house. Modern brick parapet wall designs can be quite attractive and very sturdy.
This particular parapet design features a decorative brick border that is set off from the main wall by a strip of metal or stone.
Try these parapet designs made with brick with main gate pillar tiles design in india to give it a unique look.
Parapet Wall Plaster Design
This type of plaster parapet wall design is very popular. It is made of concrete and has a simple design, which makes it very affordable.
Plaster is a common material for making parapets. This particular design is simple but attractive, and it is quite affordable. However, it is not as sturdy as some of the other types of parapets, and it can be damaged by weathering.
This type of parapet wall design gives a unique look to your house when it comes to house front wall cement design to make it stylish and attractive.
Terrace Parapet Wall Design
The majority of today's houses feature a slope-shouldered roof parapet. These walls are constructed out of bricks and steel railings with exquisite design.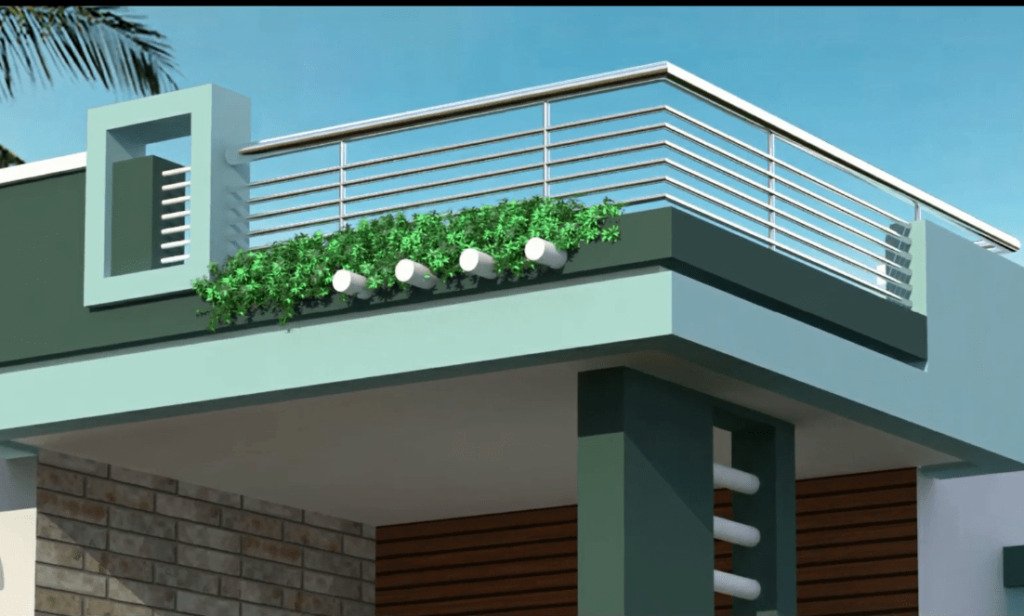 The parapets would look fantastic in the most beautiful color scheme. The finest house front elevation designs for tiny properties have amazing small house roof wall designs.
Parapet Wall Design in Village
The majority of these types of parapets are found in villages. It is the combination of grill and plaster parapet patterns that adds to the beauty of a home's roof.
Looking for the best east facing house plan which is Vastu compliant and facing east? They these plans here.
Single Storey Parapet Wall Designs
This is the most beautiful exterior design for tiny houses among all of these parapet wall designs. It has the most appealing color scheme imaginable, and it will attract everyone who passes by. It provides a sense of grandeur while also having a distinctive architectural style.
The more attractive the small building elevation is the higher its value. The mumty design and parapet wall style add to the appeal of this little structure's profile. There can't be a better alternative if you're looking for a single-story basic house design for your tiny home.
Front Elevation Parapet Wall Plaster Design
This is a popular style of house in India, which is why it resembles an Indian home. This tiny house's orange color scheme makes it memorable and intriguing.
 The appealing main gate of this tiny house elevation, along with the mumty design and compound wall design, make it more attractive. This is the ideal choice for your dream home if you're looking for an Indian-style small house elevation.
Have a look at these modern 2 bedroom indian style house plans if you are constructing a 2 bhk house.
Ground Floor Parapet Wall Design
Modern single-floor residences are the most common site for these parapet walls. This is the finest small modern ground floor elevation with the best boundary wall and parapet wall designs. This ground-level design has a beautiful and unusual color scheme that provides for a great architectural appearance.
There is no better choice than this for your ideal house if you are looking for a contemporary home design for your tiny property.
Have a look at these low budget modern 3 bedroom house design to make a perfect 3bhk home.
Simple Parapet Wall Design With Grill
One of the most popular and beautiful low-cost parapet designs is a grill design. Grill design and parapet grill design are both synonymous. This type of parapet is made of wrought iron and is used to prevent people from falling.
The use of wrought iron makes this parapet very strong and long-lasting. It also enhances the beauty of the façade. This is a residential or commercial parapet.
People can easily fall through the gaps in the grill if they're not careful. So, always be sure to keep people away from areas where there is a grill design if you decide to use one in your building.
Conclusion
Parapet wall designs are an important part of any building. There are several different types of parapet patterns, each with its list of benefits and drawbacks. Make careful decisions since the incorrect type of parapet might be a safety hazard.