Two-color combinations for living room walls are the latest trend that can elevate your room within minutes. It can bring a dynamic change to your cozy space. Moreover, it can make your living room look stylish and provide a soothing ambiance to unwind at the end of the day.
There are many ways to use "two colors for a combination of living room walls". Some of the popular choices include using one color for the majority of the wall and another color as an accent. You can also use two colors in stripes or a checkerboard pattern. If you want a more subtle look, you can opt for a monochrome palette with different shades of the same color. Take a look at the many different two-hue designs for living room walls.
Green and Blue Combinations for Living Room
Green paired up with blue offers a modern combination for living room walls.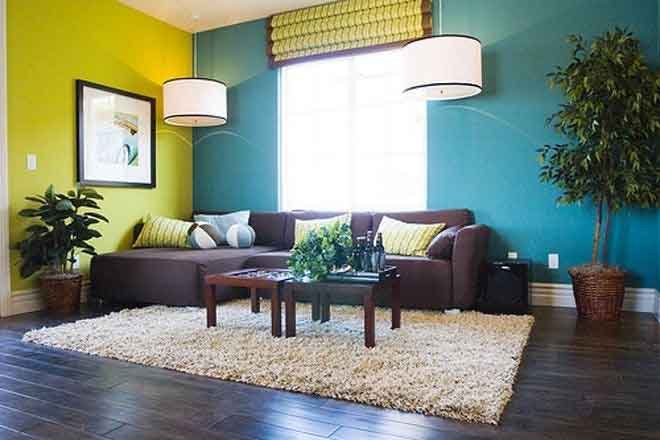 These two colors also offer a subtle visual contrast that adds elegance and softness to the room. Blue is a soothing hue that exudes calmness.
Green pairs well with blue because it represents growth and new beginnings.
White and Blue Colors Scheme in Living Room
You can never go wrong with the white and blue, dual color combination. The two classic colors perfectly complement one another, providing a fresh and vibrant look to the room.
While the white walls will make your room look larger, the glossy navy blue color will add depth and dimension to the living room. The most appealing aspect of this hue combination is that you may adjust the intensity of your choice.
Cream and Brown Colours Scheme
Chocolate brown and cream wall combinations can add a dramatic and sensuous look to your room. They are pretty popular colors and go well with urban décor style. The warmth of the colors provides an instant feeling of comfort while upgrading the classy vibes.
Paint your living room walls with a cream color and add a subtle touch of chocolate brown. Pair this combination with wooden flooring to transform your space. 
Peach and Off-White Color Combinations
Peach is one of the most popular colors for modern living room walls, as it provides a soothing effect to the room. Peach is also very easy to pair up with multiple color combinations.
However, white is a universal color that blends seamlessly with peach. Paint your walls milky white and add delicate peach hues to make the room look appealing. Accessorize the room with minimalist décors like a white couch, frames, lamps, and some photo frames. 
Yellow and Light Blue for Living Room Walls
Yellow and light blue are unique color combinations for living room walls that promote positivity and comfort. While the hues of blue offer a neutral look to the living room, the splash of yellow makes the room stand out.
This color combination for living rooms is perfect for those who want a fun and playful vibe for their room. Try using these two color combinations in pastel colors to give your room the perfect makeover. 
Charcoal and Burnt Orange Two Colours Combo
People who love to stay bold and beautiful would love this powerful combination of charcoal and burnt orange. Orange instantly accents the outlook of the room while charcoal adds the required depth and cozy vibes.
Pair it up with a wooden floor and white bed with subtle orange runners to make your room look classy and chic. 
Beige and Burgundy Colors in Living Room
Brighten your room by painting the main wall in your room in burgundy and layer it up with tones of beige all around. A single burgundy wall offers a sober look to the room and the softness of beige balances the boldness of the dark burgundy.
If you are looking for an elegant color combination for your living room then give beige and burgundy a try. You won't be disappointed at all. 
Off White and Navy for Living Room Walls
This is a classic two-color combination that can be used for your living room. Navy blue is a popular color that adds depth and dimension to the room. On the other hand, off-white seems like a perfect base color that can be used to highlight the navy blue décor items.
You can use this color combination in various ways like painting the walls off-white and using navy blue as an accent color or vice versa. Whichever way you choose, this color combination is guaranteed to give your living room a refined look. 
Pink and Grey Combination
Pink and grey are two color combinations that resemble sophistication and elegance. When paired with pink, it gives the living room a touch of femininity.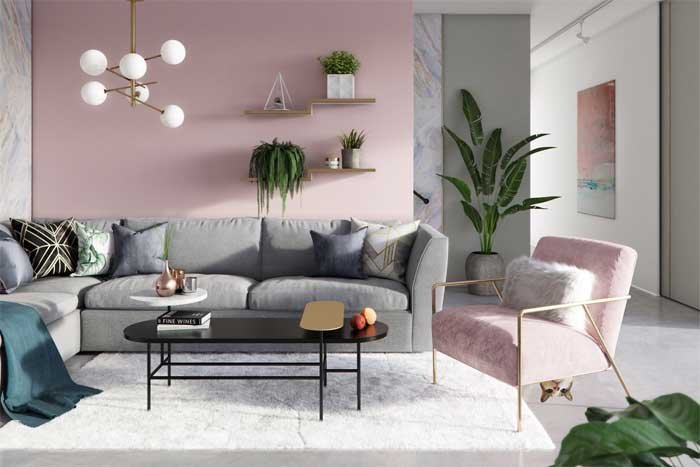 Try using different shades of gray and pair it up with a dusty rose color to give your room a complete makeover. You can also use this color combination in your kids' room to create a fun and playful vibe. 
Green and Brown Tow Color Combination
This is one of the most popular color combinations for living rooms as it provides a natural and earthy look to the room. Green is often used to create a refreshing vibe in the living room while brown gives it a warm and cozy feeling.
You can use this color combination in various ways like using green as an accent color with brown walls or using different shades of green and brown together. This versatile color combination is perfect for those who want to create a natural and inviting living space.
These were some modern dual two-color combinations for your living room. You can also have a look at two colour combination for bedroom walls as well here for the latest trends while painting your bedroom
Conclusion
There you have it! These are some of the most popular color combinations for living room walls that you can use to give your space a complete makeover. The above two color combinations for living room walls can transform your room into a relaxed and cozy nook. 
Do not forget to read vastu for colors while painting your home and get positive energy.
Try these combinations to create a calm space where you can unwind after a tiring day. Mix and match the color combination with the right décor style to accentuate your room. From bold and beautiful to calm and soothing, the above color combinations are the ones you need to explore. Choose the one that best suits your style and personality and get started on your project today.