A home is a secluded, secure refuge that you may call your own! You would certainly not appreciate strangers barging into your space without permission, and their curious gazes are the final thing on earth you want to see.
This is why you'll need a gate with privacy, security, and safety benefits as well as more aesthetic appeal. What could be a better approach to get this than by installing an Iron Gate Design?
Iron entrance gates provide several advantages over other materials or wooden main gate when used as an entrance point.
Not only is iron difficult to penetrate, but it's also very durable and simple to maintain. So, what do we have to lose? Let's go through the many types, customer recommendations for 10 contemporary iron gate designs, and learn how to pick the best!
However, people do prefer steel main gates nowadays when it comes to main gate design that looks stylish as well.
Visit modern steel gate design to view all the latest main entrance gate designs in steel.
What are the several types of iron gates for homes?
Iron gates or known as lohe ke pipe ke gate or lohe ka gate, come in a variety of styles, as shown in the image above. For your home, you may choose from any of the following Iron gate designs:
Fence Iron Gates

: Your home's boundary is marked by these gates. They provide improved visibility and security, in addition to being a deterrent to intruders.

Driveway Iron Gates

: They are used to control vehicle and pedestrian passage along a driveway.

Sliding Iron Gates

: These are ideal for cramped areas and can also be used in large rooms. They move along on a rail and slide effortlessly.

Garden Iron Gates

: To allow you to enjoy private time in your yard, they are tiny fences that get put at the beginning of your garden.

Pool Iron Gates

: They are escape-proof gates that can keep your pool secure from unwanted visits.
These iron gates look pretty when you choose a perfect matching gate pillar design for your home entrance.
Best Iron Gate Designs
Here are 10 fantastic, modern, and simple Iron main entrance gates with a photo gallery with descriptions to get you started. Also called lohe ke pipe ke gate or lohe ka gate:
Modern Iron Gate Design
Take a look at this basic iron gate, which has a regal appearance! The lovely design not only improves the overall appearance of your property but also ensures its safety.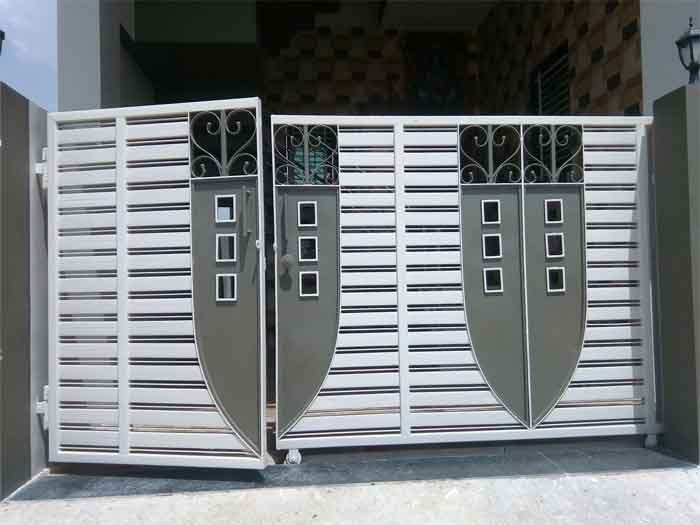 Adding wood panels to this door gives it a more sophisticated air.
If you are planning to install these iron gate for your farmhouse then choose the perfect matching unique boundary wall design with grill from here as well to give it a perfect match.
Wrought Iron Main Gate Design
The exteriors of this magnificent iron main gate design receive a vintage feel thanks to the antique wrought iron work.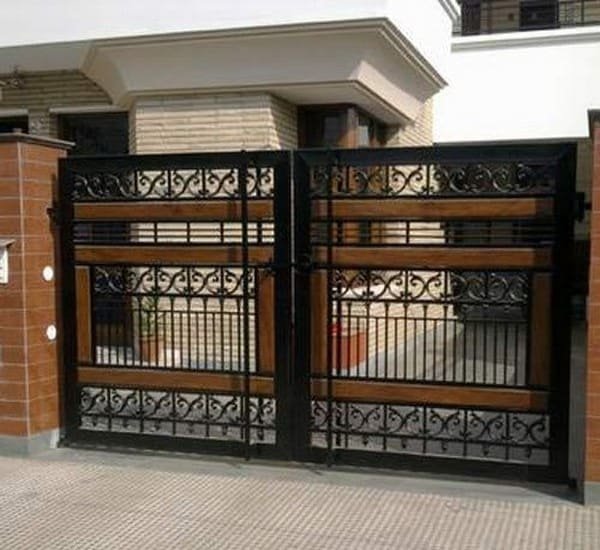 Simple Iron Gate Design
You may now purchase a simple readymade iron gate design that includes this unique style. The basic-sized front entry does not lack in terms of quality, design, or requirements.
It can also be used to restrict unwanted access to the driveway while still providing a beautiful appearance on the outside décor.
For the latest house front wall cement design try this.
Ornamental Double Door Iron Gate Design
The sheer presence of this huge iron gate will take your breath away. The gate is great for making a big statement in homes with large access doors.
The design adds significant aesthetic value to your property while also functioning as a security barrier. Who would risk getting into your zone when they see someone like that?
Have a look at modern parapet wall design for your home that matches with these iron gate designs.
Cast Iron Gate Design For Main Door
This cast-iron entrance gate will give your house a serious appearance. In addition to keeping people out, the high doors of this barrier may be opened up to provide a large access point for your visitors.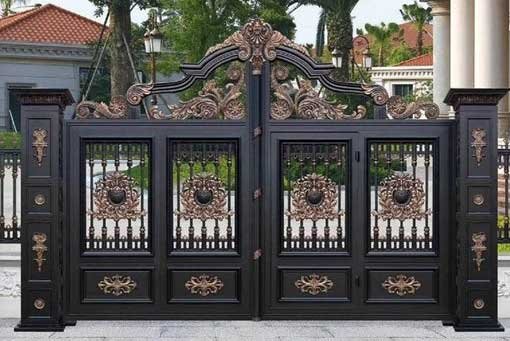 You might also select from a variety of hues to coordinate with the environment instead of black.
Single Door Iron Gate Design
Create a contemporary gate design combining your passion for nature and innovation! The iron gate, which was made to look like a flower in the center, adds beauty to your outside space.
You may use it with a designer or a regular one for added distinction. We define this as "next-level art"!
Fancy Iron Gate Design
This beautifully wrought iron gate is a great match for any structural design. The intricately designed gate may make a lasting impression on your visitors.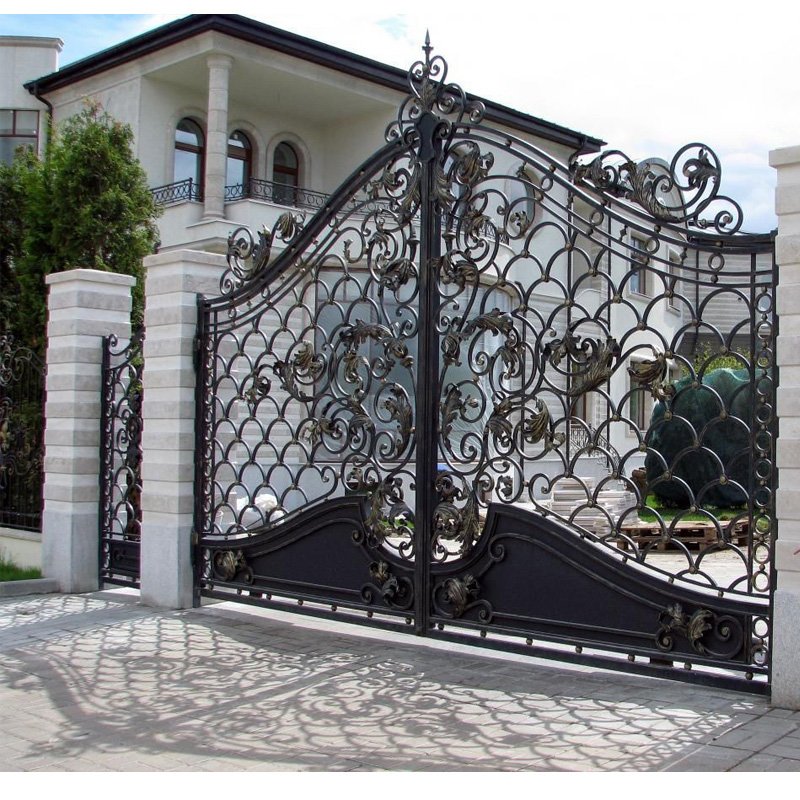 It may also attract passers-by, who can pause to appreciate your excellent taste and artistic flair!
For latest indian balcony railing design listed here are the top trending designs now a day.
Wooden Iron Gate Design
If you want your house to have an authentic feel, this rustic gate is a fantastic choice. The basic design remains traditional while incorporating a contemporary twist.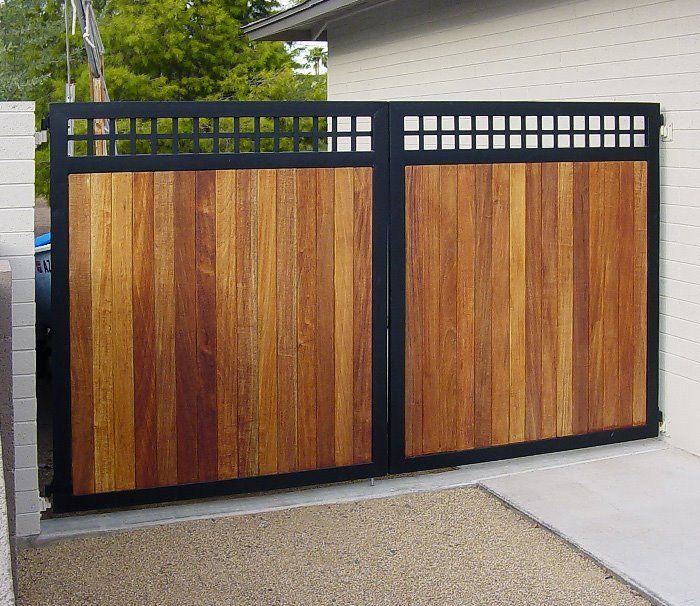 This robust-looking barrier ensures total seclusion and may be put in any area of the house, including the front and backyards.
A little gate, similar to a typical backyard fence, can provide a simple pedestrian passage in addition to the primary iron gate.
Garden Iron Gate Design
With this iron garden gate, you can create a private area in your yard. This design's antique appearance provides a magical entrance into your cherished location.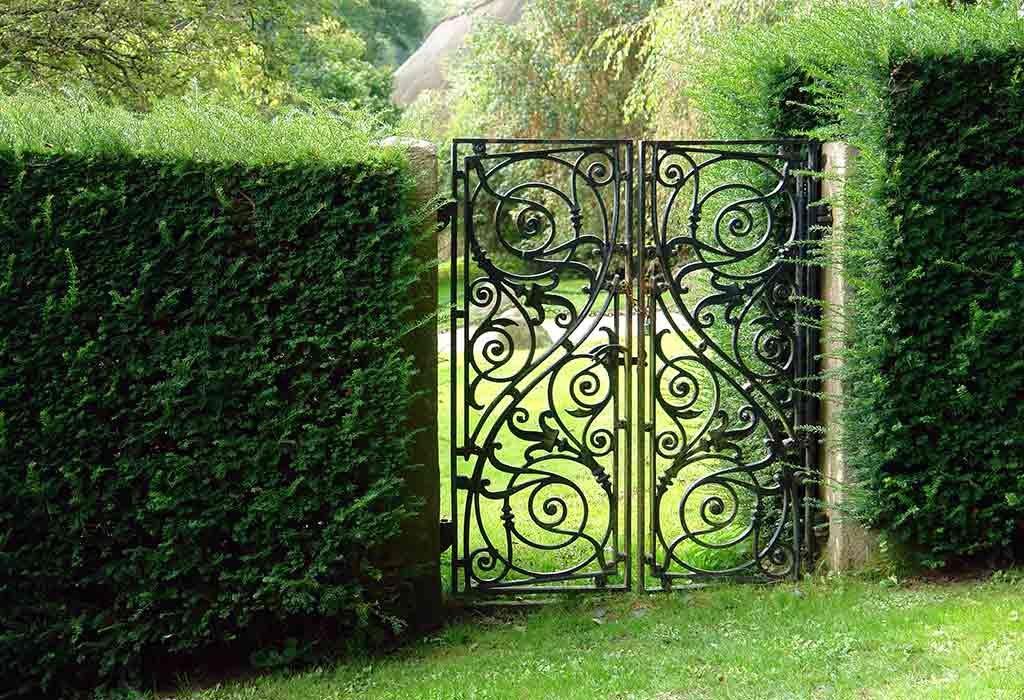 Even the form is influenced by elements such as garden creepers, leaves, and vines to blend with the atmosphere.
Italian Iron Gate Design
Italian iron doors are recognized for their exquisite beauty and subtle designs, which go with a home's design.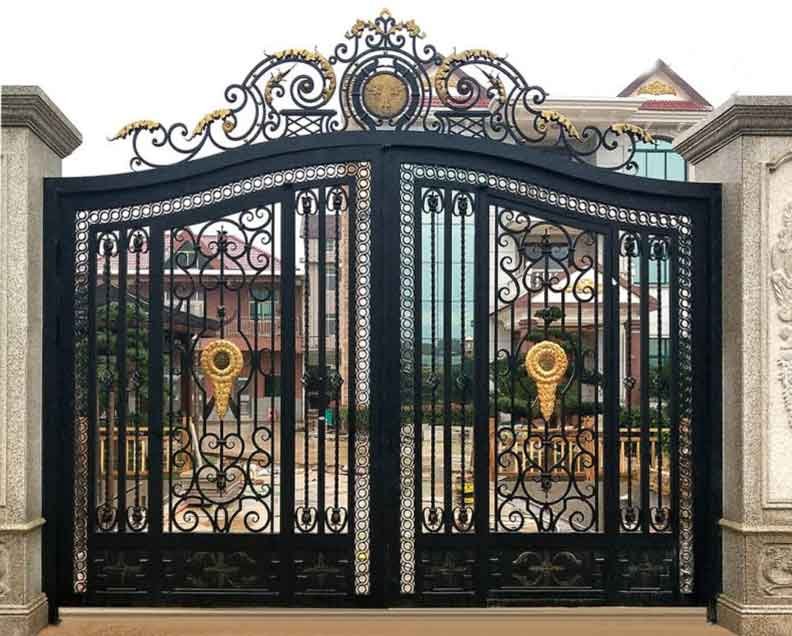 This model incorporates the Italian culture's geometric and artistic aesthetics in a modern style. You may make it stand out from the crowd by choosing something different with this lovely version.
Tips To Choose The Best Iron Gate
Following this professional advice to make an informed selection when purchasing an iron gate might help you avoid making a mistake:
Before you go shopping, figure out how much money you'll spend. This can assist you in staying within your budget.
Durability: Always select a gate with a high concentration of iron. Raw iron should be avoided since it rusts over time. To assure long life, choose a gate with an anti-corrosive finish.
Design: Choose a fashionable, contemporary style that complements your exteriors. You may also pick from numerous operating methods for iron gate doors, depending on the space and usage.
Maintenance: Always request a low-maintenance gate that isn't polished or painted regularly. It should be simple to clean using only a wet cloth.
Also read about 3 bedroom house plans and modern single floor house design here.
Conclusion
Iron gates are a fantastic method to enhance your home's security and seclusion. Depending on your demands and budget, you may select from a range of designs, types, and materials.
When selecting an iron gate for your home, be sure to consider the following factors: durability, installation, and maintenance. With these facts in mind, you'll be able to discover the ideal iron gate for your property!