An entrance main gate certainly makes a good impression, and if it is sturdy, durable and beautiful, then it will never fail to impress. Gates are, of course, very important as they serve a great purpose and are supposed to be attractive as well as practical.
Only when a structure provides a sense of security and comfort may you consider it your home. It's a private area built especially for your family, and it must not be accessible to anybody else.
But, how can you limit access and refer to it as your "own"? Obviously, with a compound wall secured by a strong Gate design!
Gates are required for any house. Apart from preventing unwanted intruders, they also provide a variety of services. Gateways are the greatest option to keep safe while indoors, from defending your property against intruders to battling the elements' harsh conditions.
We'll dig deeper into the types of gates in this article, including the current examples:
How to Choose Gates?
Gates are applicable to apartments, bungalows, duplex, row houses and many other structures like offices, hospitals, schools and more. Gates come in various styles and materials and choosing the right one is very important for any structure.
Homes need a different kind of main gate designs as compared to offices or schools. Let us take a look at materials that are best suited for gates. Most of all the security and the purpose of the gate should be fulfilled with any kind of gate that you wish to install at your place.
Importance of Having a Main Gate For Home
Gates provide several advantages in addition to providing access inside and outside a home, as shown below:
Security: You simply can't afford to take chances with your family's safety in a neighborhood where theft is increasing. Having a durable gate might help protect you and your family from break-ins and assaults.
A fence gate serves as a boundary for your territory and prevents intruders such as strangers and animals from approaching it.
You won't have to give up your family time if you have an external main gate installed. The direct views of the spectators can be limited by keeping it shut.
A property with a gate is viewed to be more costly and valuable by potential purchasers.
The beautification of your home's exterior may be enhanced by a beautiful gate design that blends in with the remainder of the design.
Give your main gate a unique look with main gate granite pillar design which matches perfect with your main entrance gate.
Types Of Main Gates
There are many different types of gates on the market, depending on the function, budget, and expectations for a gate.
Each is generally constructed of materials such as wood, steel, aluminum, iron, PVC, and others, which have their own set of benefits and drawbacks.
The following are some of the most common gate operating models with their characteristics:
Swing Gates: As the name implies, these "door-like" gates work in a swing manner and are equipped with hinges attached to a wall.
Sliding Gates: Sliding gates are perfect for small homes with restricted space. They slide horizontally on a bottom track and come in a variety of designs.
Automated Gates: These are automated gates that require no human intervention. You may operate any of these versions by installing sensors and motors on them!
Folding Gates: Wooden entrance doors are a good, low-cost option for uneven ground surfaces and are part of the Sliding Gate family. These are manufactured with a set of doors joined together and folded inside each other.
Have a look at house front wall cement design for your reference.
Main Entrance Gate Designs
Metal Main Gates
Metal gates are preferred for its aesthetics and also for the safety that they provide. Metal gates are commonly used for bungalows and small houses. They come with different coating and is decorated with leaves, motifs, and logos.
For indian balcony railing design visit here.
The coating can be done with gold, brass, and silver plating. They also come in non-corrosive stainless steel gates and with customized designs as shown below:
Stainless Steel Main Gates
Stainless steel gates are durable and come in all grades of steel. The high-quality material is used for making stainless steel main gates so that they provide greater safety and security. They can be used with wooden planks as well. The laser cutting design makes it a very beautiful option. Modern steel gate design also come in a wide range, and you find different styles that come in various price range. Have a look on few popular stainless steel main gates below:
Wrought Iron Main Gates
The importance of offering a "Royal" welcome cannot be overstated. This is why you must see this magnificent and modern iron gate design, which reflects a Palace gate in appearance. It has hints of gold for a magnificent look and is made of black wrought iron. Simply install it at the entrance area and prepare to receive plenty of praises.
Wrought iron gates too are preferred for its durability and its low maintenance cost. They are also affordable and can be installed easily in any environment. They are strong and also resistant to all kinds of weather. Besides, it also comes in various attractive designs and is preferred for its versatility. Have a look at few attractive wrought iron main gate designs below:
Wooden Main Gates
Wooden gates have been popular since a long time. However, due to the wide use of other material and their affordability, wooden main gates have taken a back seat. Wooden gates can also be highly sturdy and durable if they come with high-quality wood that has been treated well. a wooden gate can be designed in any fashion and various designs. However, it can be an expensive option as an entrance gate.
Simple Gate Design
Take a look at this basic design, which is ideal for any house. A latch may be used to secure one of the doors to the ground and determine whether it should be in motion or not. This gate is a good option for pedestrians or big vehicles.
Try these pot painting ideas and place these pots with your main gate to give you home a royal entrance look.
Front Gate Design
This concept is a no-brainer if you want to make a lasting impact on your visitors. The basic, yet attractive-looking gate may improve the appearance of your outside space while adding a lovely aspect.
It's constructed of metal and surrounds your home without compromising views. It also has metal strips to provide an airy feel.
Steel Stylish Home Gate Design
Steel's beauty and elegance are unrivaled. The spectators' attention is drawn to your home as soon as they notice the mirror-like gleam of this house gate. That does not make your property any more vulnerable!
The louvers prevent curious gazes while also obstructing their views, making it one of the fantastic gates for your house.
Try these indian style 2 bedroom house plans if you want to construct a home and looking for 2bhk house plans.
Wooden Fancy Entrance Gate Design
This lovely Wooden gate will give your house a high-end makeover. The design is far from usual, made of panels of shaded wood.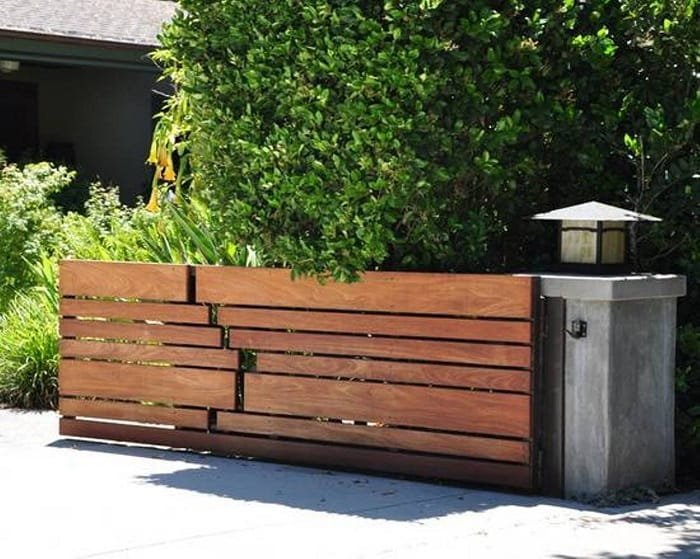 Here are some modern single floor house design for your reference.
This item was designed in the style of historic times and may be used as both a barrier and an accent to your walkway. It's also very handy with the Sliding option!
Aluminum Main Gate Design
Aluminum is a readily mouldable metal that may be formed into beautiful shapes. Despite its delicate appearance, the material is quite robust and difficult to damage.
We simply can't contain our enthusiasm for a silver grey home gate against a brilliant white backdrop.
Have a look at some latest, trending 20×50 house plan if you are constructing a house of 1000 sq ft which is of 20 by 50 size.
Sliding House Gate Design
Do you have a lot of space for your driveway? If that's the case, a swing gate isn't the best option. Instead, consider the unique Sliding gates.
Unlike standard sliders, this design works in a telescopic manner and employs several small sliding panels to open or close.
Security Gate Design
When it comes to keeping your property secure, there is no substitute for the best! Trespassing is especially likely in unoccupied regions and remote areas.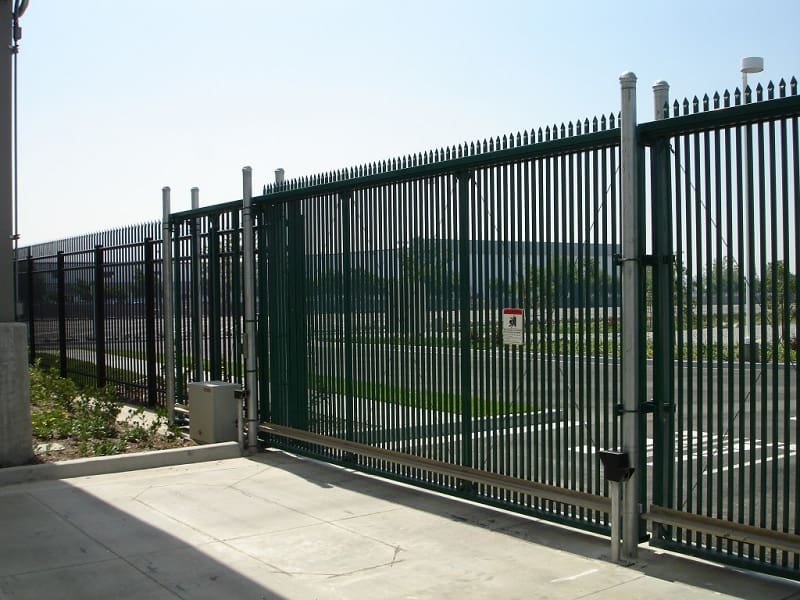 You may now combat these pests by using this Security gate, which features vertical metal bars. This climb-proof concept consists of vertical metal bars, so it's all you need!
NOTE: Looking for a 30 40 house plan with car parking for you? Try this.
Automatic Gate Design
These are the days when you're hesitant to put your faith in your security guards. Instead of depending on manforce, consider purchasing one of these modern marvels for your house.
The sliding gate is outfitted with an automated system that detects motion and activates the motor, allowing it to open freely wide enough for you to enter and close by itself!
Folding Gate Design
The gate is composed of four layers and may give you greater control of your outside space.
Despite its outward appearance, the design is very futuristic and modern, matching current trends well.
Consider Reading: 40 by 50 house plan | 40 by 60 house plan | 30 by 60 house plan
Conclusion
While there are various types of gates available, choosing the right one for your house can be a daunting task. However, it's important to keep in mind the purpose of the gate and the message you want it to send to your guests. With that said, we hope you found this article helpful and that you'll be able to find the perfect gate for your home!