Wall Hangings are that one piece of decor element that stands out in your room and they are one of the amazing things that you put on your wall that hangs down artistically and creatively. Many people love wall hangings in the various parts of their home such as the Living room, bedroom, hallways, and many more. 
And, when it comes to the fantastic wall hanging decor, there are several wall hanging designs that you can easily DIY to create a stunning look. These decor items can instantly make your wall look appealing and the best part is some of the wall hanging designs are quite simple to imitate as well. So, if you also want to bring life to your home, then go for a wall hanging or DIY to maintain the perfect unique style. Here are some of the best ideas that you can implement in your space to make it look beautiful and aesthetically pleasing. So, let's get started. 
Wall Hangings with Paper
You can instantly enhance the decor of your house by giving it a unique look. So, go with a personalized wall hanging design with paper. These handmade home decoration ideas are quite trending nowadays and can instantly offer a facelift to a particular space. In addition, you will not find any kind of difficulty to imitate these designs. For instance,
Pick some thick colored papers, color beads, cotton or Jute threads, and a rugged stick.

Make leaf-ut-outs depending on the number of strings that you want in your paper wall hanging and then paint them. Ensure that you're making it proportional to the length of the stick such that one can easily achieve a balanced look. 
Fan Art Wall Hangings 
If you are looking for a simple yet classy wall hanging design then fan art with a flash of colors can instantly make your room shine. You can easily place this wall art hanging in the kid's room. Go with a combination of colors that can complement your room.
For example, if the wall of your room is beige in color, you can easily pick up a fan art paper wall of gold color. Apart from the wall hanging design crafts, you can also check out amazing wall clock designs that can make your walls look pleasing and set a superb vibe with a modern touch. 
Handmade Wall Hangings with Cardboard
Cardboard is not something that is used just for kid's projects but you can also DIY some good wall hanging designs with cardboard. For example,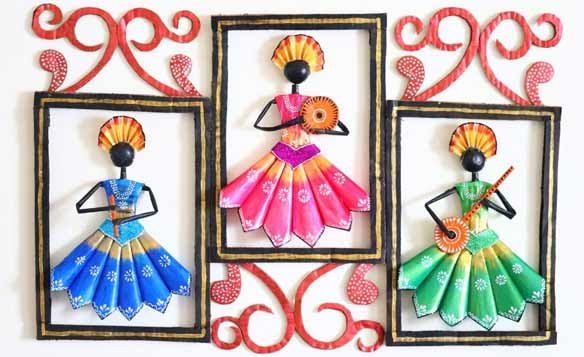 Take a Big Card Board sheet and Write a word with your free hand. 

Overlap the word

that is slightly displaced. Now, cut along the two lines to get a 2D word. 

Just start by securing a beautiful google thread along the one end and start winding it on the word. Make sure that you keep the threads close. 

Any

gaps in the craft

will not look good. It is a different kind of craft technique that will look good. 

Make two-three words attach them with a Jute thread and then hang it on your wall to get a stunning Handmade wall hanging with cardboard. 
Ribbon Wall Hangings
Ribbon wall hangings look really amazing on the wall. In addition, it is an expensive wall hanging design that you implement in your house. If you want to make the best wall hangings with ribbon then you can simply do that
Tie some twine to each end of the branch to form a base of the wall hanging. 

After that loop the ribbons, twine, and lace over the branch alternating in different patterns, etc.

Choose

neutral colors

as they are quite pretty. You can opt for gorgeous pink and soft pastels. These subtle colors will look really amazing in your bedroom. 
Wall Hanging design craft 
If you want to give your home natural decor then go for a wall hanging design craft that can easily be created using Origami. It is basically the art of folding paper repeatedly and fractal deals with repeated forms when mixed together. 
They will create stunning artwork. So, try out Origami fractal pyramids and other designs as well. 
Canvas Art Wall Hanging 
It is one of the best ideas and wall hanging designs that you can incorporate into your house. Go with a canvas floral painting or any other design that you can easily place and the one that goes with the overall vibe of your house.
Enhancing the Wall Decor with wall art is also a great idea to decorate your home and give it an aesthetic finish. It will make out a stunning functional design. So, go with the painting or you can even add pompoms for a beautiful look.
Wall Hanging Design with Wool 
Create a Cozy space with a wall hanging design made out of wool. You can DIY wool hanging design on your own. For instance, cut out three different-sized circles on the cardboard such that it looks like a ring. Then start wrapping up the wool around the rings. Attach them to a thread and hang it on the wall to make the best wall hanging design. It is one of the best Gallery wall ideas and tips for curating a beautiful space.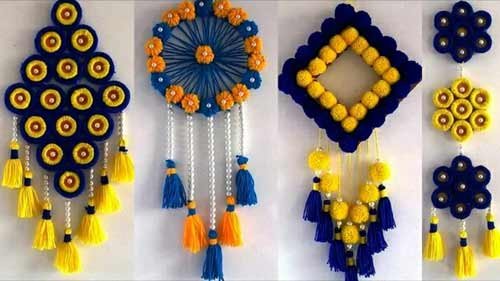 Conclusion: 
Wall Hangings is one of the easiest and simple techniques that can instantly enhance the beauty of the wall. One can easily create it by using simple material as well as simple techniques. For instance opt for a wall hanging design with bangles, wood, jute, etc to create antique wall hangings. Decorate it with colorful beads to get the best look. Or, you can always consider these mentioned ideas for wall hanging design.