The colour orange represents youthfulness, energy, and happiness, and can even boost your creativity as well as uplift people's moods.
Colouring your bedroom with orange colour can bring a lot of positivity and happiness. However, colouring the entire bedroom orange might look a little off-putting.
Therefore, an orange two-colour combination for bedroom walls is a bright idea (pun intended). 
A two-colour combination not only creates an elegant space but also cheerful decor. Additionally, according to Vastu for colors, orange-painted walls in the bedroom signify power and encourage healthy relationships.
It is considered a colour of celebration and encourages you to express yourself better. Lastly, as per Vastu, shades of orange colour all around the house are ideal for prosperity and happiness. 
In this home decor guide, we will talk about the 7 best orange two-colour combination for bedroom walls. Let's take a look. 
Orange Two Colour Combinations for Bedroom Walls
1. Orange and Yellow
Orange and yellow create a vibrant and striking combination. One way to create a two-colour combination is to paint one wall (preferably one behind your bed) yellow and the other walls to be painted orange.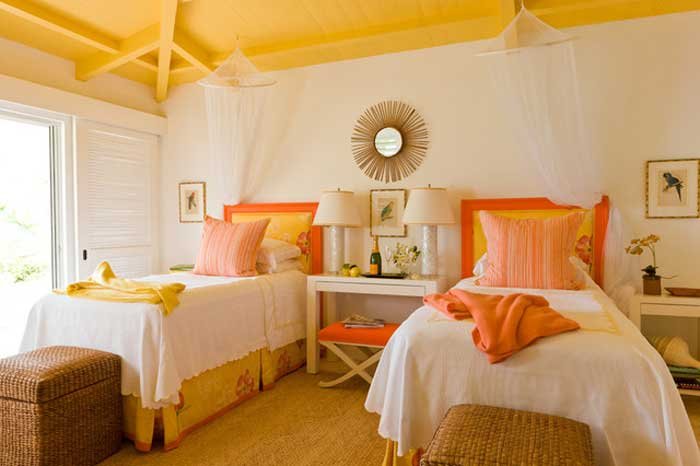 You can also colour your kid's room in a vibrant yellow and orange two-colour combination for bedroom walls. 
2. Orange and Blue
The orange and blue two-colour combination in a bedroom walls adds a fun element to the walls. Both colours create a beautiful contrast that is playful in nature.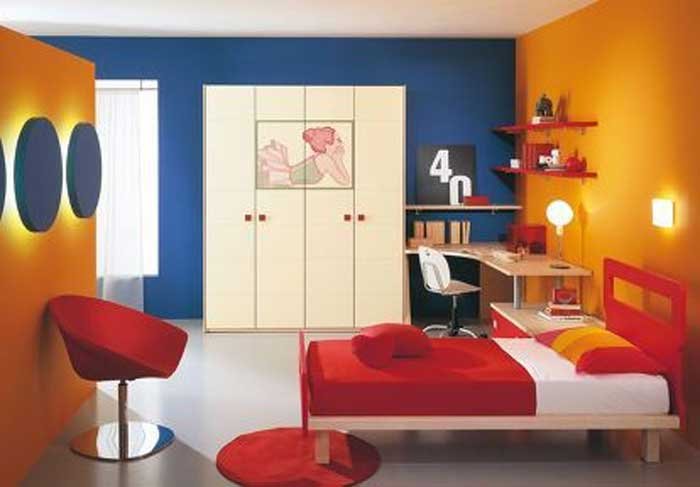 Additionally, if you are planning to paint your kid's room orange and blue, it will make their room look happy and colourful. 
3. Orange and Red
It is a given that the combination of orange and red on bedroom walls is a bold choice.
And if you like bold colours then orange and red are for you and it goes without saying that orange and red are going to uplift the interiors of your bedroom.
If you throw an antique gold table in there, it will completely transform the space.
4. Patterned Orange Colour Combination
If you are hesitant to use orange in your bedroom, you can use orange colour modern texture paint designs for the bedroom. And this opens up a world of possibilities for your bedroom paint scheme.
You can use orange with a bunch of colours to add a lively touch. One idea to use this orange two-colour combination for bedroom walls is to add a unique orange pattern to one wall and keep the others plain. 
Consider reading green two colour combinations for bedroom walls here.
5. Orange and Black
Orange and black are going to be a bold choice for your bedroom, but it is going to break the monotony and make it look more beautiful.
While choosing the orange and black for your bedroom walls, choose black as your dominant colour. You can also get experimental with these colours and go for different patterns. 
6. Orange and White
If creating a feminine impression is your goal with your bedroom while keeping it elegant, you can choose an orange and evergreen colour combination.
On the orange wall, make some unique patterns and keep the white walls plain to get a refined look.
Also read how to make purple colour at home. 
7. Orange and Wood
If you style it right, the combination of orange and wood can never go wrong.
You have to use the right amount of orange and the ideal shade of wood. If done right, your bedroom is going to look elegant yet modern. 
Also view Indian simple house colour combination outside with pictures here.
To Conclude
In this guide, we explored some of the best orange two-colour combinations for bedroom walls. These combinations can be used separately or if you are feeling adventurous, you can also combine two styles to make a unique style of your own. 
FAQs
What two colours go well with orange?
Orange can work well with a lot of colours, but it looks best with yellow and white. The combination of orange with white and yellow can create vibrant and striking walls. 
Is orange colour good for the bedroom?
Yes, orange is a great colour for a bedroom. Orange represents youthfulness, energy, and happiness. Not only that, oranges can boost your creativity and uplift your mood. According to Vastu, young and aspiring people should use orange shades on the southern walls of their bedrooms.
Do orange and grey go together?
Orange looks amazing with black or white, but when combined with grey, it looks absolutely smashing. This is because grey is a cool colour and orange complements it perfectly. 
What colours go well with orange in the bedroom?
Orange is a bright, citrus hue that livens up a bedroom. It works well with white, bright shades of yellow, green, and even red. Orange works great in a bedroom because it makes modern furniture look great.