Building a home is a dream that many people share. However, finding the right house plan can be challenging, especially if you have specific requirements and limitations.
If you are looking for a compact yet functional house plan, a 15 by 25 feet plan might be worth considering.
While this may seem small, with proper design and planning, this space can offer comfortable living for you and your family.
This blog post aims to provide comprehensive insights into a 15 by 25 feet house plan. It will cover the benefits and challenges of building a smaller home, and how to make the most out of the limited space available.
Furthermore, it will explore various design options, such as layout, color schemes, and furniture placement, that can help maximize the functionality and aesthetics of your home.
One of the benefits of a 15 by 25 feet house plan is its affordability. It is typically less expensive to build and maintain than larger homes, making it an attractive option for those looking to save money or live more sustainably.
However, living in a smaller space can also present challenges, such as limited storage and privacy.
This article will guide you through these challenges and provide practical tips on how to overcome them.
Try these low budget modern 3 bedroom house design as well for a beautiful 3bhk house design.
Whether you are a first-time homeowner or looking to downsize, this post will equip you with the knowledge and inspiration needed to make a 15 by 25 feet house plan work for you.
Design Options for a 15 by 25 Feet House Plan
Despite the challenges, a 15 by 25 feet house plan can be designed to suit your needs and preferences. Here are some design options to consider:
Open Concept (with car parking)
An open-concept design can make a small space feel more spacious and inviting.
Removing walls and creating flow between rooms can also increase natural light and ventilation.
Multi-Purpose Rooms
Each room in a smaller home should serve multiple purposes to maximize functionality. For example, a guest room can double as a home office or gym.
However, making an indian style 2 bedroom house plans is bit conjusted when it comes to making a house in 15 feet by 25 feet house plan but you can check some cool designs at our website DecorChamp.com and get a customize house plan.
Vertical Space
Don't forget to utilize vertical space in a smaller home when it comes to a modern single floor house design in 375 square feet plot. Built-in shelves, loft areas, and high ceilings can create more storage and living space.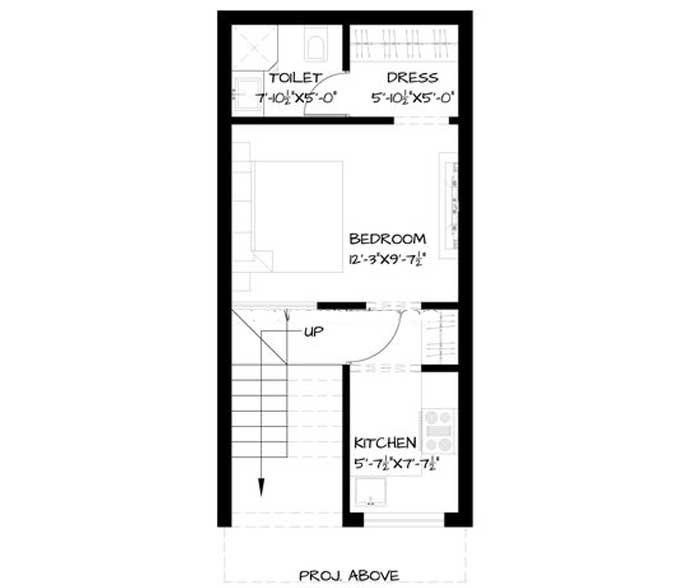 Outdoor Living
Expand your living space by creating an outdoor living area, such as a patio, balcony, or rooftop garden.
Minimalist Style
Embrace a minimalist design style that emphasizes simplicity, functionality, and clean lines. This style can help you maximize space and minimize clutter.
Examples of 15 by 25 Feet House Plans
Now that we've explored the benefits, challenges, and design options for a 15 by 25 feet house plan, let's take a look at some examples of actual house plans in this size range.
Consider reading and view the 20×50 house plan here as well.
Here are a few different designs to inspire you:
The Cozy Cottage
This design features an open-concept living and dining area, a compact kitchen, a single bedroom, and a bathroom. The exterior is classic cottage style, with a covered front porch and shingle siding.
Have a look at 30 40 house plan with car parking latest designs in 2D and 3D here.
The Tiny House
This design maximizes every inch of space with a lofted bedroom, built-in storage, and a compact kitchen and bathroom. The exterior is modern and minimalist, with sleek metal siding and a large front window.
The Studio Apartment
This design features an open-concept living, dining, and bedroom area, with a small kitchen and bathroom tucked away in the back. The exterior is simple and modern, with clean lines and neutral colors.
Also try these new 20×50 house plan for your new home as well here.
The Guest House
This design is perfect for hosting visitors or as a home office or studio. It features an open living and sleeping area, a small kitchenette, and a bathroom. The exterior is charming and cottage-like, with a peaked roof and traditional siding.
A 15 by 25 feet house plan may not be for everyone, but it's worth considering if you're looking for an affordable, energy-efficient, and cozy living space.
Do check out these modern 25 by 30 house plan here as well.
With careful planning, creative design solutions, and passive design strategies, you can create a functional and beautiful home that meets your needs and preferences.
So, what do you think? Are you ready to explore the possibilities of a 15 by 25 feet house plan? For 15 by 30 house plan visit here for latest map photos.
Benefits of a 15 by 25 Feet House Plan
At first glance, a 15 by 25 feet house plan may seem limited, but it actually comes with several benefits, such as:
Affordability
A smaller house plan means less material and labor costs, making it an affordable option for those on a budget.
Consider reading about these latest 20 by 40 house plan with car parking here.
Energy Efficiency
With less square footage to heat and cool, a smaller home can be more energy-efficient, resulting in lower utility bills.
Maintenance
A smaller home also means less maintenance, both inside and outside, saving you time and money in the long run.
Sustainability
A smaller home requires fewer resources to build, reducing your environmental impact and carbon footprint.
Coziness
With a smaller space, you can create a cozy and intimate atmosphere, perfect for spending time with loved ones.
Do check these trendy 25 by 40 house plan designs for your new home as well here.
Challenges of a 15 by 25 Feet House Plan
While a 15 by 25 feet house plan has its advantages, it also comes with some challenges that you should consider before committing to this design:
Space Limitations
A smaller home means less space for storage, entertaining, and everyday living.
Design Constraints
A smaller footprint can limit your design options, making it challenging to create a functional and aesthetically pleasing space.
Consider Viewing:
Resale Value
A smaller home may not have as high of a resale value as a larger home, so it's essential to consider your long-term plans.
Tips for Building a 15 by 25 Feet House Plan
Building a 15 by 25 feet house plan requires careful planning and consideration. Work with an Experienced Designer
An experienced designer can help you create a functional and aesthetically pleasing space that maximizes your available square footage.
Prioritize Storage
Storage is key in a smaller home, so prioritize built-in storage solutions and multi-functional furniture.
Use Light and Color
Light and color can help create the illusion of more space in a smaller home. Use light-colored walls, floors, and furniture to make the space feel brighter and more open.
Also read 30 50 3bhk house plan here.
Consider Passive Design Strategies
Passive design strategies can help you maximize energy efficiency and minimize your environmental impact. Consider incorporating features such as:
Orientation
Orienting your home to take advantage of natural light and prevailing winds can help reduce your reliance on artificial lighting and air conditioning.
Insulation
Proper insulation can help regulate indoor temperatures, reducing your heating and cooling costs.
Windows
Energy-efficient windows can help keep your home comfortable while reducing heat gain and loss.
Landscaping
Trees, shrubs, and other landscaping features can provide shade and insulation, further reducing your energy needs.
Lighting
Use LED or other energy-efficient lighting options to reduce your electricity usage.
Appliances
Choose energy-efficient appliances and electronics to further reduce your energy consumption.