Our overall health depends on getting a good night's sleep, and how comfortable and relaxing our bed is important. Plywood beds have become extraordinarily popular when it comes to bedroom furniture because of their fashionable designs and sturdiness. 
A variety of benefits make the versatile and deliberately designed wood product plywood an excellent option for bed frames and headboards.
We will delve into the world of plywood bed designs in this blog, looking at their benefits, various design options, and crucial advice for choosing the best plywood bed for your bedroom. 
We have everything you need, whether you're looking for a storage-friendly design, a sleek and modern plywood bed frame, or a modern plywood platform bed.
In order to get a good night's sleep and create a beautiful bedroom environment, let's explore the appeal and utility of plywood bed designs.
The Advantages of Plywood Beds
Plywood beds offer several advantages that make them a popular choice for both residential and commercial settings. Here are some of the key advantages of plywood beds:
Since plywood is constructed by stacking thin wood veneers straight up and down to one another, it is renowned for

its durability and rigidity

. Because of the increased overall rigidity and durability provided by this construction technique, plywood beds are less likely to split, warp, or crack. Compared to other materials, this makes beds more durable and have a longer lifespan.

Plywood beds are a sensible option for price-conscious people looking for affordable furniture options because

they provide cost-effective

, elevated furniture remedies at a lower cost than solid wood.

Plywood allows for curved, bent, or cut shapes, offering flexibility in bed designs and styles. It can be moulded into a variety of shapes,

offering numerous customizatio

n options for contemporary, minimalist, or traditional designs.

With their layered construction, plywood beds provide excellent stability and support, disseminating load evenly, trying to prevent sagging and sinking, guaranteeing proper postural stability and assistance, and lowering the likelihood of discomfort and back pain.

Plywood, which is

produced from locally sourced

wood sources and forests that are responsibly managed, is a durable, environmentally friendly material for beds. Its production uses less energy and emits fewer carbon emissions, trying to make it a more environmentally friendly option for furniture.

A durable, attractive bed is

guaranteed by plywood's resistance

to moisture, which also makes it resilient to moisture, spills, and pest problems like termites. Long-lasting, healthy conditions are ensured by its built-in resistance to termites.

Plywood beds are simple to keep

clean and require little maintenance

. Due to their durability, fewer dents, scratches, and other signs of wear and tear result, which decreases the frequency of repairs or replacements.
Also like to read: Wall Stickers
Exploring Different Plywood Bed Designs
A flexible and contemporary approach to bed design is provided by plywood beds. They are renowned for their clarity, usability, and sleek design. Here are some distinct plywood bed designs you might want to think about: 
Minimalist Plywood Bed Frames
Modern plywood bed panels are sleek and uncomplicated, with straight edges and clean lines.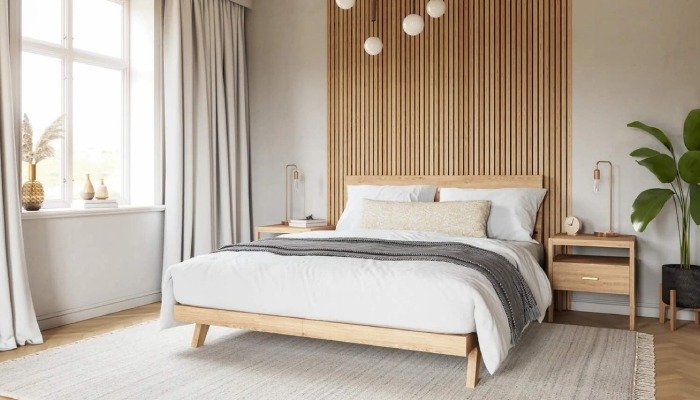 They exhibit the plywood's inherent beauty, making them perfect for people who want a tidy, unobstructed bedroom. The room is made open and tranquil by the minimalist design. 
Storage-Savvy Plywood Bed Designs 
Plywood bed designs are ideal for making the most of the space in relatively small bedrooms or for people looking for more storage space.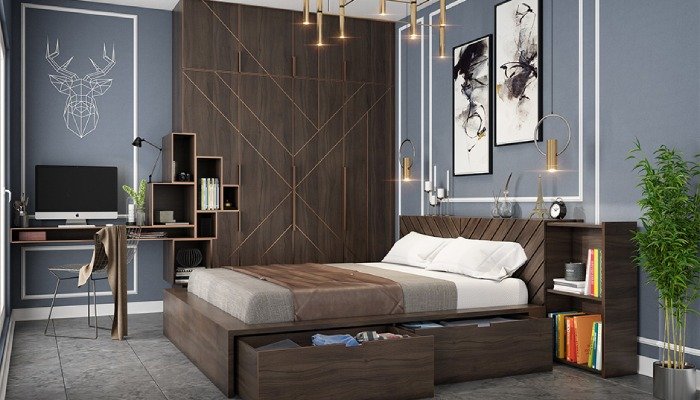 These designs frequently have built-in lockers, shelves, or storage boxes, and the plywood construction guarantees stability and strength. With this layout, the bedroom is kept tidy and organised, making the most of the space. 
You should also know about: Low budget modern 3 bedroom house design
Plywood Platform Beds 
With a solid plywood platform serving as the base and a modern, low-profile design, plywood platform beds do not require a box spring. This bed's mattress is supported well by this simple, minimalist design. 
These beds are well-liked for their ease of use and contemporary appeal. They can also be easily modified with completions or smudges to match bedroom furnishings.
Plywood Bunk Beds for Compact Spaces
When there is limited floor space available or there are numerous occupants, plywood bunk beds are perfect. They have two or more sleeping areas that are vertically stacked, and they are made of plywood for security and stability. 
They take up little room and frequently have built-in stairs or ladders for fast access to the top bunk. Ideal for shared bedrooms between siblings, kids, or dorm rooms.
May you should also know: Vastu bedroom colour
Tips for Choosing the Right Plywood Bed
When it comes to choosing the right plywood bed, there are several factors to consider. 
For strength, longevity, and

resistance to warping

, pick premium plywood. Make sure the finish is flawless and free of flaws or knots. Stability and long-lasting durability are provided by the numerous levels and solid core construction.

Whether it's a platform bed, a minimalist frame, or a storage-conscious design, pick a plywood bed style that blends in with the

overall design of your bedroom

. To design a unified and fashionable space, consider your aesthetic tastes and bedroom furnishings.

Measure the size of

your bedroom and consider

the size, spacing, and height of the plywood bed frame. Make sure the mattress fits snugly without crowding the space or restricting movement.

For a cozy and restful sleep, consider the plywood bed's mattress support system, which includes

strong slats and a sturdy platform

. A safe and firm sleeping surface is guaranteed by a mattress with adequate support.

For the best storage, think about plywood bed designs with integrated storage features like storage boxes, racks, or compartments. Consider your needs and choose a bed with enough room for your belongings.

Establish a price range for a

plywood bed and look

for options that strike a balance between affordability, quality, and design. To get the best deal for your money, compare prices offered by different manufacturers or merchants.

Before buying plywood beds, check out customer reviews and ask friends and family for recommendations to determine the quality, dependability, and overall satisfaction.

For protection

against flaws and early damage

, investigate the product warranty for plywood beds. 
Also read about: Night lamp for bedroom
Conclusion
A stylish and long-lasting option for a comfortable night's sleep is a plywood bed design. They are well-liked by homeowners due to their dependability, affordability, flexibility, and simplicity of maintenance.
Platform, bunk, storage-conscious, and minimalist bed frames made of plywood are available to suit various tastes and sleeping arrangements. 
Consider factors like quality, layout, size, space needs, bed support system, storage requirements, spending plan, and customer reviews when selecting a bed. An elevated plywood bed is an investment in a beautiful bedroom and years of restful sleep.
Consider reading: