Have a plot of size 25 feet by 40 feet and looking for house plan to construct it? Here comes the list of house plan you can have a look and choose best plan for your house. For a house of size 1000 sq feet i.e 25 feet by 40 feet, there are lots of options to adopt from but you should also look at your requirement. You need to select the sizes of rooms as per your requirement. Given below are few options you can select for your home sweet home.
Displayed above is a design which is very famous and most of 1000 sq ft house owner adopt this plan as it is very spacious and fulfill all the needs of a house owner. However, we have list some more awesome house plan for 25 feet by 40 feet plot size. Check these out as well.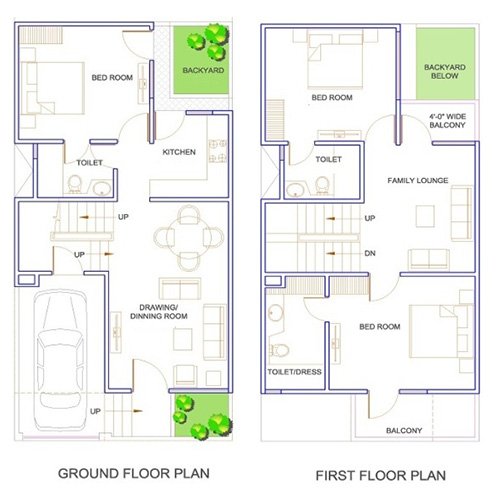 If yours is not a straight plot but is of 1000 sq ft we have some more awesome 1000 sq feet house plan and designs you can choose from. It might be possible that some want to construct their 1000 sq ft house similar to the big houses like 2000 sq ft or bigger. You can also have a look on all house plans available at DecorChamp.com and plan your construction and design accordingly.
The different ways of choosing home plans can be really a hard job to get done with. It is really hard to decide where to start from when it comes to home plan ideas. We have tried making it easier for you in the following sections.
We all know how unique and sweet we want our home to be. After all, home is a place of love for all of us. It must be perfect and well designed. Let us talk about the home plans for 25 feet by 40 feet dimensions.You will explore various salient features of it in upcoming sections.
Various kinds of structural designs can be opted while designing this house plan. One needs to clear out some basic points while going through the process of making the house plan.
What does a perfect house consist of?
A perfect house should be the one which consists of all the basic necessities and the one which covers all the desired traits in it.
Keep going with the plan that suits you and the one which can look aesthetic and trendy. Basic places that should be made available in a house are-
A perfect and sufficient space for a kitchen is the powerhouse of a home.

A sufficient space for parking.

A hall which should be spacious.

A set of bedrooms.

Lobby should be kept in mind too.

A toilet.

An open area should be prioritised too.
All of these places are the basic things that one needs to keep in mind. Consider a plan that makes space available for all these places. Try getting specific dimensions for having a perfect look.
Have a look at 20 by 30 house plan.
25 feet by 40 feet house plan salient features
The salient features of 25 feet by 40 feet house plan are discussed as follows-
The 25 feet by 40 feet house plan is basically 1000 sq ft.

The dimensions of parking can be 16 ×16.

Drawing room and its dimensions can be 16×16.

The kitchen can be made of the dimension 7×10 in size.

Now let us talk about the dining area which can be kept of the dimension 16×10.
Like this according to the dimensions one can plan accordingly where to plan a specific place.
You can also look at 15 by 30 house plan.
Why is it necessary to have a good house plan?
It is necessary to have a good house plan because it is essential to keep your home as per your desire.
A good house plan is beneficial to-
Have a good house structure.

To have a good parking space.

To maintain good bedrooms.

To keep a good space for the kitchen.

To rearrange things accordingly.

To decorate your house as per your wish.

To keep your house in a trendy manner.
A good house will give you mental pleasure and your house will be a place of sweetness and secureness for you.
Thus it is recommended to plan your house with utmost care and plan it wisely so that it can give you a feeling of pleasantness.
If the designs and plans displayed above are helpful for you in any way please vote us through social links (Facebook, Google+, Twitter) given below because we assume: Sharing is Caring.
Consider reading -