Modern home designs and distinctive styles that may be simply adapted by our in-house designers to give it a personal touch so that the purchasers may get the most they can from their dream house when it comes to 15 by 30 house plan.
One of the most popular house plan combinations in India is the 15X30 house plan.
This size of the home is generally sought after by families who wish to live in a pleasant and roomy house.
A 15X30 house design may also be ideal for individuals seeking more living space than what is available with a smaller home design. Though its a small space but with the proper placement, sizes and direction of rooms, kitchen and bathroom you can make the home look lavish and spacious.
Lets have a look at some modern and trendy house maps of size 15 by 30 square feet below and construct the house accordingly as per requirements.
However, you can also have a look at house plans of other sizes here like 15 by 40 house plan to get an idea of the placement of rooms and direction.
15X30 House Plans
A well-planned 450 square feet modest house design for the masses A wonderful, home plan for a small family with a beautiful view of a well-planned house that is elegant and functional.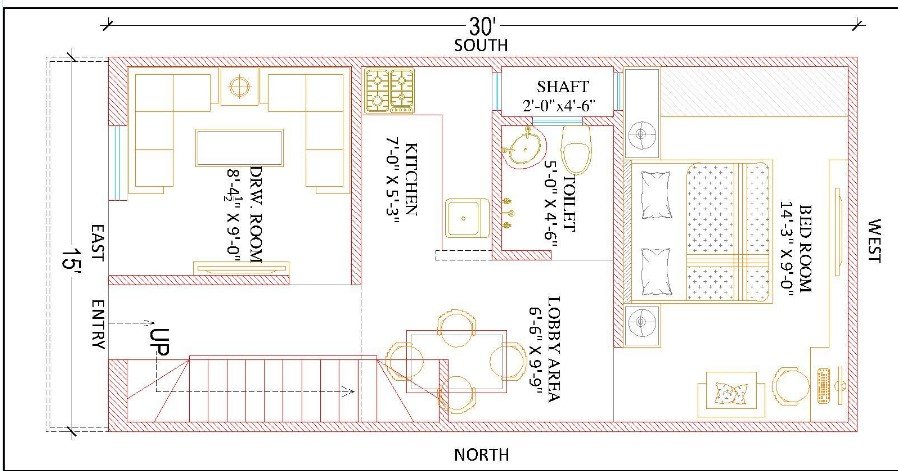 On the ground floor, you'll find an open-plan accommodation on two levels as well as a basement and garage.

The main entrance is from the lobby through this area to your left. This room has windows that cross each other, allowing for ventilation.

You may put a five-seated sofa with a coffee table and a T.V cabinet in here. It's a little reception room where visitors are entertained while family members sit together for an evening discussion over a hot coffee.

The kitchen is located adjacent to the drawing-room at 7'0″ x 5'3." Here, you may put tiny cabinets for the essentials. It's a rectangular kitchen in which one person may easily work at the countertop.
The washbasin used by visitors and inmates for cleaning is just next to the kitchen.
A tiny dining table with wall cabinets may be set up here. It's an open kitchen that allows easy access to the dining area.
Just beside the toilet is a 5'0″ x 4'6″ WC. Outside the toilet is an open area of 2'0″ x 4'6″ or a shaft. It opens from the kitchen, as well as from the bedroom and bathroom. Here you may clean kitchen utensils and store clothing.
The 14'3″ x 9'0″ master bedroom is located on the same level as the toilet and reception area. It's a big room where you can set up a double bed with a dresser.
On any one side of the wall, there is a range of wall cabinets to choose from. The T.V. cabinet may also be kept inside the bedroom.
Looking for a map for 30 by 30 house plan? Keep visiting DecorChamp.com as we develop and upload new house plans regularly.
15X30 East Facing House Plans
This house plan has an access stairway leading down to the ground level, as well as a washing area and a water tank. The driveway angle has been slightly adjusted in this area, allowing for a very tiny step region so it's easier to go up and down from here for safety, and as we continue along, you'll notice your main entrance.
In this open plan, you may view every aspect of the living, dining, and kitchen from any vantage point on the ground level, which provides for a much more open atmosphere and utilizes the available space more effectively.

Here, the living area turns into the dining room which is at the entrance just.
The main kitchen is lit by the morning sun and is along with the living or dining room.
You may use the gypsum partition or wall partition to make the kitchen entry seperate.
It's also well-designed so that there's almost an identical distance from the center of the kitchen to the refrigerator, which you may put here.
This is a modern single floor house design where you can increase the functionality of this concept with a sink and open the sliding door to access an additional service area.
You may also make this space into a laundry room or add another washing area by opening up this sliding door.

Let's now take a look at your first bedroom from the main kitchen. You may use this first room as a home office or a playroom, and it also comes with its own bathroom.
Also read about 3 bedroom house plan kerala style here.
15X30 South Facing House Plans
15X30 house plans can be challenging to find, but this one fits the bill perfectly. With low budget modern 3 bedroom house design on two levels and a duplex that was created according to Vastu, this home has enough room for a family of five and provides easy access to the upper level from the parking area.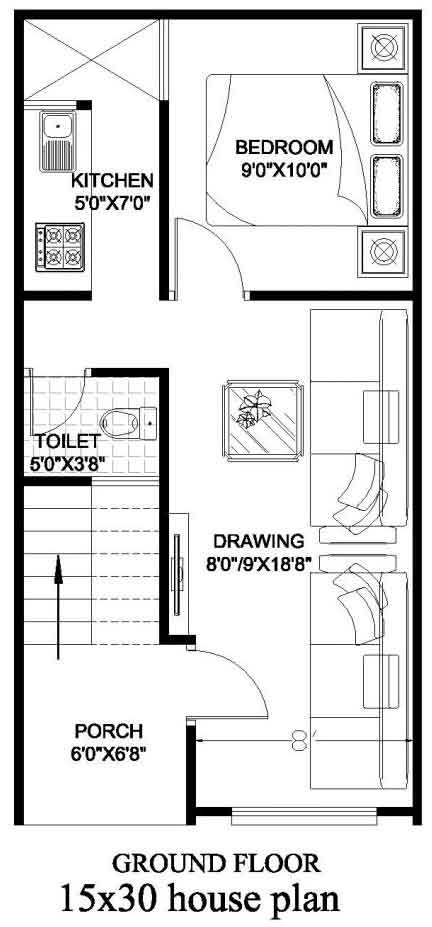 The main entrance to the house is in the southwest corner of the living room, where there are two large windows on each side.

The kitchen is roomy, and modular fittings are required for ventilation to make it more spacious.
The washing area on the south side of the kitchen gets enough light and air, and it also allows ventilation in the bedrooms. T
he bedroom dimensions are huge, allowing for a king-size bed as well as plenty of storage space in a 15X30 house design with car parking.
This 15X30 house plan with automobile parking is an excellent choice for people who need a big and Vastu-friendly home.
15X30 House Plans With Car Parking
This plan has three bedrooms on two levels as well as a 15 by 30 house design 3bhk duplex that was created according to Vastu, with enough room for a pooja chamber, and parking.
The main entrance gate to the house is in the southwest corner of the living room, where there are two large windows on each side.
It also has a door for the dining room, which measures 13.8×13.8 (approximately). It is suitable for a family of 5 and has an attached bathroom on the east side.
In this layout, the dining area is in the middle and has access to 4 areas via its doors, yet it's still close to the entrance.
The kitchen is also big, and to make it roomier, modular fittings are required for ventilation, the washing area on the south side of the kitchen provides enough light and air to keep this space clean, and this area also allows ventilation to the bedrooms.
Bedroom dimensions are huge, at 12 x 13 (approx), allowing for a king-size bed and still room for a massive wardrobe and dressing.
Conclusion
Consider the location of the home, its orientation, and how it is laid out. With careful consideration, you may create a lovely and practical house that will give you years of pleasure.
Consider Reading: 30 40 house plan | 20 by 30 house plan | 20×50 house plan