If you are about to construct your dream house on a 30 by 30 feet plot, here are some best possible maps designed as per Vastu and that too for free!!
We know that designers nowadays are too pricey and sometimes it's very confusing to find a good one.
So, to save you from all this trouble and to save some of your bucks which you can later invest in some other amenities for your dream house, we provide you with some of the best house plan designs for your beautiful home.
These are some house plans for 30×30 Feet Plot. Some with a separate Puja Room, some with a separate drawing-room. Whether you need a plan for a big joint family or for a small family… You can select a house plan according to your requirements…
Option #01: Double Story (Ideal For North Facing)
Ground Floor Plan
This house plan is ideal for a North Facing Plot. It is designed as per Vastu. This house design is ideal for a big family. There are 2 bedrooms on the ground floor, a Puja room, a kitchen, and a living room on the ground floor.
As per Vastu, the living room is in the North-East corner, both the beds are facing the west direction and the cooking top is facing the east direction. There is an open veranda at the main entrance of the house. There is only one toilet on the ground floor which is common to both the rooms and is present in between the two. Now, let's move to the first-floor plan.
Also check: 25×50 House Plan here
First Floor Plan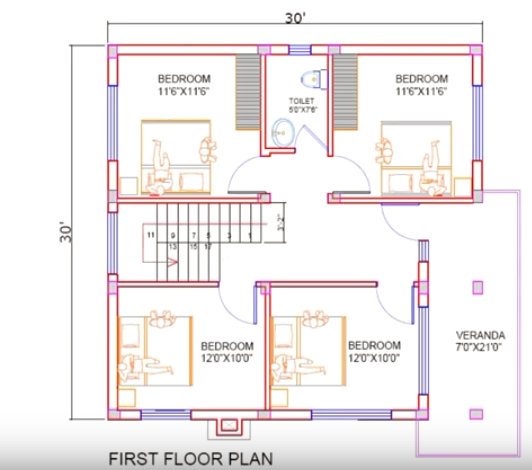 The first floor acquires 4 bedrooms, 1 toilet and a big Veranda (Terrace). 2 Bedrooms are on one side and 2 on the other. The toilet is common for all the 4 bedrooms and is placed in the west. The terrace is designed in the north.
This design is a very good option for a big family as it has a total of 6 bedrooms in just a 30 by 30 feet plot. Perfect for an Indian Joint Family!
Note: if you are looking for the best 20×50 house plan for you then try these.
Option #02: Single Floor – 2BHK
This house is designed as a 2BHK, ideal for a small family and is a modern single floor house design in a 30×30 Sq.Ft plot size..
This design includes 2 bedrooms. One is the master bedroom and the other one slightly smaller than the first one. It has two toilets. One is attached to the master bedroom and the other is a common toilet.
As we enter, there is a big spacious hall that can be apportioned and used as both, dining area and living room. This design also includes a balcony/veranda (attached to the living room) and a wash unit attached to the kitchen.
Option #03: Single Floor – 3BHK
This house is a low budget modern 3 bedroom house design, ideal for a medium-sized family.
This design acquires 3 bedrooms, two of them are of the same size and one is a small kids room. There are two toilets in the design, one is attached to the master bedroom and the other one is common.
There is a separate drawing room (living room) in the design and there is a kitchen and an open dining area (in the hall). The house has even doors (good as per Vastu), so no door is designed for the kitchen (however, you can add it if you want).
Check these 30 40 house plan with car parking that is trending nowadays and people are adopting these plans for their dream home.
Option #04: Single Floor – 2BHK With A Separate Puja Room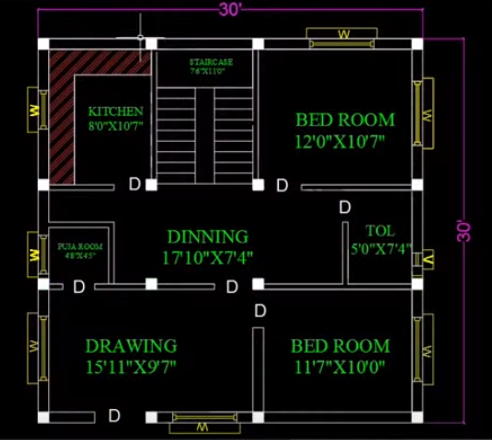 This design includes a separate puja room. It has two bedrooms and one toilet designed in between both the rooms. This design incorporates a separate living/drawing-room. The puja room is attached to this drawing-room. Then it has a kitchen and an open dining area/hall.
Select a plan for your beautiful dream house and save your money, time and effort. Also, don't forget to incorporate these amazing Vastu tips to enhance your life quality.
30 by 30 House Plan
The 30×30 house plan, which has two bedrooms and a 900-square-foot lot, is the best 30 by 30 house design on the internet, according to professional engineers and architects. There are several other 2 bedroom house designs available there, which will be quite helpful for you. 
When you request an architect to create a new 30 x 30 house plan for your dream home, he or she will undoubtedly provide the finest house design possible. What if you could get the ideal house plan for free? And this is where you'll discover a lot of unique home designs and plans for no cost. If you want particular dimensions or requirements, it will merely set you back a little money.
Have a look at these 25 by 30 house plan if you want to see these plans for your reference on how a 25×30 House plan looks like.
Let us now look at the 30×30 2bhk house design ground floor in a 900-foot plot area. The following are all of the essential information regarding this 900-square-foot two-bedroom house plan.
East Facing 30X30 House Plan
This house plan is suitable for those who live in a small town or city where there are not enough parking spaces.
This tiny house has two bedrooms and one bathroom, with a kitchen, hallway, and common toilet as well. You may use this home design with all of its amenities; you can also install solar panels here, which will save money on your power bill and ensure that solar energy is utilized effectively.
But we explain about this 30×30 house plan, we recommend you to check 20 by 40 house plan for your reference as well.
Although this house plan does not include a big parking lot, the size of the parking area is 8 x 7 feet, which allows for both parking as well as gardening.
Check the drawing-room, this room has been kept big because the drawing-room looks very nice and if the interior of the room is also done well then it is even better.
After this, there is a chimney system in the kitchen, a sink is also built and a small wash area is also made near the kitchen, where you can clean your stuff.
The kitchen is 8'7″ long and 7'3″ wide, while the washroom is 6'4″ long and 4'9″ wide.
There is a communal bathroom adjacent to the kitchen that is constructed in such a manner that it may be accessed by everyone, it is identical to the guest room and it is also close to the bedroom, with a size of 7'6″.
After this, we'll move on to the master bedroom; this chamber has an exquisite interior with built-in beds and wall-mounted closets, 14'5 x 13′.5
The bathroom attached to this room measures 6×6 feet.
The next room is the second bedroom, which does not have a bathroom. This room has kept basic but includes wall-mounted wardrobes and beds, with a size of 13×12 and a huge window added.
This house plan was created especially for only two bedrooms; in this way, you'll receive all kinds of services as well as the opportunity to make any modifications or new things you desire.
West Facing 30×30 House Plan
The staircase begins from the main entrance. The length of the stairway is 6'3″x10'6″ feet. They are also known as Doggy Staircases. The dog-legged staircase is a cost-saving alternative to traditional staircases.
Each stage in this approach has a 10-inch tread and a 7-inch riser. The tread is the horizontal surface you walk on, and the riser is the vertical distance between them.
The living room has one window, which measures 17'x10′ feet. You'll have total control over how large you want to make the window.
The living room bathroom section is included on the left side. The size of the toilet in this 30×30 house plan is 4'x3′ and the bathroom size is 7'X4′ feet, which has been made perfectly according to Vastu shastra.
There is two bedrooms on the right side of this 30×30 house plan, which has been made nicely according to Vastu shastra. Also, take a look at these extraordinary ground floor elevation ideas.
The bedroom size in this 900 square feet, second bedroom house plan is 11'2″ X 10'6″.
First bedroom has two windows. In the southeast corner of the house, there is a kitchen.
The size of the kitchen is 11'x10′. A door leads from the kitchen to the washroom. The kitchen includes one window on the right side.
The second bedroom may be found on the left side of the kitchen.
Try these house plans as well: 30 50 house plan 3bhk | 25 by 40 house plan
30 by 30 House Plan With Car Parking
This is a 30×30 home design with east-facing automobile parking and there are 20m broad roads in front of this lovely house, as well as other sides where houses are located.
This plan has two bedrooms, a kitchen, a parking area, and a drawing-room that has been designed according to Vastu principles with enough space for a small family of four.
There is a dining room to the left, which features a window looking south.
The living space (8'0″x10′) is huge and beautiful, and it's very spacious; after that, there is a kitchen area (7'0″x5'4″).
On the right side, the kitchen is also large enough to place all of your belongings, with a shared toilet on the opposite side (7'0″x5'4″)
Both of the bedrooms on this side are beside the kitchen and measure (14'0″x10'8″) on the left, and (14'4″x10'8″) on the right.
Both of the rooms are larger than the typical size and can accommodate a big bed dressing table and wardrobe.
One bedroom is somewhat bigger than the other, owing to its location adjacent to a parking area. Have a look at this 30×30 house plan above.
Conclusion
The 30×30 house plan is one of the most successful and popular layouts for a small family. This home design has two bedrooms, one bathroom, a living room, a kitchen, and a dining room. You can also find other 2 bedroom house plans that will be quite helpful for you.
With this particular home design, you'll get all kinds of services as well as the opportunity to make any modifications or new things you desire. So, what do you have to lose? Now is the time to create your 30*30 house plan!
Consider Reading: 30 by 60 House Plan