Do you want to organize your toiletries in a better way? If yes, then opt for a modern dressing table. It is an accent piece of furniture that adds sophistication and glamour. You can easily organize all your essentials effortlessly. There is a variety of dressing tables that you can find available in the market and place them easily in your bedroom. 
You can choose these dressing tables in a classic configuration, vintage, modern, lighted, and other designs. Look for compact designs that create tiny storage space and can easily be benefited from a dressing table be it a modern dressing table or a large dressing table. 
Now, there are several things that you need to consider while choosing a dressing table. 
First of all, Choose a dressing table having a classic configuration of medium and large room size.

One can also find

multi-colored models available on dressing tables

. These dressing tables create a sense of style and also increase organizational skills. 

Go for a dressing table having the

size of a mirror

and dimensions of the tabletop proportional to each other. 
Wall-to-Wall Modern Dressing Table For Master Bedroom
Master Bedroom is a place where one spends a large amount of time and it should not be overlooked in any aspect. You can try out the Wall-to-wall inbuilt dressing wardrobe design such that you can save space and achieve an elegant and chic look for your bedroom.
It is always better that you choose a design for a modern dressing table such that it maintains the monotonic theme all around instead of multiple colors. A Wall-to-wall modern dressing table is a perfect solution to all the dressing tables that comes with wardrobe requirements. 
Wardrobe Designs in Pastel Shades
If you are a fan of pastel shades, then do not fear to incorporate them into your dressing wardrobe design. You can easily find different designs, colors, etc available in the dressing wardrobe.
Choose a gloss finish dressing wardrobe available with a combination of mirrors. It can instantly make your room feel fresh and airy. These dressing tables look chic in design and go really well with the entire vibe of the room. 
Wooden Wardrobe Dressing Design 
Wooden Wardrobe designs are the way to go and these designs can be combined with mirrors to enhance the positivity in the room. A wooden wardrobe dressing design is the most modern wardrobe design that comes in a classic finish.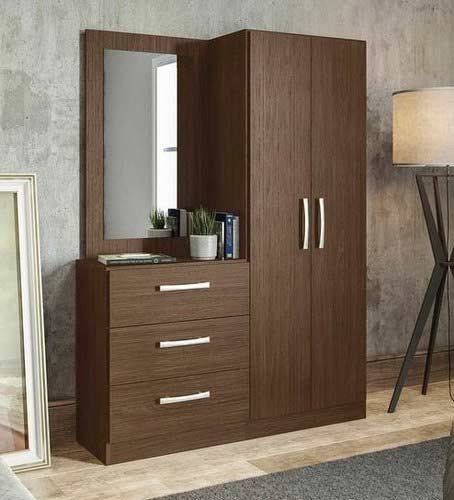 Here, the dressing table can easily be paired up with the cupboard to get the most out of the wardrobe design. So, what are you waiting for? Look for the wooden wardrobe dressing design and get them available at the best prices. You can even try out Wall Fixing Almirah Designs: Modern Concepts For Your Space. 
Sliding Dressing Table Design For the Bedroom
In the modern dressing table design, the Sliding dressing table design is one of the best options that are needed to be considered. These doors are easy to implement and give the dressing table a unique and modern look.
You can choose a Sliding Dressing table design with a cupboard that is present to give the dressing wardrobe a unique look. There are several minimalistic designs available in the modern sliding dressing tables. One can easily find the best options available in dressing table design for the bedroom. 
Modern Dressing Almirah With Single Full-Length Mirror 
Do you want to try out a mirror design having a single full-length mirror? If yes, then choose a modern dressing Almirah that is one of the best options available. Choose an oak Almirah with a single full-length mirror. It is a wonderful and stylish option available in stylish and contemporary design. Or you can even try out a Glossy Modular wardrobe with an inbuilt dressing table. 
Here, the design is available in a single and attractive color that adds a glossy finish. Having these inbuilt dressing tables not only adds functionality to an almirah but also works best for the floor space and the room. You can also try out this amazing read Why do tables make up an important part of your home decor?
Wall-Mounted Modern Dressing Table Design for Bedroom 
It's time for you to let your whole dressing cabinet be fixed onto the wall. It is one of the most effective ways of keeping the floors clear. A wall-mounted modern dressing table design is available with a chunky square mirror that is adorned with makeup lights and adds elegance and warmth to the space. Whereas, on the other hand, if you opt for bricky walls then it will add an earthy backdrop for the dressing room. 
Classic Dressing Table Design For Bedroom 
Choose an elegant and classic dressing table design for your bedroom. It comes available with a various number of shelves, drawers, etc in which you can hold all your toiletries easily. A classic dressing table design for the bedroom is durable and solid. In addition, the connection between the mirror and desktop ensures solidness.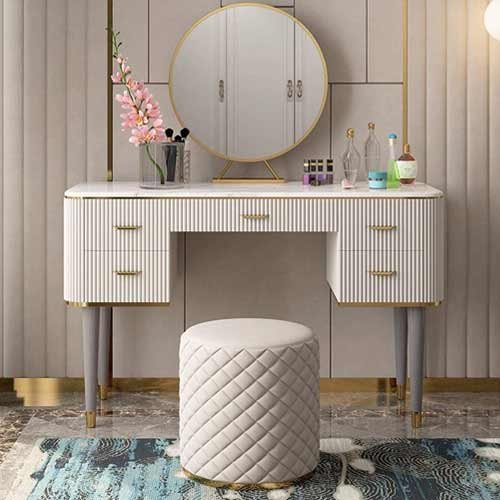 It is one of the latest dressing table designs for bedrooms that you can find with ease if you are looking for simple and space-effective products for your home. Store all your makeup essentials in one place and beautify the decor of your room with ease. These Dressing table designs for the bedroom are the perfect storage solution that offers elegance and modern refinement. 
Conclusion: If you are looking for modern dressing table designs for the bedroom, then there are various designs available. You can choose from a list of designs available in the Modern Dressing table design for the bedroom. Look for the dressing tables with enhanced aesthetics that comes with necessary accessories. Apart from that, there are various contemporary designs in Modern Dressing tables design for bedrooms that are available in the best options.