Modern Wall Almirah Designs: Everyone dreams of owning at least one home in their lifetime and then begins working to achieve these goals and make their dream a reality. But when it comes to designing your home, there are a lot of factors to consider, and if you're inexperienced in this field, it can be overwhelming, and you may end up making errors of judgment that cannot be reversed in the near future. Owning a house comes with a lot of responsibility, and you need to make sure you're making the right choices.
So, once you've decided on the house you're going to buy, the first and most important thing you should know about it is where you're going to put the home furnishings and other interior accessories. To put it simply, let's say you've decided on a house. The next step is to figure out how you'll arrange the home furnishings and other usable objects so that it doesn't look cluttered while also serving their purpose.
Without giving too much away, let us proceed to the most important aspect, which is the Almirah and its designs, which is an unavoidable item in your home. When it comes to modern almirah design, there are many different styles and designs to choose from, but it can be difficult to determine which one will best suit your needs and, more importantly, your home. Your almirah is more than just a place to store your clothes. It is a versatile unit that can be used as bedroom decor while also keeping your personal sanctuary clean.
Among the various option available, we have compiled a list of the latest modern walls Almirah designs that you might be looking for:
Sliding Door Wall Almirah Design:
This is the almirah for you if you want something stylish, modern, and space-saving. Sliding doors are one of the most cost-effective almirahs because they take up very little space, look classy, and require no effort. If you need something, simply slide the door open, get your belongings, and slide back. They are an excellent addition to your rooms, especially if they are small and you want to save space while also looking decluttered and clean.
Consider reading: Materials used for making Wardrobe
Mirror Door Almirah Design:
Mirrors attached to the doors of your almirah make your room appear larger. So, by using the mirror's illusion, you can make any room appear larger than it is, and by adding some extra lights that reflect on the mirror, you can also make the room appear brighter. It also serves as a dressing table because you won't need to add an extra mirror to get ready.
You should also consider vastu direction for wardrobe while making or placing an almirah in your bedroom or in your home.
Inbuilt Wall Almirah Design:
As there are numerous innovations in the interior design industry, this is one of the most recent additions to the almirah designs. The almirahs are built inside the walls, so only the front part of the almirah, i.e. the doors, is visible, and the rest of the unit is hidden behind the wall. This saves a lot of space in the room, looks uncluttered, and gives your room a high-end look.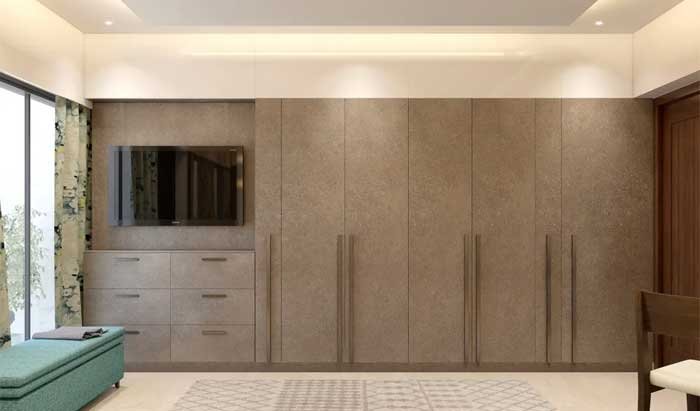 Full Wall Almirah Design:
This is the almirah design to focus on if you want to create the illusion that your room is larger than it actually is. When the almirah touches the room's roof, it appears elevated, making the room appear elevated as well. These types of wall almirah designs can be seen in medium-sized rooms where the almirahs make the room look simple, elegant, and longer than usual.
Almirah Design Covering the Entire Wall:
These almirah designs enhance the look of the entire area. If you have excess space around your room that you want to hide, you can convert a whole wall into an almirah and keep it covered with mirrors or glass doors. This will not only make your bedroom appear larger, but it will also offer an aspect of elegance.
Standalone Almirah Designs:
If you have a larger-than-average room and want to make it look finished rather than empty, you can go with standalone almirah designs. The standalone almirah, especially if made of wood, will give the entire room a very retro look. Standalone almirahs also have a lot of storage space, allowing you to fit the majority of your belongings inside.
Glass Door Almirah design:
The doors of the almirahs in this design will be made of glass, which can be fully transparent or opaque. This can be mounted in your bedroom to hold your clothes, or it can be mounted in your living room or study to display your other household goods. This provides a clear view of what is inside the almirah, which adds to the room's aesthetics. Also, we see a lot of influencers and fashionistas these days, so if you have stylish clothes, the glass door will be a great addition to your room.
Open Almirah design:
This type of wall-fixing almirah design adds extra beauty to the room because whatever is placed in it is visible, and if you have an eye for fashion and style, you can choose this type of almirah. These almirahs are trending on every influencer post because they reveal your fashion sense. Choosing almirahs like these will be beneficial because you will be able to locate all of your belongings and will not have to go searching for them from one location to another.
If you are placing an almirah in your bedroom, don't forget to read our vastu tips for bedroom and place your almirah accordingly
Almirah Design Around a Window:
If your room has a large window, you can create an almirah around it. This will create an illusion in which the window will provide an outside view and the extra space may be used to house an almirah that will keep all of your possessions. This is a concept that will work for any room type because you will just be utilizing the extra space surrounding your bedroom.
Hope we covered all of the upcoming and current wall almirah and design trends. You can also seek for a mix and match appearance by combining mirror doors with sliding doors, or by building an open almirah around the window. We tried to include all of the fundamental styles, but you can use your imagination and add your own touch while designing your bedroom.
Do let us know in the comment section about the designs we mentioned and if you have any custom requirements on wall almirah designs.