Kitchens being the most important part of every household and the powerhouse of every home requires the best things present there. Be it the updated and trendy utensils and or any other furniture available. Everything needs to be perfect so that things look more great.
High stools for the kitchen come in various forms and one can choose them accurately according to the specific needs and requirements. Kitchen needs all the trendy things so why not update the kitchen stools for a change?
This blog will represent various high stool options for the kitchen. You can read them out and you can see which one you may prefer going with or which qualities or specifications are needed to check while buying the best high stool for the kitchen. So let us get started.
Kitchen stools and their height differences
While the stools may be used for various purposes like sitting or even for adding a glam to your modern kitchen.
The stool height is something that matters a lot too. Differences in stool height occurs and hence the name given them is also different.
Bar height stools are stools that have dimensions of "29-31″seat height. They are more in height and mostly they are seen in bars as the name suggests but if it looks adorable or appealing to you then one can use it in the kitchen too as per the individual's need.

Counter height stools are of "24-26" seat height. They are smaller than the previous one. They look modern and classy being in your kitchen.

Adjustable stools are also available in the market and one can have them. The best feature is that they are adjustable and can be adjusted according to the need.
So as per your need of kitchen and its dimension you can choose which height stool will suit you the best.
Have a look at grey and white kitchen design.
Different types of high stools for the kitchen
This section will tell you how many types of stool options are available and what are their types. Let us start discussing different types of stools for kitchen-
Armless stools are stools for the kitchen that do not cover space as other stools do. They are armless as the name suggests and they will definitely look good in your modern kitchen.

Swivel stools are the stools that have a seat that rotates. This feature comes with great benefits. One can exit the counter without disturbing the other members.

Backless stools are really trendy as they have no back to support your back and thus they give a very wide and open look. Although for senior citizens who need back support , this option of high stool may not be feasible.

Upholstered stool comes in an elegant style and it gives a more classy and trendy look. This is the best high stool for back support.
These were types of high stools that one may consider while buying.
Get information about – Kitchen Showcase Furniture
Materials used for making high stools
Various materials are used for making different high stools. The materials are-
Wood is used to make high stools. This can be opted for a clean and aesthetic appearance.

Leather is again used for a more comfortable look.

Metal finishes enhance the durability and hence are perfect for making high stools.
Like this one can select the type of material that one may find suitable.
You can also look at Kitchen Cabinet Handles And Knobs.
Kitchen island and high stools
If you already have a kitchen island then you may need to buy some suitable and matching high stools for it in case they were not with the island itself.
Select the suitable stool that matches the aesthetic of your kitchen island.

Go with the best designs.

Check the quality of material and see if it's durable.

Check the affordability.

Do not forget to match the aesthetic with your kitchen style.
By keeping all these things in mind one can easily update or set a brand new kitchen island with trendy high stools.
Explore more about – Balcony lights hanging
Best high stool for kitchen in India
Now let us start revealing the best high stools for kitchens in India. High stools are needed to be a part of your kitchen to-
Elevate the look of your kitchen.

To enhance the glory of your kitchen.

To maintain the aesthetics of your kitchen.

To make your kitchen look appealing.

To provide a comfortable and perfect seating arrangement.
Read about – Kitchen style design
The best high stools for kitchen in India are discussed below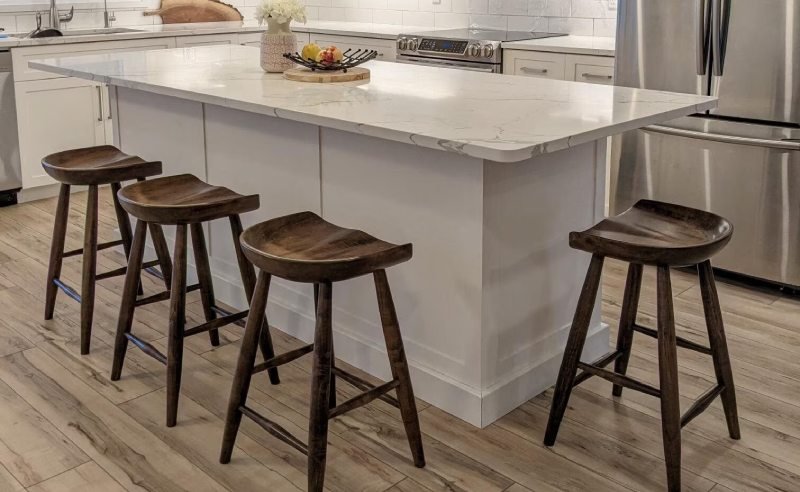 MBTC DELTON stoop chair in light brown colour and a perfect silky leather like material. This will provide a comfortable seating. They look appealing and yes cute too.

If you are into modesty and you like simple yet elegant styles then you should definitely go with genuine sheesham decor wood stool. This is pretty tall and will magnify the modestic look of your kitchen.

The Japanese style stool for your kitchen is short in height yet durable and perfect to sit at.

Savya stool with its twists and turns will add a tuning effect in your kitchen. It will enable the user to adjust it as per the need. The twisting and moving feature is great too.
Among all these you can choose the best stool for your kitchen.
Here is kitchen cupboard design.
Kitchen stool for cooking and for elevating the look
You can use kitchen high stools for cooking and for elevating the design of your kitchen. One needs to check various online sites that provide online high stools for kitchens.
Offline too, one can visit retailers and can check that which high stool suits them the best. One should not forget to compare the price ranges of various online sites in cases where someone prefers online shopping.
Some sites may have amazing discounts waiting for you to get.
Also read about – Corner rack for kitchen
Select the best high stool for your kitchen
To boost the beauty design of your kitchen.

To have a comfortable cooking experience.

To make your guests more pleased by serving them the best food along with the best view.
With all these benefits mentioned, get started with choosing your perfect high stool for your perfect kitchen.
Consider reading

 -