The grey and white kitchen is a style that has grown in favor recently. 
This design option is timeless and cutting-edge, making it a flexible choice that complements a range of interior design trends. In this article, we'll look at the many components of a grey-and-white kitchen design and discuss how to recreate it in your own house.
Grey and White Kitchen Cabinets: A Timeless Combination
The color scheme is one of the most crucial factors to think about while designing a kitchen. A timeless color scheme that never goes out of style is grey and white. Depending on the hue and tone, the color grey may be anything from cold and contemporary to warm and welcoming. 
Contrarily, white is a light and airy hue that gives any room a feeling of freshness and airiness. Combined, these two hues produce a classic and sophisticated appeal that complements any kitchen design.
There are a few things to think about while selecting grey and white kitchen cabinets.
First off, the shade of grey you select will have a significant influence on the room's overall appearance and atmosphere. 
Smaller kitchens or those with little natural light benefit from lighter grey tones like dove or mild grey. Larger kitchens benefit from the drama and refinement that darker colors of grey, like charcoal or slate, bring.
Grey and White Counter-tops: A Match Made in Heaven
There are several alternatives available when selecting countertops for a grey and white kitchen. A countertop made of white marble with grey veining is a popular option. This results in a timeless and elegant appearance that complements both conventional and modern designs.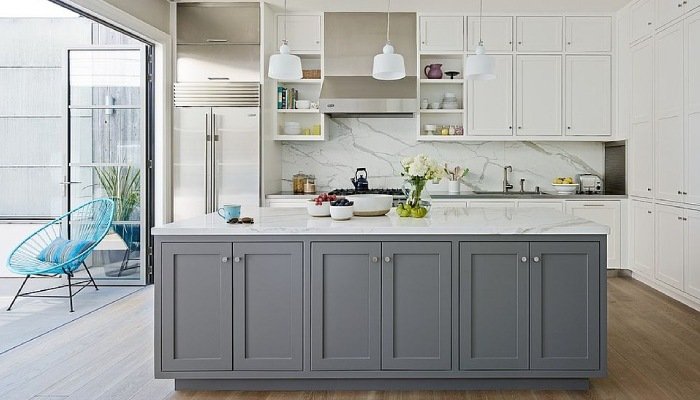 A grey quartz countertop with white specks or veins is an additional choice. This results in a more subdued and understated appearance that fits very nicely with modern or minimalist kitchen designs. 
As an alternative, a solid grey countertop may give a white kitchen more drama and depth. It's critical to select a counter-top material that is long-lasting and simple to maintain when it comes to upkeep.
Grey and White Back-splash: Adding Texture and Depth
A back splash is a fantastic technique to give a grey-and-white kitchen texture and depth. Ceramic tiles, subway tiles, mosaic tiles, and more alternatives are available in plenty.
Using white subway tiles with grey grout is one common option. 
This results in a timeless and elegant appearance that complements any kitchen design. As an alternative, a mosaic tile backsplash made of a combination of white and grey tiles might give a room a much more bohemian and rustic appearance.
Consideration should be given to durability and upkeep when selecting a back splash material. 
Grey and White Flooring: Creating a Cohesive Look
While creating a grey and white kitchen, flooring is yet another vital factor to take into account. The correct flooring may bring the entire look together and give it a polished appearance.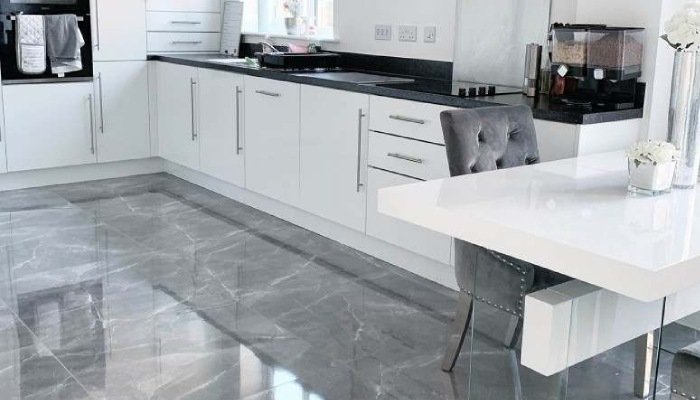 Grey laminate flooring or tiles are a popular option. This results in a cosy and welcoming appearance that complements both classic and modern styles. One alternative that works well in smaller kitchens is flooring made of white, light-coloured tile, or hardwood.
It's crucial to pick the flooring that is sturdy and simple to clean when it comes to upkeep. 
You may also like to read: Decoration Tips for Setting Up a Small Kitchen for New and Old Homes
Grey and White
:
Lighting
A kitchen's appearance and atmosphere may be greatly improved by using the right lighting. To achieve the appropriate mood in a grey and white kitchen, there are several lighting alternatives available.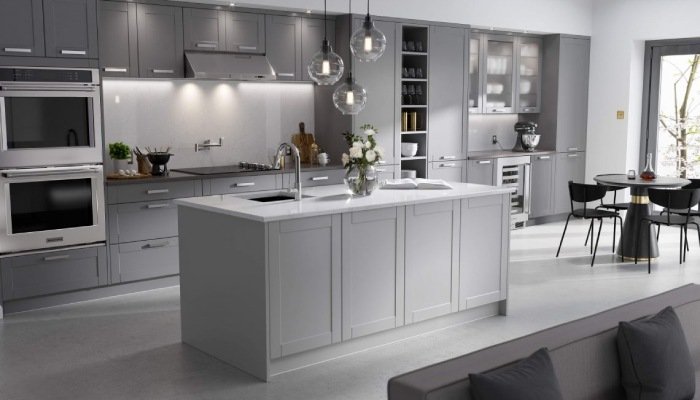 In dining rooms or above kitchen islands, light fixtures are a common choice. Moreover, adding warm warmth and brightness to the area is under cabinet lighting. For a sleek and contemporary appearance, you may also think about recessed lighting.
Grey and White
:
Accessories
Last but not least, don't overlook the accessories. Your grey and white kitchen decor may be brought together by using a few well-chosen accessories. 
Think about using some colorful dishware or ornamental embellishments. A wooden cutting board or a woven basket are other ways to create texture. The goal is to keep it straightforward and avoid overdoing it with other items that could clutter the area.
Cleaning and Maintenance Advice for a Grey and White Kitchen
Although a grey and white kitchen may have a lovely and classic look, it's crucial to keep it tidy and maintained. Here are some suggestions to bear in mind:
To avoid stains and discoloration, constantly

wipe down your counters with a non-abrasive cleanser.

Spills and mishaps should be cleaned up right away to avoid them turning into permanent stains.

On your counter-tops or cabinets, avoid using aggressive cleaners or abrasive sponges as they might harm them.

Under hot plates, place

coasters or trivets to protect your surfaces from heat damage.
You should also know Which color is best for kitchen slab according to vastu?
The Charm of White and Grey Kitchens
Since they provide a neutral color scheme that is simple to modify with splashes of color or patterned accessories, grey and white kitchens are a popular option. 
A kitchen may appear more spacious and airy thanks to the aesthetic that these two colors together offer. White and grey are complementary hues that go well with a number of surfaces and textures, including marble, wood, and stainless steel.
In conclusion, a grey and white kitchen design is a timeless classic that can be used in both traditional and modern settings. You may construct a beautiful and useful area that you'll like spending time in by paying attention to the major design components like cabinets, worktops, appliances, and lighting.