A balcony is the ideal location to unwind after a hard day, read a book, or enjoy a cup of coffee. But, your balcony might not be as welcoming as it might be without the proper illumination.
You can create a warm and appealing ambiance on your balcony that will make you want to spend all of your free time outside. Here are some pointers to get you going:
Create a plan first:

Consider how you would like your terrace to feel before you start buying lighting. Do you like a soft, romantic atmosphere or something cheerier and more upbeat?





How much light will you need and what will you be doing on your balcony? After you have a strategy in place, you may seek for lighting that complements your goals.

Mix & match:

Don't be hesitant to combine

various lighting styles

. Your balcony may have a layered appearance that adds depth and intrigue by using string lights, lanterns, and sconces.

Choose the right bulbs:

The

type of bulbs

you pick will have a significant influence on the atmosphere you convey. Bright white lights are ideal for job lighting, while soft white bulbs will produce a warm and inviting ambiance.

Describe your favourite characteristics:

Utilize lights to highlight your balcony's best elements. Use a spotlight, for instance, to draw attention to a lovely plant or piece of art you have.

Consider the environment:

The surroundings should be taken into account when picking your lighting.

Avoid using lights that draw insects if you live in a place where there are plenty of them. If you reside somewhere with severe weather, you need also make sure your lights are tough and weatherproof.
Apply these lighting ideas with these 6 summer time balcony for your perfect home. All these balcony tips are specially designed for the summer season.
By keeping these suggestions in mind, you can design a balcony lighting scheme that will transform your outdoor area into a genuine haven. Have fun designing the ideal atmosphere for your balcony by experimenting with various lighting options.
Brighten Up Your Balcony with LED Lights
LED lights are the ideal choice if you want to create a more comfortable and pleasant atmosphere on your balcony.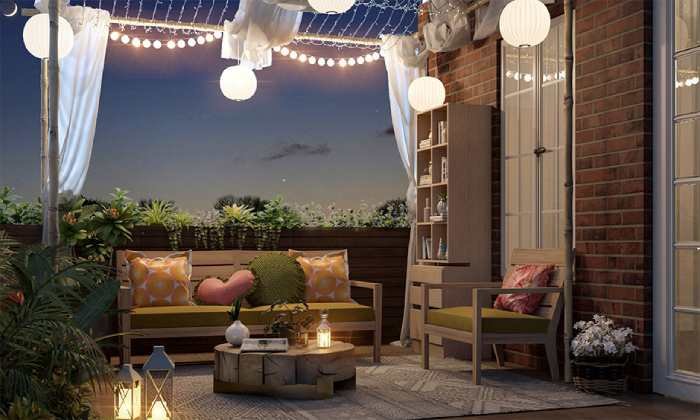 In addition to being durable and energy-efficient, they also come in a range of hues and designs to suit any stylistic preference. Here are some ideas for transforming your balcony with:
LED lights: Choose the correct shade: Warm white, cold white, and even multi-colored LED lights are all available. Choose a hue that complements the atmosphere you wish to evoke on your balcony.


Create a focal point

: Make a focus point by

highlighting a specific element

on your balcony with LED lighting, such as a plant or a piece of furniture. This will catch attention and produce visual interest.

Implement string lights:

String lights are a wonderful way to give your balcony a homey and whimsical atmosphere. For a cosy and welcoming light, hang them from the railing or the balcony's border.

Use string lights

:

Utilize LED lights to accentuate architectural elements on your balcony, such as columns or pillars, by

adding accent lighting

. Your area will gain depth and appeal as a result.

Utilise smart lighting:

If you want to upgrade the lighting on your balcony, think about utilising smart LED lights.

You can easily change the colour and brightness of your lights using these, which can be controlled by your smartphone or voice assistant. Similarly, these LED

light ideas for your home

can easily be fixed anywhere.
You may establish a cosy and welcoming atmosphere on your balcony with LED lighting that you'll enjoy spending time in.

Don't be scared to use your imagination when selecting your lighting and to try out various hues and designs. Your balcony may become your very own personal retreat with the correct LED lighting.
Apart from that, Try these modern Indian balcony railings looks and their types to make your balcony more attractive and stylish.
Elevate Your Balcony Design with Hanging Lights
Your balcony would benefit greatly from hanging lights to give flair and serenity.
There are many different types of hanging lights available, so you may create the ambiance you choose, whether it's a warm, personal setting or a cheerful, upbeat one. Here are some ideas for enhancing your balcony decor with hanging lights:
Consider the size of your balcony: The length of your balcony should be taken into consideration when selecting hanging lights. If your balcony is small, you might wish to choose dimmer, more delicate hanging lights.
If your balcony is bigger, you might choose more ornate and striking designs. You can also use these hanging lights ideas for dining room without any hesitation. But change the lighting color as per the wall color.
Choose the perfect look: Hanging lights come in a range of looks, from sleek, contemporary designs to lanterns with a boho flair. Choose hanging lights that go well with the decor of your balcony by keeping its overall design in mind.
Employ many lights: To provide a more dramatic impact on a bigger balcony, think about utilising several hanging lights. To give your room depth and intrigue, install lights at various heights and locations.
Experiment with colour: Warm white and multi-colored hanging lights are only a few of the many hues available. Don't be scared to experiment with colour and pick hanging lights that give your balcony a unique flair.
Employ dimmers: Think about utilizing dimmers with your hanging lights to offer a more flexible lighting experience. Depending on your demands, you'll be able to use this to change the mood and brightness of your lights.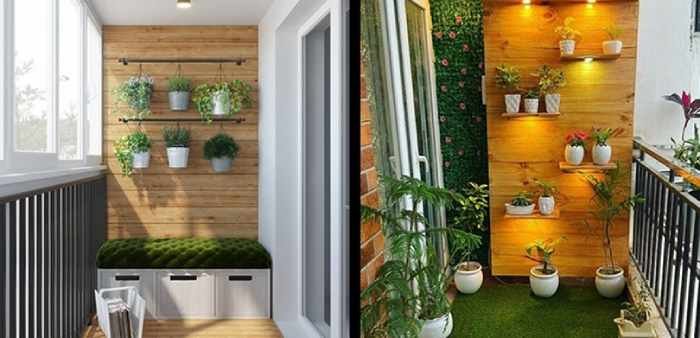 If you want some ideas then follow these top 20 trending balcony decorating idea here.
You may make a pleasant and inviting atmosphere on your balcony with hanging lights, one that you'll like spending time in. There are many alternatives for hanging lights to suit your taste and budget, whether you want sleek, contemporary designs or lanterns with a boho flair. So go ahead and use hanging lights to enhance your balcony design and make the most of your outdoor area.