With the changing environment and upcoming trends, the viewpoint of people is also changing. The older generation people were more into simplicity but now people like to add some modern and unique look to their home design.
Gone are the days when people used to have a mandatory style statement with boring walls and plain ceilings. Trends and approaches have changed a lot. Area to experiment with different and unique ideas with everything is getting adopted nowadays.
False ceilings are often advised by interior designers to provide extra design features to a space and make it seem more beautiful.
False ceiling construction also conceals over-wiring and improves the appearance of your home. Homeowners appreciate false ceiling installations for being more energy-efficient in that they prevent excessive cold and heat from entering their homes.
Here's a detailed tutorial on gypsum board false ceiling options and things to consider before installing false ceiling designs in your home.
Similarly, interior designing is just not restricted to walls paint and adding fancy furniture. Ceilings are also one such unseparated part of home designing. One cannot neglect the significance of a beautiful ceiling. This can bring elegance and grace to your entire house.
Have you ever noticed when you enter a very lavish house the first thing that catches your attention is a chandelier most of the time, which is also one such masterpiece in the middle of the ceiling?
But, now false ceilings are high in demand because of their glossy finish and versatile designs. Different colors of LED lights embedded in the false ceilings create a glowing and luminant look at the night.
With a huge range of ceiling designs, Gypsum is kind of ruling the market as it gives any residential or commercial place a long-lasting beautiful appearance and other factors that make Gypsum false ceiling designs popular is its versatile design, affordability, and the sharp finished look that it provides to any house.
What is a Gypsum Ceiling?
We are kind of more familiar with Pop Ceilings as they are sustaining in the market for a long time. Although they are also not that bad, the process is kind of messy as it involves the mixing of different colours. Whereas, if we talk about Gypsum Ceilings, the false ceilings made of Gypsum involve large Gypsum sheet boards that are fixed using screws. Then these joints are specially treated with a jointing material to create a neat and uniform look.
What is a Gypsum Board?
Gypsum plasterboard is believed to be healthier and stronger than any other sort of material for house ceiling design. Because of its hydrophobic (water-resistant) nature, it's a popular choice among homeowners and is often used in bathrooms and kitchens.
Gypsum False Ceiling Designs
Wood Texture Gypsum False Ceiling
The brown or wood-finish gypsum false ceiling may give the home a more sophisticated appearance while also enhancing its natural appeal. It's a great choice for the kitchen or dining area if you want something simple yet elegant. A simple yet beautiful look can be achieved by combining gypsum plasterboards with LED lighting and segmented fans.
Wood-look gypsum board false ceilings can also be created using timber strips, which are glued onto metal frames. The process resembles the general installation of a regular gypsum board but requires more effort to ensure the final results are flawless.
A Lighter Wall Colour
For a stunning room with a false ceiling design, choose the lighter tone of your space's wall color for ceilings. When you combine white tones with the hue, it will be diluted and provide you with the perfect color for a gypsum roof ceiling design.
If you're seeking the greatest fake ceiling in your bedroom, pick soft hues for other décor such as blankets, curtains, lamps, and much more.
The combination of light walls and ceiling color will create a brighter room that is perfect for rest. Gypsum boards are ideal in most rooms including bedrooms to improve the home's lighting. They are also very simple to install so you can quickly change the style or design of your false ceiling with ease even if it's not done by professionals.
Gypsum Board with LED
Modern interior design trends, such as LED lights, are becoming increasingly popular. You may use a gypsum design to install modern LED lighting in your ceiling.
The light fixtures come in a variety of shapes, styles, and colors to assist you in creating the right ambiance for your home's interiors. Neon lighting is also gaining traction as an option for interior illumination ideas.
Abstract False Ceiling
A gypsum false ceiling board may be molded to create beautiful patterns or designs. Abstract forms will make a distinctive statement while also improving the room's appeal.
Coffered Ceiling
Ceiling coffering is another popular design. In this style, which will focus your roof and give it all the attention, you may have a fresh ceiling design for 2022.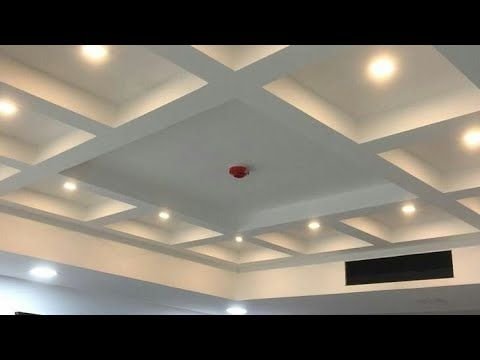 This 2022 popular style works well with your décor theme and creates a unified appearance for your living room or bedroom interiors.
Simple Gypsum Ceiling
Ceilings are a simple yet elegant way to add drama and interest to a room. You may, however, choose a different color palette to complement your design style and create an energizing effect on your home.
Trending Gypsum Board Ceiling Designs: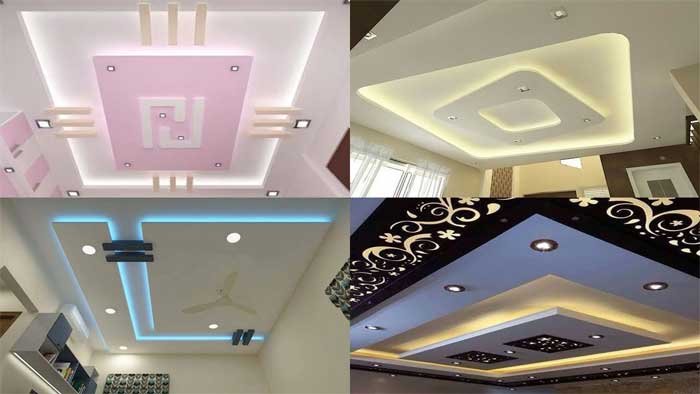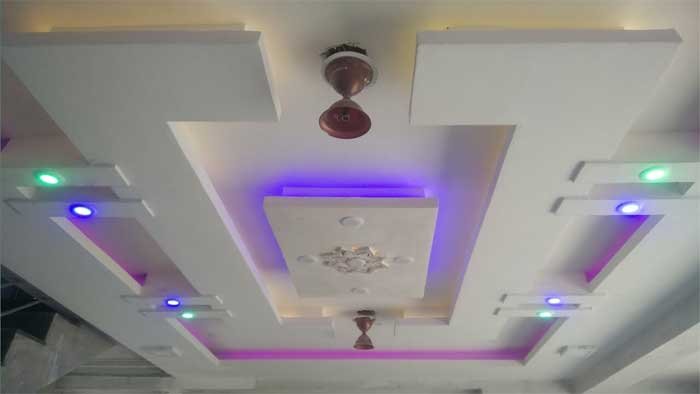 Benefits Of Gypsum Board Ceiling
Plasterboarding is fairly easy, plus the material itself is cost-effective and energy-efficient. The advantages of gypsum board ceilings include:

Straight forward installation process because fewer joints have to be made in most cases· You can install them directly on first-floor joists as well·

Can cover existing ceiling surfaces that aren't aesthetically pleasing or too old for restoration purposes

Gypsum boards don't expand or contract with temperature changes, unlike wood or plasterboards.

They are mold-resistant and don't promote mildew growth in your home
Why should you use Gypsum for your false ceilings?
Gypsum is widely used for false ceilings as installing a Gypsum false ceiling is quite easy and the cleaning process is also effortless as well. Generally, Gypsum is used in rooms that have a large space area and that require central air conditioning units.
Gypsum boards also provide a seamless look. All in all, Gypsum has tons of advantages that make it best in false ceilings.
Gypsum False Ceiling Illumination Tips
Gypsum ceiling design will often include LED lighting to enhance the room's appeal. To install your lights correctly and make sure that they do not cause any issues with the false ceiling, it is important to follow these tips:
Measure the space between the joists where you want to place your fixtures to ensure that they are properly placed and centered over interior elements such as cabinets and countertops.

Install LED lights closer to home appliances like refrigerators or sinks for better lighting effects. You may also use them for architectural details like columns or arches.

Consult with your gypsum contractor to determine the best places for installing lights for better illumination in the room. They will also know about different alternatives such as neon lights or fiber optics, which may enhance the overall look of your interior design.

Install energy-efficient LED bulbs since they will not emit much heat and reduce damage to the false ceiling while ensuring a longer life span.

It is important to consult a professional before deciding on a layout or lighting pattern so that you can make sure that everything is done correctly and safely. The right installation makes all the difference when you want stunning results from this type of design element in your home's interiors. 

Have a look here at modular kitchen designs photos to make your kitchen a modular one.
Things to Consider When Installing Gypsum False Ceiling
The first thing you need to do is to check the height of your room from floor to ceiling and make sure that there are no obstacles in the way.

Make sure that the room has good ventilation so that the gypsum board does not get damaged by moisture.

If you want to install lights in the false ceiling, then you need to make sure that there is adequate space for wiring.

It is important to consult with a professional before starting the installation process to avoid any mistakes.

Gypsum boards are available in different thicknesses, so you need to choose the right one for your false ceiling project.

You also need to select the right type of adhesive for the gypsum board so that it can be properly attached to the ceiling.

Once the false ceiling is installed, you need to finish it off by painting or adding other embellishments.

It is important to regularly check the gypsum board false ceiling for any cracks or damage so that repairs can be made before it becomes a bigger issue.
Try these wooden almirah design for your home.
Let's have a look in detail

:
SafeGuard From Fire

: Gypsum is a commonly used material for false ceilings as it has many advantages which can differ from one aspect to another. And, one of the prime advantages of Gypsum is its heat-resistant property.

Gypsum has a noncombustible core that contains chemically combined water. When the fire comes in contact with the Gypsum ceilings what happens is that water comes out in the form of steam. Even when the water is completely gone, the Gypsum board continues to resist the heat.

So, this is one such additional advantage of Gypsum. One can use many layers of the Gypsum material for more heat resistance in their home.

One can also use gypsum board in wall fixing almirah for partition to make shelf in the almirah.

Sound Isolation

: Gypsum Ceilings have huge advantages for a home design as it ensures the sound isolation between the rooms. Gypsum ceilings make sure that they absorb excess sound to improve communication. One of the major objective of soundproofing a ceiling is to prevent noise from travelling between the two points i.e space which is just above you and your abode by reflecting or defusing the impact of noise. Hence, through Gypsum ceilings, one can ensure privacy in their home.

Flexible and Sturdy Gypsum Boards

: Gypsum boards are soft which means they can be moulded easily into any design very easily. One can achieve any of the favourite patterns for one's home ceilings whether it be spatial patterns or checkered patterns all can be achieved through the gypsum ceilings. As Gypsum boards are made with precision in factories the consistency in design is maintained through it. That is why Gypsum is one of the best false ceiling designs.

Have a look at these 3bhk house plan designs if you want to construct your home in modern look.

Saves Electricity

: Sometimes it can be hard to believe that false ceilings can actually save electricity and its costs. But, with gypsum, it is not as difficult as it seems.

Gypsum can help you save electricity as false ceilings are suspended a few inches below the main ceilings which means there is a gap between the two layers which act as insulation. Therefore, it can help your house naturally cool.

Now, based on the ceiling design one can use LED lights and these lights are energy-efficient. Therefore, one can use these LED lights to reduce their electricity bill without compromising on the luminescence factor.
Also read: Texture Paint: beautify your walls with textures
Factors To Consider Before Installing Gypsum False Ceilings
If you don't have that much budget you can opt for the ceilings designs that require fewer Gypsum boards. 

Make sure that the rod of a ceiling fan is fixed to the original ceiling slab before the construction of the Gypsum fall ceiling.

You should always go for those ceiling design that requires other materials like plywood or glass as well.

Ait is very important to know how much weight your ceiling can bear. As suspended Gypsum ceilings are not that sturdy. 

Try to install a piece of Plywood or sheesham wood right above the gypsum sheet, this can help in providing strength to hold the weight of the chandelier and provides support.
Therefore, if the design is somewhat tedious or complex, one can use Gypsum effectively as it can help in adding multi layers t the design with ease and perfection.
Conclusion
These ceilings can be customized to fit your style and taste, and they provide many advantages, such as better ventilation, better lighting, and improved energy efficiency.
Before installing a gypsum false ceiling in your home, however, it is important to understand the process and know what to expect. To ensure that your project goes smoothly, be sure to consult with a professional contractor who has experience working with this type of design element.
With the right preparation and expert installation, you can create stunning interiors that will wow your family and guests for years to come!