Ceiling coverings are available in a variety of designs, sizes, and materials, depending on the purpose for which they will be utilized.
These rooms' ceilings utilize a variety of materials to produce various outcomes. Creating a big statement with the most recent false ceiling design is simple.
False or POP Ceiling Designs for bedrooms, dining rooms, and kitchens become very common these days and some of these designs are even getting bolder, bigger and elegant.
So, the ceiling of a house is no longer overlooked elements that are simply whitewashed once and forgotten for years. Homeowners have already realized the significance of beatifying the 5th wall of their house, the ceiling, with the different false ceiling designs.
So, have a look at some stunning and awesome ceiling designs we will be frenzied about for sure.
1. POP Latest False Ceiling
Traditional false ceiling design for homes includes smooth and consistent finishes, as well as hallways and other rooms' finishings.
You may select from a range of different ceiling room design patterns, including square, rectangle, and octagon. These basic master bedroom false ceiling designs have a particular beauty that makes them appealing to the eye. You can also use these ceilings in the living room as well.
2. Modern False Ceiling
The contemporary false ceiling design is perfect for a modern and elegant atmosphere in your home when it comes to modern false ceiling designs. You can opt for the main hall fall ceiling design with these designs.
The cuts in this bedroom and living room fake ceiling creation are various shapes and sizes. These cutouts, which may be formed in any style, may be used to light or ventilate the bedroom ceiling.
3. Floating False Ceiling
This floating false ceiling for the bedroom, living room, hall, kitchen uses the very simplest of materials while still looking attractive to give your room a high-end look.
The LEDs around the fake ceiling in this floating ceiling for the room provide a subtle light that makes it seem as if the ceiling is floating in mid-air after it's finished.
4. Coffered Modern False Ceiling
Coffered false ceiling designs are generally square and feature criss-cross beams that form a grid-like pattern.
They lend weight to the ceiling and are likely to pique the attention of anybody who sees them.
5. Panelled False Ceiling
A simple master bedroom ceiling design is usually symmetrical with the headboard beneath your bed.
It runs straight up the wall behind the bed and to the ceiling above it, gradually developing from it. This is one of the most popular contemporary simple and easy false ceiling design for living room, bedroom, or drawing room adding a touch of majesty to your space.
6. Wood Panelled False Ceiling
Because of its soothing patterns and textures, contemporary wood is frequently employed in homes.
A few LED lights may significantly modify the look and feel of a room ceiling design. It gives your room a subtle yet notable glow.
Also, try these modern pop plus minus design for porch of your home.
7. Honeycomb Ceiling
The Honeycomb form is another beautiful Indian false ceiling style for a bedroom. It may be used to create the illusion of edginess while still seeming opulent.
The forsling design for space may work well in living areas, dining rooms, and other open floor plans.
8. Glass Panelled False Ceiling
In small space ceiling design, glass is an appealing material for several reasons. It may be utilized to its maximum potential because of its transparency, as can be seen in roofing systems.
As an alternative to a false ceiling design for your bedroom, you can also opt for a bedroom modern simple pop design that is easy, quick, and trending.
As a consequence, romantic false room roof designs may be constructed utilizing them.
9. Metal False Ceiling
The contemporary bedroom false ceiling design is made of aluminum and iron, which lends them strength and durability.
They're popular in commercial environments since they may be readily maintained and still look good for a long time. This is one of the most efficient false ceiling ideas for your living room if you want things to run as smoothly as possible. Alternatively, you can also go for the living room POP design listed here with photos.
10. Wooden Beam and POP Ceiling Design
Wood beams evoke memories of the countryside in any home, therefore many homeowners choose complete wooden ceilings or a combination of the two to maintain their roots.
Any rustic and minimal apartments can get a grand finish with a wooden ceiling. The most interesting fact is that wooden texture perfectly adds warmth and elegance to any room and has a clean and smooth tone of the ceiling that gives the room a modern feeling.
If you install this type of false ceiling in your home ensure to keep the decor of the home muted and neutral always. This ceiling blends perfectly with contemporary and rustic decor.
11. POP Ceiling with Lights
You may change the appearance of your space at any time with a fake or fall ceiling design for the bedroom if you have recessed lights on the false ceilings.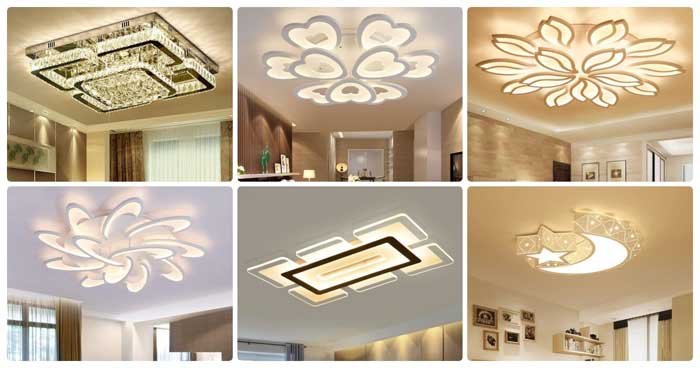 If you're searching for false ceiling designs that will last a long time without requiring much upkeep, this is the one to choose. Opt for the kitchen pop design listed here if you are planning to get these designs in your kitchen as an alternate.
12. Gypsum Ceiling Design
Ceilings with holes are common in homes. Gypsum is used in many of these ceilings, which give a modern feel to any house.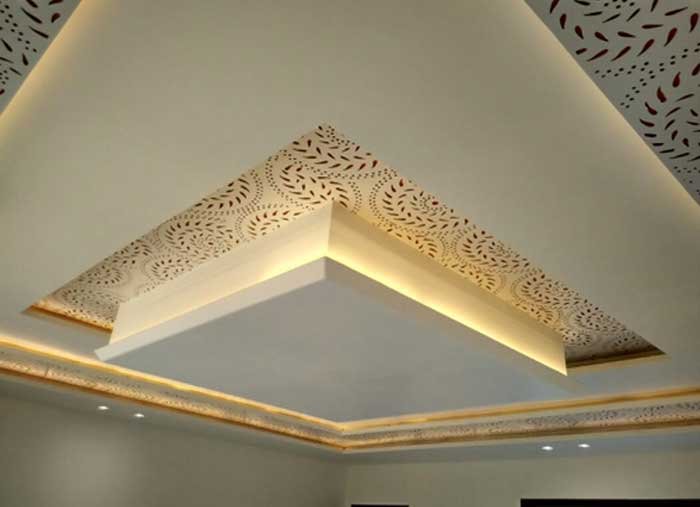 The majority of gypsum ceiling designs have a high-level design with a sophisticated appearance and belong to the most recent false ceiling style category.
13. LED POP False Ceiling
Inside designs utilizing LED lights built into the concave surface are quite popular. There is a modern false ceiling design where lighting domes are used. This ceiling design comprises of hollowed square sections where lighting domes are fixed elegantly. 
This is a bold design that is very eye-catchy and can go well in the dining area or living room. This ceiling design serves the dual purpose of functionality and design and you don't have to worry about ample lighting in the room again.
POP patterns have a variety of advantages, including the ability to endure the longest and require the least maintenance of any design.
Have a look at pop design for hall here with images to pick the unique look for your home.
14. Latest False Ceiling
False ceiling designs for bedrooms and living rooms aren't only attractive; they're also useful in a variety of ways. They aid in the reduction of high ceilings, which improves space proportionality.
This basic ceiling design for a master bedroom allows storage for electrical cables, pipes, and air conditioning ducts. 
False ceiling designs as compared to POP Design may save money on electricity because they reflect and diffuse light. False ceiling ideas may reduce the amount of artificial illumination needed, which saves money on power. 
Aside from fire and moisture protection, this room ceiling design provides several other benefits that might surprise you.
15. Eclectic False Ceiling Designs      
The Eclectic false ceiling design is the pop ceiling design that has assorted yet uniform patterns that radiates an impression where the roof is slopped, but in reality, it isn't.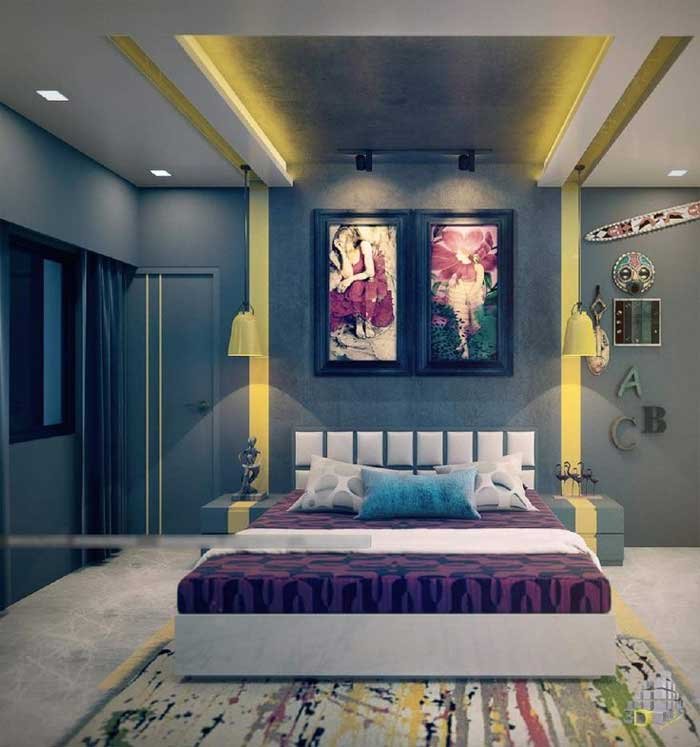 People also fix recessed lights in a neat manner and combined it with pendant lamps and the complete look is truly mesmerizing and elegant. This is a great choice for you if you want an offbeat design but not over the top.
If you are looking for modern house map designs or we can say ghar ka naksha try these designs listed here with photos.
16. Rope False Ceiling Design
There is a new and of its kind rope false ceiling design where the designer has simply weaved braided ropes together and fixed them closer to the ceiling using POP as underlayment.
This is an innovative and excellent ceiling design that can easily grab the attention of the onlooker and it is very high-minded in its own look and it keeps the interior classy and soft if you use pastel walls and wooden furniture in the room.
You can try this design in shops, office, or farmhouse for a unique look. In case you also need low cost farm house design with photos have a look here.
Tray False Ceiling Design with Mirrored Centre
Any room can get a brilliant and stark contrast from darker false POP Ceiling Design. This design would bind the living room together and also make it stand out as it comprises some eye-catchy features. The most exciting feature of this design is that it has a mirror base right in the middle and this adds drama and elegance and blends with the reflective elements that infuse easily with the rest of the room.
Dropped Wooden Panel False Ceiling Design
This is a false ceiling design which reflects the inhabitant's cultural roots as it elegantly infuses architectural and cultural elements from the south of India and also calls to mind the feeling of a rustic home. The designers have created this ceiling design keeping in mind this feeling and hence you must not forget to include this ceiling design into your plan.
Colorful POP False Ceiling Design
Today, in this modern era people prefer going for some unique designs when it comes to the ceiling. They try to be creative with POP designs on the ceiling. There are many POP Ceiling Designs that can make any room look innovative and creative. You can make use of different colors on POP ceilings and contrast it with colorful lightings that complement each other and bring an interesting look to your living area. The simple circular frames of gypsum boards with colorful effects make the room look really brighter and modern.
So, these were some of the unique and appealing false ceiling designs which you will commonly find today in modern homes. You may also check online for more design ideas for false ceiling and POP ceiling. No matter which design you choose for your home ceiling, but the materials must be of higher quality and it must be sourced from some reliable dealers and suppliers online.
Tips To Maintain Your False Ceiling
To avoid sagging, use good quality materials such as gypsum boards.

For long-lasting results, get your false ceiling done by a reputable contractor.

Regularly wipe down your false ceiling to remove any build-up of dirt or dust.

If you're planning on painting your false ceiling, use a good quality primer and paint.
So, these were some of the false ceiling designs for the living room and bedroom that you can consider to change the look of your home. You can also take help from a professional to get the best results.
Conclusion
False ceilings are easy to install and require low maintenance. You can find a wide variety of false ceiling designs and materials in the market. You can also take help from a professional to get the best results.
Frequently Asked Questions
Q1 – What are the safety estimations to keep in mind when installing or maintaining a false ceiling?
Answer – Yes, there are several safety considerations that should be kept in mind when installing or maintaining a false ceiling.
To begin with, it is essential to ensure that the false ceiling is properly supported and installed according to the manufacturer's instructions. The weight of the false ceiling, as well as any additional fixtures such as lighting or fans, must be adequately supported by the structural elements of the building.

Moreover, electrical wiring for lighting or other fixtures must be installed properly and in accordance with local building codes. It is important to use high-quality materials and ensure that all connections are secure and properly insulated.

In addition to, when cutting or drilling into the false ceiling for installation or maintenance purposes, care should be taken to avoid damaging any electrical wiring or other components that may be hidden behind the ceiling.

Furthermore, it is important to ensure that any materials used in the installation or maintenance of the false ceiling are non-toxic and safe for indoor use. This includes adhesives, paints, and other coatings that may be applied to the ceiling.

Finally, it is important to regularly inspect and maintain the false ceiling to ensure that it remains in good condition and does not pose a safety hazard. This may include checking for signs of water damage, corrosion, or other structural issues, as well as ensuring that any fixtures or lighting are properly secured and functioning correctly.
Q2 – What are some maintenance tips for false ceilings?
Answer – Proper maintenance of a false ceiling is important to ensure its longevity and to maintain its aesthetic appeal. Here are some maintenance tips for false ceilings:
Regular cleaning:

Regularly cleaning the false ceiling with a soft cloth or duster can prevent the accumulation of dust, dirt, and grime that can affect the appearance of the ceiling.

Avoid moisture:

False ceilings are vulnerable to moisture, which can cause damage to the ceiling material or lead to the growth of mildew. Therefore, it's important to keep the room well-ventilated and avoid exposing the ceiling to moisture or water.

Address leaks promptly:

If you notice any signs of water damage or leaks, it's important to address them promptly to prevent further damage to the false ceiling. This may involve fixing the leaky pipes or roof or repairing any damaged ceiling tiles.

Inspect for damage:

Regularly inspecting the false ceiling for signs of damage or wear and tear can help you identify potential issues before they become bigger problems. Look for cracks, discoloration, or other signs of damage.

Hire a professional:

If you are unsure about how to maintain or repair your false ceiling, it's best to hire a professional. They can provide guidance on proper maintenance techniques and make any necessary repairs or replacements.
Q3 – What are some unique and popular false ceiling designs?
Answer – False ceilings can add an attractive element to any room, and there are many unique and popular designs to choose from. Below are a few most popular false ceiling designs:
Tray ceiling:

A tray ceiling is a type of false ceiling design that has a recessed central panel that is surrounded by a raised border. The recessed panel can be painted a different colour or can be decorated with wallpaper or other materials to create a contrast with the surrounding border. The design can be customized to fit the size and shape of the room, and can be made from a variety of materials, including gypsum, wood, or metal.

Coffered ceiling:

A coffered ceiling features a series of sunken panels that create a grid like pattern.

Beam ceiling:

This design features exposed beams that run across the ceiling, adding a rustic or industrial look to the space.

Stretch ceiling:

This design involves a membrane that is stretched over a frame to create a smooth surface that can be backlit for added effect.

3D ceiling:

This design features a three-dimensional pattern that adds depth and texture to the ceiling.

Cove ceiling:

A cove ceiling features a curved transition between the wall and ceiling, creating a soft and elegant look.
Pop ceiling: This design features a raised central panel that is surrounded by a drop down border.