An almirah keeps your items in the order and adds beauty to your interior design in today's world. Almirahs are most frequently found in the master bedroom of an apartment in India.
If you want to make your storage more stylish and more efficient, here are some contemporary bedroom almirah designs that will assist you.
Your almirah is more than simply a storage piece for your clothing. It's a practical device that serves as room decoration while also keeping your personal area neat.
We provide an abundance of almirah design ideas to pick from, whether you're looking for inspiration or need help deciding on the right one!
We recognized that it would be difficult to choose the finest almirah designs because there are so many types. As a result, we decided to assist you in this comprehensive guide on all things almirah-related. You should bookmark this page!
Sliding Wooden Almirah Design with Sunmica
An almirah with a sliding door almirah is a must if you're searching for the most recent bedroom storage ideas. Sliding almirah design wall fixing looks sleek and modern, making them an excellent match for city apartments.
Furthermore, sliding almirahs are frequently large enough to hold all of your clothes, shoes, and other accessories.
Hinged 3 Door Wooden Almirah Designs
Hinged cupboards, on the other hand, are perfect for those who want to go conventional. A hinged almirah is ideal for traditionalists! Hinged almirahs never go out of style!
These standard doors may be used with any wardrobe and come in a variety of colors and finishes. With swing doors, you can get a classic look by choosing a wooden almirah design.
Fitted Wood Almirah Design
If you want an almirah that is both space-saving and stylish, fitted or wall fixing almirah designs are ideal for you! Fitted or wall-hanging almirah designs have several benefits, making them a popular option.
The greatest advantage of a built-in almirah design is that they maximize the amount of vertical space available. They're also wonderful to utilize on odd corners in your bedroom.
Stand Alone Bedroom Almirah
The most popular style of almirah is the one seen in most homes. Cupboards that look like traditional ones are available in several designs that complement your bedroom decor.
If you like to change up your look by rearranging furniture, pick a stand-alone almirah.
Minimalist Wooden Almirah
The most frequent and frequently utilized almirah materials are wood. A wood almirah design for your bedroom may give it a warm and rustic atmosphere. These cupboards also go with all types of bedrooms, making them the preferred choice for most individuals.
You may pick from a wide range of wooden almirah design designs when looking for one.
Consider getting a built-in storage area with a modern wardrobe design to showcase your lovely decorations or keep extra things in, as an alternative to a stand-alone closet. If you have a tiny room, wall-mounted wooden almirah designs are available.
Glass Almirah With Wood Panel Design
When it comes to the most recent bedroom almirah ideas, glass almirahs win for their elegance! A glass almirah design may improve the entire appearance of your room if you're a fashionista with some fashionable apparel.
If you have some fashionable clothes, consider displaying them in a glass almirah.
Also try these trendy modern crockery cabinet designs for your dining room that matches with your wooden almirah designs as well.
Plywood Almirah
This is a basic sliding almirah design. Silver steel borders are used on the plywood sliding doors in this example.
This is an easy wall almirah design for an Indian bedroom, and steel rods were used to complement the overall style.
Have a look at some popular kitchen almirah designs here.
MDF Amirah
A hardwood is any wood that has been processed to be used for construction. Average hardwoods, such as oak and maple, are easily damaged by fluctuations in temperature and humidity.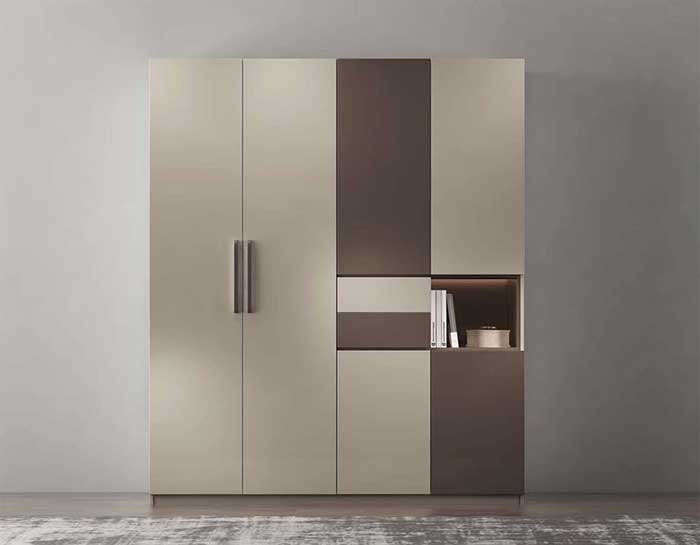 The durability of MDF is excellent, yet it has no particular resistance to climate change. As a result, you won't have to worry about your bedroom almirah design being ruined due to extreme heat or dampness. If you're searching for a cheap and easy almirah, get an MDF model with bold accent colors.
Try these wooden pooja mandir designs for home that are matching with your wooden almirah design as well.
Wood Laminate Almirah
Laminate is the finest choice if you want to add a beautiful, cost-effective end to your cupboard. Laminate finishes are scratch-resistant and come in a variety of styles, making them an ideal choice for high-use units such as almirahs.
While many laminate finishes have a glossy appearance, you may choose for a matte look by opting for a wood-like laminate wardrobe rather than choosing from a wooden almirah design catalog.
Also, read and view the latest trending Indian style pooja room designs for your home here.
Membrane Almirah
The most common and popular finish for bedroom cabinets is the membrane, which is a PVC foil that's rapidly growing in popularity.
The biggest benefits of using a membrane over other finishes are its low cost and long-lasting durability. A water-resistant, glossy, matte, or wood type of membrane finish is available.
Matte Wooden Almirah
A matte finish almirah design is the most elegant and sophisticated kind of storage. While glossy finishes have long been standard, people are now experimenting with numerous finishes for their wardrobes, such as matte.
Matte Finished Mirrors diffuse light, enhancing color consistency. Another advantage of a matte finish is that scratches and flaws are less noticeable. This makes it ideal for high-touch surfaces like wardrobes.
For stylish and modern mandir design for home check these designs also.
Glossy Wooden Almirah
With its timeless appeal, a high-gloss almirah is hard to beat! Gloss-finish cupboards are simple to keep clean and operate. Nothing compares to the brightness or wow factor of a cabinet in a bright color and glossy finish.
This elegant black high-gloss almirah with a mirror, for example, will instantly update any area! What an unusual wardrobe option!
Wooden Almirah With Mirror
Apartments in large cities, such as Mumbai and Bangalore, are very limited. As a result, architects are developing new and inventive solutions to preserve space.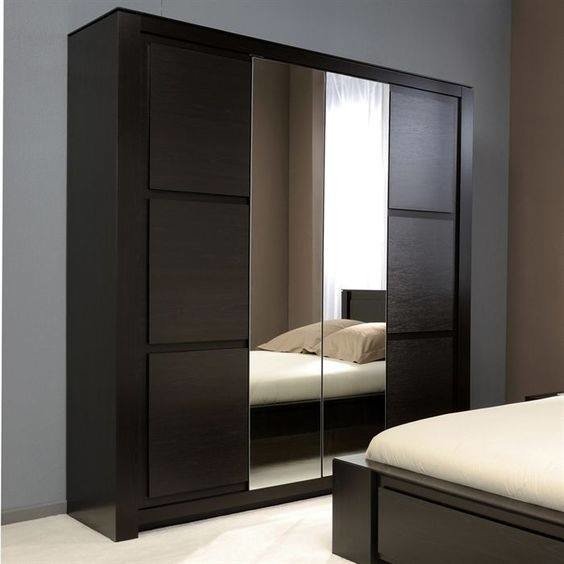 Getting an almirah with a mirror is another popular option. A cabinet with a mirror not only enhances the look of your bedroom, but it also saves space.
Also read about the wooden main gate here.
Conclusion
There are many different types of almirahs to choose from, so we hope this guide has helped you narrow down your options! If you're still unsure, don't hesitate to consult with a professional interior designer. In addition to this, make sure to measure the space in your room before making a purchase.