Flooring is a critical component of interior design that can either make or break the aesthetics of your room.
Among the numerous possibilities available, 2×2 floor tiles have emerged as a popular choice for homeowners wishing to improve the aesthetic of their living areas.
We'll not only provide you a pricing list for 2×2 floor tiles in INR, but we'll also take you into the worlds of leading companies like Kajaria, Somany, Armstrong, Johnson, and Varmora.
So, join me on a creative adventure to discover the beauty, adaptability, and affordability of these amazing floor tiles.
The Elegance of 2×2 Floor Tiles
Versatility: The 2×2 size is extremely adaptable, making it appropriate for a wide range of design styles, from classic to modern. The square shape may produce a consistent, aesthetically appealing appearance.
Timeless Appeal: Because these tiles are traditional, they will never go out of style. They may endure for years, which is significant for homeowners searching for long-term solutions.
Aesthetic Freedom: With so many different colours, patterns, and finishes to choose from, you may let your imagination go wild. 2×2 tiles provide a canvas for your artistic expression, whether you like a monochrome palette or a bright and vivid pattern.
You should also know: Front wall tiles design in indian house
The Price List
Kajaria Tiles (INR 25-90 per sq. ft.): Kajaria is known for its high quality and unique patterns. The price range reflects their diversity, ranging from low-cost solutions to high-end, creative ones.
Somany Tiles (INR 20-80 per sq. ft.): Somany combines quality and cost. Their collection contains fashionable selections that appeal to a diverse audience.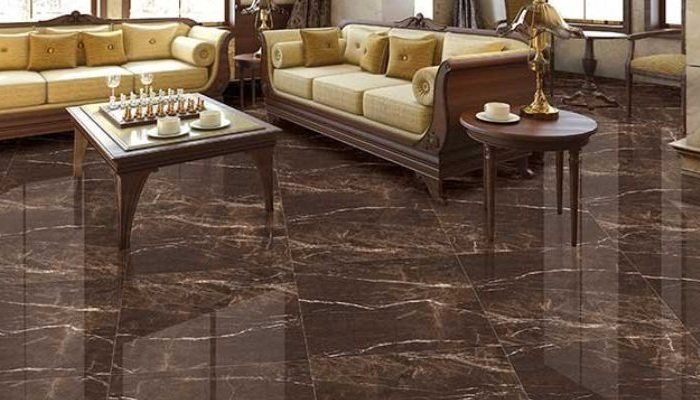 Armstrong Ceiling Tiles (INR 30-95 per sq. ft.): Armstrong is well-known for its ceiling tiles, and their floor tiles are no exception. The pricing range guarantees that there are solutions for all budgets.
Johnson Floor Tiles (INR 20-75 per sq. ft.): Johnson's 2×2 tiles are high in quality and finish. Their price allows homeowners to select a suitable alternative regardless of their financial situation.
Varmora Tiles (INR 20-85 per sq. ft.): Varmora has a varied selection that appeals to homeowners with a variety of tastes and budgets.
Choosing the Right Floor Tiles
Room Aesthetics: Consider the room's overall style and aesthetics. Whether the style is traditional, rustic, modern, or minimalist, the tiles should compliment it.
Durability: Consider the amount of wear and tear the floor will experience. Porcelain tiles are a good choice for high-traffic areas like the kitchen or hallways.
Colour and Finish: The color of the tiles may have a big influence on the ambience of the space. Light colors may make a space look larger, while dark colors can offer warmth and coziness.
Pattern and Texture: Patterns may offer visual appeal. Chevron or herringbone patterns can be employed to create a one-of-a-kind focal point in the area.
Grout and Tile Size: The size of the grout lines can have an effect on the overall aesthetic. Smaller grout lines offer a more smooth look, while bigger ones give the tiles more dimension.
Also know about: Wood dining table design
The Beauty of Online Shopping
Extensive alternatives: Online stores frequently have a greater assortment of tiles, providing you more alternatives for finding the ideal design for your house.
Convenience: You may save time and effort by shopping from the convenience of your own home. This is especially useful for individuals with hectic schedules.
Customer Reviews: Customer reviews and ratings are frequently available on online platforms, offering useful information into the quality and performance of the tiles you're considering.
Price Comparisons: Easily compare prices from various brands and sellers to guarantee you're receiving the best deal possible.
Home Delivery: Many online companies provide home delivery services, ensuring that your tiles arrive at your door without the inconvenience of moving large boxes.
Top Brands: A Closer Look
Kajaria Tiles: Kajaria is well-known for producing high-quality tiles with unique designs. The company provides a wide range of possibilities, including digitally printed tiles that can turn any room into a piece of art.
The pricing range includes both low-cost and high-end options.
Somany Tiles: Somany achieves a good blend of durability and elegance. They have a large selection of 2×2 floor tiles ideal for a number of locations, making it a dependable alternative for homeowners searching for a variety of possibilities.
Armstrong Ceiling Tiles: Armstrong's ceiling tile renown extends to their floor tiles. These tiles not only provide aesthetic value but are also simple to maintain, making them an attractive option for homeowners.
Johnson Floor Tiles: Johnson provides a variety of floor tiles that are noted for their quality and polish. They cater to homeowners with varied budgets whilst ensuring that quality is never sacrificed.
Varmora Tiles: Varmora provides a variety of economical and luxury 2×2 floor tiles, giving homeowners the freedom to select the best match for their area.
The Creative Application of 2×2 Floor Tiles
Accent Walls: Use 2×2 tiles to create eye-catching accent walls in your room. You can make a statement with the patterns, colors, and textures available.
Kitchen Backsplash: Use 2×2 tiles as a backsplash to improve the looks and practicality of your kitchen. It's not only functional, but it also adds a sense of class.
Outdoor Spaces: Many 2×2 tiles may be used outside. Makeover your patio or garden area with them to bring a distinctive and trendy touch to your outdoor surroundings.
May you also like to read: Marble stairs design
Experiment with patterns and colors to create elaborate creative designs on your floors and walls. The options are limitless.
Conclusion
Finally, 2×2 floor tiles provide a unique and cost-effective way to enhance the attractiveness of your living areas. These tiles' beauty and adaptability, along with a broad range of pricing and designs, make them a popular option among homeowners.
Brands such as Kajaria, Somany, Armstrong, Johnson, and Varmora provide a wide range of 2×2 floor tiles to suit a variety of tastes and budgets.
The beauty of internet buying has revolutionized the way we obtain these tiles, providing convenience, a wide range of options, and the opportunity to easily compare pricing.
2×2 floor tiles are a flexible and long-lasting choice for renovating your flooring or exploring new applications in your house.
Consider reading: